Mask Theatre: Dunsinane comes to the Cathedral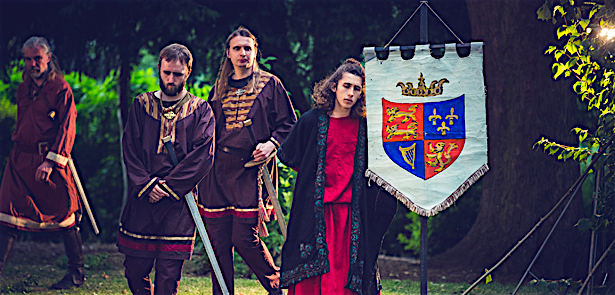 In 2017, Mask Theatre toured their production of Shakespeare's Macbeth to huge acclaim and glowing reviews. In January 2018, in a spectacular setting at Peterborough Cathedral, they will be presenting David Grieg's Dunsinane – a new play that picks up where Macbeth left off. Toby Venables caught up with director Catherine Myland to find out how preparations are going.
When we spoke for the last issue, you were just getting ready to cast the production. How have things progressed?
Now we have fully cast it and are into rehearsal – and we have a wonderful, large cast of 22. So, the response to the casting call was brilliant! I originally thought I'd have to do some doubling up, but we have a terrific lot of people – which means that when the soldiers march on Dunsinane Castle we will have a real roomful of soldiers. It will be performed in traverse – which is where the audience is on either side of the action – so they will be very close to what's going on. You won't be more than three rows from the action in front of you!
I understand the performance space is quite special…
We are performing in the Knight's Chamber at the Cathedral, which has quite nice historical echoes. As Canon Black explained to us it was where visiting dignitaries would put up their soldiers, which is precisely what happens in the play – bored soldiers are kicking their heels whilst in Dunsinane Castle. It is a beautiful medieval building, but because it is also a fairly small space, we are going to be performing the play for a second week, so now the play will run Wednesday 3rd January to Saturday 6th, and then Thursday 11th, Friday 12th and Saturday 13th.
Is there any crossover with Macbeth in your casting of Dunsinane?
My Lady Macbeth character – Gruach – is Becky Owen Fisher, who was last seen as a witch in our production of Macbeth. Siward – the Duke of Northumberland, who is head of the English army – is Alex Tyler, who was in our production of Jerusalem this time last year. And, as a nice link, the person who played Malcolm in Macbeth, Matthew Robertson, is playing my Malcolm in Dunsinane – but a very different Malcolm! In Shakespeare's Macbeth, Malcolm, the young son of the king, is really a good, honest chap who is a bit frightened of ruling, so he tries to put Macduff off asking him to be king by saying 'I have all these faults – lust, greed… I'm not fit for the job!' It's partly a way of testing Macduff. But in Dunsinane Malcom really is all those bad things! He is this selfish, oily king who is doing it for himself, and not for the good of Scotland. So that's going to be a wonderful role.
Another nice echo of our Macbeth is that the eyes and ears of the audience are taken by a character who is called simply 'Boy Soldier'. He guides us through the story, and we have Harvey Jones playing that role. He was last in Macbeth as 'Son of Siward' and got brutally murdered by Macbeth himself on stage – but Harvey makes it through alive this time! It's a wonderful role, full of letters home to his mum about what he is seeing and how it's changing him as a person. One of the scenes we have rehearsed starts off with him asking Gruach/Lady Macbeth: 'Is it true you eat babies?' Because there has been a lot of rumour and propaganda stirred against the Scots, and against Lady Macbeth in particular. We've had a lot of fun with that scene!
We're also going to have the traditional medieval Scots costumes from Macbeth juxtaposed with the khaki of the invading English army. Design is going to be a strong factor in this production. Jill Ward, who has done costume for us for many years, is looking after the design aspects for me, and I'm really looking forward to seeing how all that falls into place.
And last time you mentioned butchering and using red beans for blood..?
We have a few dead bodies, yes! We're actually going to have a dead body and cow making workshop, to create the mass of the English dead, and also this cow that is going to be butchered on stage – lots of hessian sacks! When the butcher comes on he butchers the cow, the blood comes out, then we have some poor chap called Tom who comes in having been ambushed and he dies in all the cow blood. But beans are definitely less messy than real blood. The idea works beautifully in my head, so we're going to have a good play at the workshop and see if we can make that work!
Dunsinane
3-6 & 11-13 Jan 2018
The Knight's Chamber, Peterborough Cathedral
To find out more and to book, visit: www.masktheatre.co.uk
Photo (from Mask Theatre production of Macbeth): Thomas Byron Photography
Leave a Reply