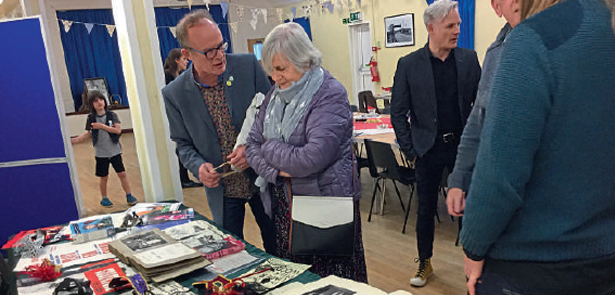 Mask Theatre had the tricky situation this year of celebrating its 70th Anniversary, without knowing when, precisely, that should be – and moreover, how it should be celebrated... Director Emma Goldberg reports
The Society was formed in late autumn of 1947, after two men posted an ad in the Evening Standard requiring anyone who was so interested in attending a meeting; so we definitely feel that our creation and inception must have been in 1947. But the first performance Mask ever made, Mr Bolfry by JM Bridie, was in spring of 1948, hence the quandary. We did what any sensible organisation that is not afraid of a good time should do… we simply held two celebrations.
On 8th November, we held an evening where we ran through some of our history, and took extracts from plays we'd performed through the decades, which we called 'Parade of the Decades' – we found enough people in the audience, strangely enough, to volunteer to read them out. It was a joy to discover that we had done some astonishingly unusual, funny and challenging pieces.
In February, we used the occasion of our 'Annual Lunch' to host a 1940s Style Tea Party, which concluded with a rehearsed play reading of Mr Bolfry, the very first play that Mask performed. We invited as many of our members as we could find, and reached out through our contacts directly and via the magic of social media. Some of our older members have been able to join our Facebook group, and regularly interact with us from across the planet.
It warms my heart to think that it still matters to them, that Mask Theatre, which might well have seemed a different kettle of fish back then, meant enough to them that they still want to reach out. But then, I know I would. Amid cakes, scones and sandwiches, we rallied with stories of past misdemeanours, old and new, and welcomed friends and members from far and near, past directors, new members, all sipped tea politely until we finally caved in and opened the bar.
And the future? Well, while all the reminiscing was going on, two young 'sons of Mask' were busy playing in the stage area, and were clearly heard to be arguing over who was Banquo and who was Macbeth, a head retracted inside a jumper of the 'corpse', and the victor rushing off miming bouncing a ball, stating 'I'm playing basketball with Macbeth's head now'. We think Mask will keep going for a long time to come!
DON'T MISS…
Mask's forthcoming production of Importance of being Earnest, at the Key Theatre, Wednesday 11 April to Saturday 14 April at 7:30pm (plus Saturday matinee) £12 Wednesday & Sat matinee, £14 Thursday, Friday & Sat Evening, Group concessions available via the Box Office, 01733 207239.
Leave a Reply