Marti Pellow | Pellow Talk
One-time leading member of hit band Wet Wet Wet, and with a hugely successful subsequent career that includes solo albums, jazz and musical theatre, Marti Pellow makes a welcome return to Peterborough with his Greatest Hits tour.
First and foremost – what do you think it's going to feel like, being back in front of live audiences on this tour after we've all been locked down and out of venues for so long?
I think that these things are all shared experiences, the gift of going to see any live show and being in the moment – it's something we intrinsically all love, being fans of music, theatre, or any form of the arts that involves the power of the collective. And I think that's reciprocated on both sides, you know – for me, my industry was the first to close down and the last to really open up, so I think it's something that I don't want to take for granted, it's something to embrace and cherish. When I went back on and started to do my live shows once again, I was like, 'Oh, yeah, this is just something I've been doing for multiple decades!' but to see the crowds' responses – that was just fantastic for me. I mean, really the only thing I require from audiences is to bring smiles and cheers!
You've had a long and varied career, and I'd be really interested to know how the industry has changed for you, not just professionally but from the point of view of being an artist – how you get to make your art, but also how you get to make your living.
I grew up in an era where everybody waited in a queue to purchase a thing called 'a piece of vinyl'! As a matter of fact my record collection is getting bigger because – it's gone full circle for me! –  there's so much vinyl now getting made by new artists. Everyone accesses their music in different ways, the whole model of the industry's changed – it's more about streaming access – Spotify and the other different platforms. When you can access the bands and music that you love, if anything it's even better now as a consumer, as a fan of music. I can go into YouTube or Facebook or whatever, and find great music and interesting topics, whereas once I had to wait in a queue in the rain outside a shop! And the only way I could get information about the artist that I loved was to talk to someone else who was waiting in the queue, who may also have been waiting for the release that day as well.
There used to be little fanzines you could get from record stores that were made by fans, and that's the way we accessed our music. Now, at the touch of a button, I could be right up-to-date that very day with an artist I enjoy, and I think that's wonderful. The social media platforms are wonderful, too, when used correctly – for instance, through the entire lockdown, I would just go into my spare bedroom, and sing some songs and shoot the breeze and talk into my phone, and millions of people would watch it. Fantastic! It was a shared experience.
But the way that I interact with making art, making music, has not changed from the day I first fell in love with music – my love and passion for it, the form and the way I record it. Sometimes I use analogue and sometimes I use digital format, sometimes we're recording the whole album on computers and laptops. That's hugely exciting – I could be sitting in my studio in London, and recording an orchestra in Prague at the same time, while somebody else is doing horns in Los Angeles.
Ten or 15 years ago, I was jumping on and off planes to be able to do that, but the technology has caught up in a way that can be used to make the whole recording process so much easier. Which is wonderful!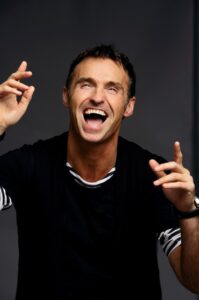 You've had many roles in musical theatre, touring and in the West End – and I have to ask, have you ever been tempted to give full-blown acting a try, maybe in a movie for example?
I started doing musical theatre in my early 30s, and I'm a singer-songwriter by trade, but doing musical theatre wasn't really moving the goalposts so much, because as a storyteller you inhabit the lyric, you colour the lyric, and the spoken word artists approach that in the same way. I really do enjoy that – you're using your imagination and it's character driven; all those things that you pour into your songs are the same as what you pour into musical theatre. Acting would be something that would be lovely to do if the right piece came but I'm not in a hurry to do that.
You've done jazz, you've done musical theatre, you've done pop and rock – when you look back over your career so far, what are the some of the highlights?
I think that, to be blessed to have a career that affords me the luxury to talk about how eclectic and diverse an entertainer I am – I'm afforded that by my fan base, and I think it's a testament to them; many of them have stood by me for multiple decades. Sometimes other artists ask me, 'How did you manage to crossover there?' And I say, 'It wasn't me, it's just that we're all on this journey together'.
I didn't have a master plan; I do what I enjoy and what inspires me, and I have a fan base who embrace that whether it's singing a pop song or doing musical theatre. I see them when I come out the back door of the theatre – they say, 'Oh, I thoroughly enjoyed that and I've never been to a musical before'. Fantastic!
So as I'm learning, as I'm growing, they are, too. That's a highlight for me, that I can be afforded to skate in many different arenas.
What does the future hold in terms of your career? It sounds as though it's whatever excites you, whatever rocks up that makes you think: why not?
What's important here is that I'm part of a team, and I surround myself with people who inspire me, whether that's other actors, other musicians, my manager, my agent – they'll bring things to the table, and I think you've got to be open to that. I don't have all the answers for my career, but I know where my skill set lies, and I love nothing better than going to my bag of tools. If I find I've not got the tool for that job I say, 'Okay, I need to learn something new here'. Every day is a school day – just always be open to it!
Sometimes your enthusiasm might outweigh your talent for it, but it's recognising that, and being fearless and putting yourself in environments where great things can happen. It's all a lesson learned – even if the lesson is, 'I will not be doing that again!'

Marti Pellow The Greatest Hits Tour, Wed 17 Nov.
To book, call the box office on 01733 852992 or book online at www.newtheatre-peterborough.com
Leave a Reply