Mark Steel: 'It's getting harder to contact human beings to deal with anything'
Mark Steel: 'It's getting harder to contact human beings to deal with anything' 1 2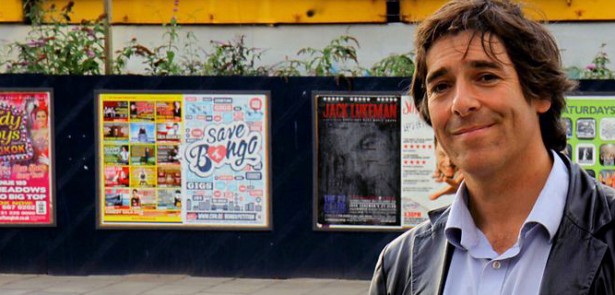 Mark Steel hits the Key Theatre, Peterborough on 20 November – and this time, the city itself is the star of the show. Toby Venables talked to the comedian, author and BAFTA-nominated broadcaster about Satanists, swearing parrots and celebrating Britain's quirks
A LARGE PART OF THIS TOUR IS ABOUT THE TOWNS AND CITIES YOU'RE VISITING. DO YOU HAVE A DOSSIER ON PETERBOROUGH?
One of the tricky things with this show is that I'll do an interview and they'll say 'Oh, right, so you're coming to Ipswich in a month – what have you found out?' And the honest answer is 'Er… Nothing!' I can't do it months in advance – that would be mad. So I have to kind of bullshit my way through the interview. I don't really know much about Peterborough yet, but I will end up going to one of your Roman things or one of the other things Peterborough is known for. I'm really struggling beyond Roman things. Umm… Bricks? Also, Peterborough… Where is it really? No one could say it's East Anglia, but equally it's not Midlands, it's not North and it's not South. Maybe it's just a brilliant place to be because you can get somewhere else from here? I know it's got a ring road – but is there anything inside the ring road? Anything at all?
THERE'S A NICE CATHEDRAL, THOUGH IT HAS BEEN SACKED LOTS OF TIMES – VIKINGS, SAXONS, NORMANS, CROMWELL…
Oh no! By the time of the Normans people must have been thinking 'Oh, not again…'. Must've been like on some estate where people get burgled 15 times.
HOW DID THE FASCINATION WITH LOCAL STORIES START?
Radio 4 said to me a few years ago 'Do you have any ideas for a series you'd like to do?' Comics love doing bits about the town, and that's one of the things that makes stand up different. You can't really do that in a play or a concert or something. I used to love doing that, and so I wondered if you could do a whole show about a town if you had time to research it. So, that's what I did. And people seemed to like it. I had no idea whether it would work – like if I was doing a bit about Huddersfield, making fun of Fred the mental bloke who runs the chemist, whether that would mean anything at all to anyone else or whether they'd just think 'What the bloody hell's that got to do with me?'.
DO YOU GET MUCH FEEDBACK FROM THE AUDIENCE?
You get all sorts of things – that's the brilliant, unpredictable thing about it. Most of this show will be about towns around Britain and my take on them and what's going on generally, but then I try to do about half an hour or so each night about that town. So, I'll have done anything I can to find out things about Peterborough before I get there – I'll read a book about it, and go online and ask people, then spend the day there and go to museums or whatever. But it's possible that I'll get something wrong and everyone will go mental. 'What are you talking about you idiot!' When it's really fun is when people start shouting stuff out. There was one place where they were saying about some corrupt local councillor: 'Oh, you MUST know about him! EVERYBODY knows Ted! He got a fridge and charged it to the council!' You get that. But sometimes people will have a brilliant story.
DO YOU HAVE A FAVOURITE?
I was in Millom, in Cumbria, and I mentioned this story I'd found. It's in a remote part of Cumbria, not really the Lake District, and pretty grim – lots of rough old council estates. There's a castle up the road, and even the castle was falling on rough times, so Lord Something-or-other who owned it decided to try and create some attractions, and introduce some animals. And on the first day it was open he was walking up the path to his castle when he overheard these two women walking the other way, having just been to look around. And one said to the other: 'Well, that was absolutely disgusting. We shall certainly never be going there again.' And the other said: 'That is just appalling. Fancy paying money just to hear a parakeet telling you to **** off!' This parakeet had come from Millom, and had obviously thought: 'Oh well, "**** off" seems to be the main thing people say around here…' And I said all that, and one woman stood up and said: 'That bird came into my school!' Before it got sent off to the castle, it was quite well known for swearing in the town. She was a teacher and she said they thought they'd get it into the school, and of course the kids… [cont]
Mark Steel: 'It's getting harder to contact human beings to deal with anything' 1 2
Leave a Reply