A Magical Kingdom at Thorpe Meadows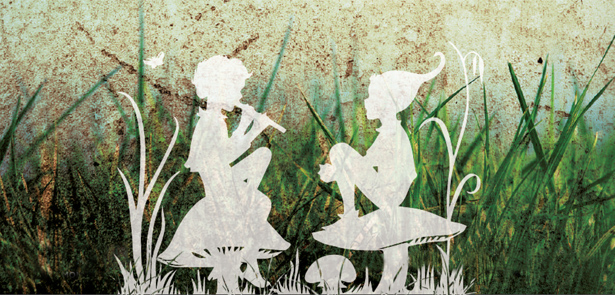 Thorpe Meadows is set to be transformed on 20-21 August by #ParkTales Myths and Mini Beasts – a wonderful family friendly weekend which blends the magical and the natural. Be bewitched by folktales, enchanted by fairies and captivated by the wonders of nature. There will be storytellers, sculptures, live music, interactive workshops and lots of faerie and beasty shenanigans – including the Magic Dust Disco, Mini Beast Quests and Den Building. The Moment gets the lowdown on the magical weekend from Vivacity Arts Development Officer and Fairy Queen, Sheena Carman...
What is Myths and Mini Beasts?
It's a family-friendly event at Thorpe Meadows, blending the magical and natural together – a weekend of discovering that is perfect for under tens, but with something for the whole family. There'll be lots of workshops, artists' commissions, music and performances and the whole thing is going to be pinned together by storytellers. They will weave stories around the sculptures, about the folklore of the area and all the natural mini beasts that you can find there, and also we'll have the workshops where children can come along and be turned into fairies or elves, and can go on quests to find things. There'll be a Teeny-Weeny Trail where they have to use a magnifying glass to search for little objects that we'll be challenging them to find on their quest sheet, so there'll be lots of things going on!
Tell us about the collection of sculptures at Thorpe Meadows…
Many people don't know about the sculptures here, but we've actually got a very significant collection in Peterborough, quite a few of which are at Thorpe Meadows. We're going to use a number of these to create the stories around, and there are also going to be some temporary commissions there as well, with five artists working on new pieces. There are some fabulous pieces to weave stories around. There's Quarry, which is a wolf, and an untitled piece by Miles Davis which has lots of little tiny doors that children can walk through – there's going to be a sound sculpture on that so different doors make different noises and the sounds change according to how many go through. The great thing about sculpture is that kids really respond to it. They just get it immediately, and it really fires their imaginations.
What can you tell us about the stories and storytellers?
There will be four storytellers and their stories are site-specific. In other words, they're all about Thorpe Meadows and the little creatures – real and imaginary – that live there. The workshops enhance that, and are based around those stories. Some will tap into traditional folklore and stories too, but with a twist, making them unique to the location. The storytellers are all members of the Society for Storytelling, and are very experienced. They've looked at the sculptures and are using those as an imaginative jumping off point to weave their stories. In fact one of them, Paul Jackson, who we've known for 20 years, is himself both a storyteller and sculptor.
What other acts and activities might we see there?
We're going to have the Magic Dust Disco for fairies and elves, there's going to be the making of various mini beasts, Plunge Boom, who are also performing at Key Feste in September, will be doing a performance with their two scientists who come and find rare mini beasts to show people. Marvellous Menagerie will be showing a wonderful performance about going around the world and finding rare animals, with music and stories and singing. That's really lovely! And we're welcoming back the Mystérieuses Coiffures, a previous visitor to the Arts Festival, who will be creating incredible hairstyles for those who want them. In fact he does this on catwalks all over the world – and the last time he came there were long queues for his services! There'll be live music from local folk band Pennyless, and we're going to have a themed bar for children – and something for mum and dad. Basically, there's entertainment for everyone – and nearly all of it free, with just small charges for some of the workshops to cover costs. And it doesn't end here. 'Our Stories' – an Arts Council library bid – is being launched as part of Myths and Mini Beasts. Over the next year we will be using storytelling, artists, trail tales, theatre, music and travelling story cafés to encourage the use of libraries and help raising literacy levels within the city. Vivacity will working with the Peterborough Literacy Hub and other partners to deliver this dynamic project within schools and communities in Peterborough.
Myths and Mini Beasts children's activities
Workshops (small nominal charge) include: ● Fairy Wings ● Fairy Crown ● Elf Shield ● Mini Beasts ● Face Painting Free activities include: ● Colouring station ● Story trail – Printed sheet with clues ● Teeny Weeny Trail ● Story sticks – where kids add something to the stick after each story ● Magic Dust Disco ● Elf postcards
To find out more about Myths and Mini Beasts and other events, visit
www.vivacity-peterborough.com
Leave a Reply