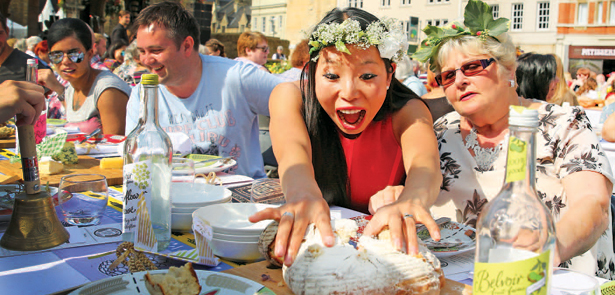 Lucy + Jorge Orta, the international artists behind the spectacular 2015 Harvest meal in Cathedral Square return to Peterborough this September with an exciting, brand new exhibition
Art and food
In 2015, arts organisation Metal invited Lucy + Jorge Orta to take part in their Harvest Festival. They delivered 70×7 The Meal Act XXXIX in Cathedral Square, their first UK outdoor Meal in their international series, seating 500 local residents for a meal of locally sourced produce. On 10 September Metal will be opening Lucy + Jorge Orta: Food, an exhibition including sculpture, drawing and objects, some of which have been inspired by their Peterborough meal in 2015. The exhibition, at City Gallery in Peterborough Museum, is the culmination of twenty years' dedication to the power of art and food.
Food: public and political
A new publication, Food and the Public Sphere, published by Black Dog, will also be launched at the exhibition and features Peterborough's meal alongside the 39 others that have happened across the globe. The Orta's food recycling projects, mass open-air meals, gleaned gastronomic diners and mobile soup kitchens have pioneered a renewed interest in the politics of food, and of the social dynamic and ritual practices of eating together. The exhibition at Peterborough City Gallery marks the culmination of an 18-month residency in the city of Peterborough, drawing together archival work from their Food series, alongside new sculptures and drawings inspired by the Peterborough Harvest meal. Running alongside the show will be a diverse programme of activities and events ranging from bread making and pickling workshops, artist talks, and public debates on the politics of food.
Bio-diversity and Seed Bank
The artists' 'Seed Bank' is a vast collection of 100 new watercolour drawings inspired by seeds, pollen and tubers that draw attention to the immense diversity of our natural world, currently under threat. These will be shown for the first time in Lucy + Jorge Orta: Food. Together this represents a metaphorical seed bank; preserving particular varieties not in commercial use or that may be threatened with extinction. These art works advocate the preservation of biodiversity and the wisdom and imagination necessary to do it. The drawings will be accompanied by a beautiful new series of highly sculptural and exquisite heritage Seeds, enlarged from their drawings and produced in collaboration with the Venetian glass maestros of Murano.
The Meal Series
The 70 x 7 The Meal series takes the everyday ritual of dining and introduces motifs, symbolism and language into the design of bespoke Royal Limoges porcelain plates and table runners as triggers for discussion amongst the diners and catalysts for change. The exhibition will present for the first time the whole collection of Orta designed Royal Limoges porcelain plates from the 70 x 7 series, alongside the bespoke silk jacquard table runners, woven by local Suffolk weavers. There will also be a major new sculpture, featuring over 100 loaves of bread baked by the residents of Peterborough who attended the Harvest meal. Each loaf of bread has been cast in aluminium to create a stunning centrepiece to the show.
The exhibition runs from 10 September to 4 December, Tuesday to Sunday, 10am – 5pm at City Gallery, Peterborough Museum. Lucy + Jorge will be talking about their work on Saturday 10 September, 1 – 3pm at City Gallery. In addition, there will be a programme of bread making workshops, talks, debates and film showings running throughout the exhibition. For more details and how to book visit metalculture.com, call 01733 893 077 or follow Metal Peterborough on Facebook.
Leave a Reply