Looking East: Eastern Angles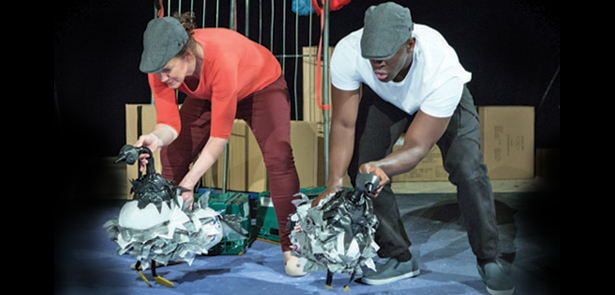 Touring theatre Eastern Angles has its roots firmly in the region and, as Ivan Cutting tells us, some big projects lined up for Peterborough. On the eve of the group's summer play We Didn't Mean to Go to Sea, we grab a few minutes with Ivan to find out how it's all going and what's in store for the autumn and beyond
Thanks for fitting us in Ivan, I know you're incredibly busy with final preparations for your summer performance, We Didn't Mean to Go to Sea. How's it all going?
I can hear the cast rehearsing in the other room as we speak! There's a lot of shouting and screaming – as if they are going through a storm, which of course they are! It's all laid out so they can rehearse exactly as it will be during the actual performances. What can we expect from the play? Well, the set is laid out like a splayed boat, so you can clearly see the actors whether they're in the cockpit, down below in the cabin or up on deck. Then there are various ropes and tillers, so as well as learning their lines the actors have had to get to grips with which rope to pull when and what it would do to the ship. There's lots of running around and, of course, lots of sound and music to try and mimic what it would be like to be stuck out in the middle of the North Sea in a howling gale!
Peterborough's landlocked of course, but the lake-side setting at Nene Park at least gives a nod towards the watery setting of the play.
That's right. The play will be held in a marquee right beside the boating lake and the big new boating pavilion, so it's a really great place to be. As a touring theatre you must constantly be on the lookout for interesting venues like Nene Park? We do a lot of plays in what I call 'found spaces'. We've just been performing on airfield sites for Somewhere in England, our play about the thousands of American GIs who were based in East Anglia during the Second World War. The play was held in the marquee, but with the idea that people could come and enjoy the ambience of the airfield and all the facilities around it before enjoying the performance. We love finding the kinds of places that no one else would think of putting a play on in. And it's these places that are the most exciting to go out to for the evening. You can get a drink, enjoy something to eat and it's all part of the experience. This year we've also set up our new geodesic dome, which we are using as a foyer for some of our performances. We've got a whole load of flags too, so everyone knows where we are.
And how big is the marquee?
It holds about 150 and the audience sits on both sides of the stage. It means there's an intimate atmosphere with everyone in the audience right up close to the action, which is really important. There are also audiovisuals in there too. So, for example, during We Didn't Mean to Go to Sea you'll have buoys bearing down on you and waves breaking. It shouldn't make you seasick, but you'll certainly feel like you are in the middle of it all!
Rumour has it you're expanding the work you do here in Peterborough.
Eastern Angles has created a new venue in the bowels of the Serpentine Green Shopping Centre. It's in an area called The Undercroft. We've already done a couple of shows there but are now taking on the lease and kitting it out as a proper venue where we can make all sorts of things happen.
Intriguing, tell us more!
We are not necessarily going to be there forever, so we can't start building stuff, but it's a flexible space. We'll have the rake seating there that we're currently setting up in Nene Park. And there are lots of ways of dividing up the space, so we can put in a pop-up bar for example. The Undercroft will be the base for our next big project called Engine Room. Engine Room is all about developing talent in Peterborough and finding a way to really celebrate what the city has to offer on the creative side of things. One of the first outputs from Engine Room will be a play written by Aisha Zia about food poverty called Ground. It's being developed in Peterborough in conjunction with schools and live audiences. It's very exciting.
Food poverty is very topical. What's the storyline?
Well, to be honest I have no idea because they are literally doing the workshops now and the writer is writing the storyline even as we speak. There's a lot of research behind Ground; they are very much talking to people to find out what food poverty's all about. There will be a sort of draft version of the play performed to audiences in August. The audiences will have a chance to say what they think – to literally feed back into the play and have their say. This will then help to further evolve the play with the actual show following in September. And throughout August there are lots of workshops going on in The Undercroft.
Having audience input during the creative process is quite unusual.
It is, but it's the sort of thing that's happening these days and this is how we want to bring Peterborough into the game with lots of other cities, by doing this sort of partnership work.
What's with the choice of name?
It's called Engine Room because the idea is we can give Peterborough artists the chance to flex their muscles and create something themselves, rather than us just saying 'here, this is what you want!' For example, people can come to us and say 'we'd like to do this play' and we'll help them apply to the Arts Council for development money. This is a platform for local writers and directors to shine. We can offer administration support and the practical, creative and technical support to make it happen. In a sense Engine Room is about creating the theatre in which their play can then be performed.
What other plays have you got lined up for The Undercroft?
A Peterborough version of The Railway Children! It will be staged in October- November and is being written by Julie Mayhew. I've always thought that Peterborough would make a great place to update The Railway Children: it's a railway town and has got lots of different communities, so people might come here to try to escape. It sort of ties in with the storyline of The Railway Children of the father suddenly being taken away – to me there's a correspondence there with modern issues surrounding asylum seekers. We'll be setting the play in the 1960s and we're thinking of calling it the Stanground Railway Children so people can recognise where it's coming from. I'm hoping it will bring in a local audience – people who may be shopping in Serpentine Green and will then come along in the evening to see the show. And just like our marquee, The Undercroft is a small, intimate and cosy place to perform.
These smaller venues must be great for actor-audience interaction.
I think it's nice for the actors to be able to see the audiences. That is one of the things about The Undercroft that will make it a different space to the usual venues. And sometimes people like seeing things in less obvious spaces rather than in the usual tried-and-tested venues.
Peterborough is one of the fastest growing cities in the country and has a highly engaged and dynamic population. Do you think this is reflected in the city's drama scene?
There's a whole tranche of organisations who are looking for that side of Peterborough to blossom. There's obviously Eastern Angles and Metal, the various Vivacity initiatives surrounding arts development, plus a host of other organisations. This is an exciting time to be in Peterborough because these partnerships are growing. There are a lot more conversations going on. For example, I am part of the City Leaders Forum, which is where I found the contacts for the Serpentine Green space. Some of the school headmasters are part of the forum, as are businesses owners who have taken an interest and sponsored us in the past. So things like this are adding up so that Peterborough is becoming more than the sum of its parts, to use a well-worn cliché!
A lot's happened over the past few years, so what's the plan for the next three to five years? What else would you like to see Eastern Angles achieve?
Well, we want to be able to run Engine Room every year. And of course we still want to take a Christmas show to the Key Theatre, which we always do in late January. This year we'll be performing a spoof of Wolf Hall. It will be a bit of a period romp and the various wives of Henry VIII will no doubt feature. We're thinking of calling it Stoat Hall. And we still want to bring our usual spring show too. We are also looking at a possible community play bringing together bricklaying and the Italian community through a Heritage Lottery funded project. And we still have some mystery plays to do with the cathedral as part of their 900 years celebration. What I really want to do, however, is bring all the actors who used to live in Peterborough and who have moved to London back to the city to do something together. I get lots of actors saying 'I come from Peterborough and you're doing so much stuff there', but of course we never have enough stuff to possibly cast them all. So to bring them all back will be very special.
What seems unique about Eastern Angles is that you often put on plays about local topics, history and culture, which is really refreshing.
A lot of people respond to that and they also like the idea of things popping up in strange places. It means we've had a huge amount of support so far and we're confident that this will continue.
Eastern Angles
www.easternangles.co.uk
Box office enquiries: 01473 211498.
(Please note the box office is manned 10am to 2pm. Outside of these hours please leave a message and someone will get back to you). Keep in touch: Follow the progress of Engine Room and find out all the latest news from Eastern Angles by following them on Twitter @easternangles
Leave a Reply