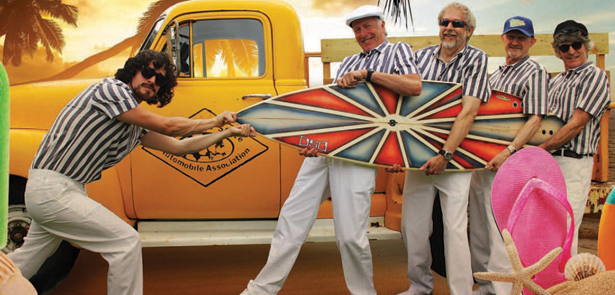 Spread the word, they're back! Beach Boyz Tribute Band returns to Peterborough with a brand new 2019 show The Beach Boys® Tribute Show!
See the boys in person as featured on BBC TV, BBC Radio Wales and independent radio stations across the UK! Come join a journey in time and space, back to the 1960s, to the sunny shores of the Golden State of California where the surf sound was conceived. Whether you are coming back to see Beach Boyz Tribute Band again or coming for the first time, the show is exhilarating as ever.
Filling the auditorium with glorious, rich vocal harmony, the five all-singing, allplaying boys that are Beach Boyz Tribute Band continue to exceed expectations. No other tribute act can provide a lively fun-packed show that showcases over 30 hit records, all performed 100% live.
Do not be surprised if you are on your feet at the end of the performance, clapping and cheering for more, you will be in good company, as this tends to happen at every Beach Boyz Tribute Band concert – across the UK and beyond! This show is suitable for all the family.
● The Beach Boys® Tribute Show Key Theatre, 8 Sept 7.30pm
www.beachboyztributeband.co.uk
Leave a Reply