Shakedown Blues: End of an era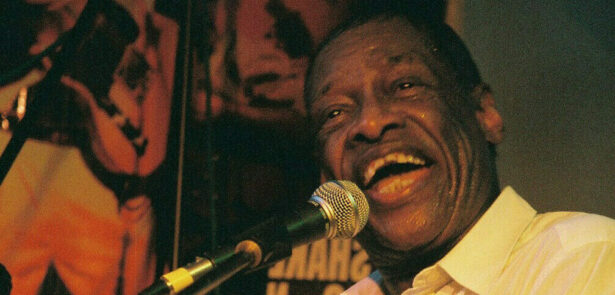 With a heritage stretching all the way back to 1965, the Shakedown Blues Club held at Castor village hall boasted a stunning roster of guests, an atmosphere like no other, and a passionate and knowledgeable blues fan at the helm, ably assisted by his two lieutenants. Now, after nearly 50 years (with a hiatus in the 80s and 90s) Shakedown Blues will be closing its doors for the final time. We spoke with Martin Chillcott, one of the club's organisers, to find out more...
So, Martin! This is the end of an era! What's prompted the decision to finally close the doors to Shakedown Blues?
The father of Shakedown Blues – in fact, he's inseparable from it – Gerard Homan, he sadly passed away back in 2018. In the years since, Ian (Sheldon, co-promoter) and I agreed with his wife, Rowena, that we'd like to carry it on, which we did – but now, it's just getting really hard work. And although we generate some of the audience from within the village and a few from Peterborough, most come from outside – we get people attending from as far afield as Nottinghamshire, Northamptonshire, Leicestershire, Stamford, Huntingdon, London – it's not always been easy to attract a local audience. We once had a guy who came all the way from Devon! Gerard asked him where he was staying – the man replied, 'I'm going to sleep in my car in the lay-by outside the village hall.' Gerard being Gerard, invited him to come and spend the night at his house!
But, you know, I'm 66 and Ian is 73 – Ian's been the bedrock of it because he has built up and invested in the club's sound system and PA, but that equipment is now getting a bit frayed and in need of replacement – that's not practical given we make a couple of hundred quid out of each gig, something like that, and sometimes we just about break even; it's not really a commercial thing…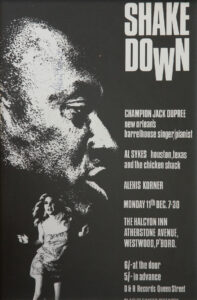 It's always been very much about the vibe – creating that unique space that's a slice of America on the edge of the Fens.
In 2005 Gerard revived Shakedown Blues (after a 30-year break), Ian got the sound going from day one, and I got involved around about 2009. Up until then I'd been an audience member, then I began helping to promote it and after that became the MC. The club always punched above its weight – Paul Jones, who headed up Manfred Mann, the Blues Band and has a regular BBC Radio 2 blues show, would often give a shout out as to what we had coming up, describing us as 'the best small club in the UK for authentic American rhythm and blues.' These folks – the artists and performers – they are like family to each other; what is global feels local. In some ways people might be surprised… 'Oh, you're attracting high-calibre American artists to a little village in the UK', but when you look at the camaraderie and closeness between the people within this genre of music, you see it's like a brotherhood and sisterhood; it's about that being together, the performance and the love, and the atmosphere you get going with the audience, the energy that you get going in the room. It's all about that – it's not about anything else.
Talking about the room – that's always been a unique feature of the club, hasn't it?
The room is a bit odd, and we did initially wonder whether it would work! It's L-shaped, with the stage at the apex of the 'L'. Then, along one side we put chairs out and about 90 people sit, and along the other bit of the L shape we don't put chairs and people stand – that gives a feeling of 'being in the wings'. On one side is a 'concert feel' and the other is more like a gig, where people can chat and it's more relaxed. It also allows the artists to find different aspects to their performance, and to the evening.
I've always thought that there's something bluesy about the Fens and about East Anglia
– the landscape, the flatness, that some would call bleakness…
Of course – the roots of blues music come from West Africa via the Mississippi Delta. People think: 'Mississippi Delta, is that where it goes into the sea?' But no, that's New Orleans; the Mississippi Delta is inland where it's flat as a pancake, very like the Fens!
What, when you look back at the history of the club, would you say the top moments have been?
I'm most definitely going to say Mud Morganfield – Mud is the second eldest son of Muddy Waters. If you ask anybody: name me somebody to do with blues, and even if they don't know anything about it they'll either say B.B. King or Muddy Waters. Gerard actually discovered Mud in Chicago playing in a small bar. Everybody there was talking, not paying much attention to him, but Gerard thought: 'This guy's got something'. Then, he found out that this man was Muddy Waters, Jr. Gerard flew him over, put together a band to back him and – I'll never forget it! – we were due to start about seven, and Mud was in a little room upstairs. I went looking for him, told him we're all ready to get on stage, and he was just sitting there. I said, 'Are you okay?' The place was packed, we had 150 people in the village hall. And Mud said, 'All these people here, they're here for 'Pops''. I put an arm around him, told him he was gonna kill it. So he went on, he was a bit nervous at first and then… absolutely amazing! I remember the second time he played, he saved his old man's Mannish Boy right to the end – it's the most visceral blues song, it made the hair stand up on the back of your neck, it was just electric. Absolutely electric.
Another amazing performance was Earl Thomas – it was like watching a combination of Little Richard and James Brown, singing soul blues, fast and upbeat stuff. We had a great band backing him and I'll never forget it, he came off the stage covered in sweat; I've got the microphone and the place is going nuts! He came over and gave me a big hug, and whispered in my ear, 'Was it okay man?' And I said, 'Bloody hell, it was fantastic!'
I've also been involved in a couple of performances by some of the real old veterans, guys who had careers in the 1950s and 1960s so they were well into their 70s: Lazy Lester, Johnny Jones, Little Willie Littlefield – he inspired Fats Domino with the way he played boogie-woogie piano. He played solo on the village hall piano and it was nearly destroyed, he played it so hard! At one point, he took a shoe off and was hitting the piano with it. He had already asked something to thump-thump-thump out the beat, so we got him an old phone directory and he used that. It was incredible! Also unforgettable was the way the American artists worked with the UK-assembled backing band – on more than one occasion I was asked by an audience member, 'How long have they been rehearsing for this concert?' I would reply, 'They only met at 5pm today, with a half-hour sound check, a run-through some charts and a couple of songs!' Ian would always get a great sound from these new-found music friends.
Robert Penn was the stand-out performer for all this, whether it was directing the band whilst singing and playing guitar to pull together Shaft by Isaac Hayes, building the song live, or Shotgun by Junior Walker. After the concert he told me. 'It's about entertainment! I want people to know, those cats from Detroit …they're bad!'
What are you going to miss the most?
One aspect I particularly enjoyed, is that the artists would stay with Gerard and Rowena at their home in Castor. After each show, Rowena would have made a curry or something like that, the artists would go and have a shower and come down and then, we'd sit and shoot the breeze with some of these guys and gals until the wee small hours. That was fantastic.
I'll tell you the bit that I'll find most difficult: it must have been about 2013, and one night I said, 'Gerard, you gonna come on and introduce the band?' I had the microphone, but he just looked at me and said, 'No Chilly, actually you do it.' And then he said, 'Remember, they're not gigs – they're concerts. And at the end always remember to say: "This is Shakedown, this is what we do."' The crowd always reacted to that because they're part of Shakedown as well. The last two or three times, particularly after Gerard died, the words 'This is Shakedown, this is what we do,' didn't quite come out of my throat. This last time, I'll be saying, 'This is Shakedown – this is what we did.'
The Godfather of Castor Blues, as remembered by Martin Chillcott
"Gerard Homan had a successful entrepreneurial career, sourcing products for agriculture from South America. He'd hire a cargo ship, bring it back, find warehousing and then distribute it.
"But in his spare time, between 1965 and 1975, he got involved in music promotion and started to brand them Shakedown, inspired by the British blues band Savoy Brown – hugely successful in USA but not here – and their first album was called Shakedown. He was bringing over people like Champion Jack Dupree, who was a New Orleans pianist, and actually settled in the UK in the end. Arthur 'Big Boy' Crudup was another artist Gerard invited over – and you think well, who the hell is that? Well, in 1946 Arthur Crudup recorded a song called That's All Right – the first song Elvis Presley ever released, in 1955!
"It was that direct connection with modern music that people have heard of – it was these guys. Gerard was big into jazz, too – Ronnie Scott, Alexis Korner both came and played, and he also had on arguably the finest British jazz player of all time, Tubby Hayes. Gerard would put together a house band to support and sometimes back the artists he brought over – it was much cheaper and more practical to do it that way, and these people themselves were incredible artists, with incredible stories to tell. A founder member of this band, Ma Grinder's Blues Mission, was Ed Humphries, who still supports Shakedown having been there since Day One. Local Peterborough guitar legend, Lloyd Watson, was also in Ma Grinder. His sister Norma told me how aged about 14 or 15 she went to one of the Halcyon blues gigs but wasn't really allowed in the main area – so she sat and did her homework. While she was doing it, Christine McVie of Chicken Shack came out and helped her while she had a cigarette (Christine that is, not Norma!). Christy McVie – who went on to play with Fleetwood Mac! And the whole thing with Gerard, and with Shakedown Blues, is that it meant you were just a step away from some of these performers – big names, in a little pub in Peterborough! And so it later continued, in what one music journalist called 'the famous Castor village hall', and where 'The Last Shakedown' with Paul Jones and the Dave Thomas Blues band provides a fitting footnote to this amazing story…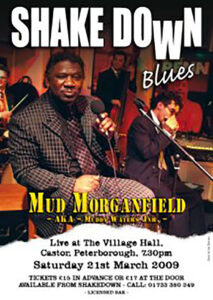 Legendary line-up: guests at the original Shakedown, 1965-1975
Alexis Korner Trio (1966)
The Malc Robinson Quartet (1966)
Amboy Dukes (1966)
Bismarcks Imperial, Jazz Wizards, Jug Band (1966)
Bob Kelly (1966)
'Spider' John Koerner (1966) The Morgan Pountney Quartet (1966)
The Five Proud Walkers (1966) The Artwoods (1966)
Jethro Tull (1966)
The Pete Lemer Quintet (1966) Tony McPhee, Jo-Anne Kelly (1967)
Champion Jack Dupree (1967) Mississippi Fred McDowell (1969)
Juke Boy Bonner (1969)
Larry Johnson (1970)
Arthur 'Big Boy' Crudup (1971)
Sunnyland Slim (1971)
Ronnie Scott (1971)
Johnny Dankworth (1971)
Rev Blind Gary Davis (1971)
Mimi Farina (1971)
Alan Skidmore Quartet (1971)
King Biscuit Boy (1971)
Dannie Richmond (1971)
Terry Lightfoot (1971)
Eddie 'Guitar' Burns (1972)
Lightnin' Slim (1972)
Erwin Helfer (1972)
Tubby Hayes (1972)
Jimmy 'Fast Fingers' Dawkins (1972)
Little Brother Montgomery (1972)
Chicken Shack (1972)
Carrying the torch: guest highlights from the revived Shakedown Blues, 2005-2023
Travis Haddix (2005)
Otis Taylor (2005)
Rev Robert B Jones (2006)
Little Willie Littlefield (2006)
Eddie Taylor Jnr (2007)
Big George Brock (2007)
Louis Arzo 'Gearshifter' Youngblood (2007)
Mud Morganfield aka Muddy Waters Jnr (2007)
George 'Mo-Jo' Buford (2008)
Elmore James Jnr with The Big Joe Louis Band (2008)
Louisiana Red and Michael Messer (2009)
Reverend John Wilkins (2009)
Lazy Lester (2012)
Jerron Blind Boy Paxton (2013)
Earl Thomas & Royal Guard (2014)
Dave Thomas and James Goodwin (2022)
Doug MacLeod (9 concerts!)
Dana Gillespie (2022)
Ian Siegal (2022)
Huge thanks to our house band backing artists for over 10 years THE DAVE THOMAS BLUES BAND
Leave a Reply