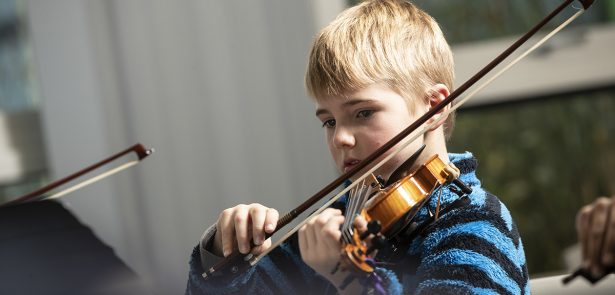 In August, Peterborough Youth Orchestra (PYO) will be running its annual summer courses for budding musicians at Ormiston Bushfield Academy, with three groups for different grade levels and a gala concert on the final day. The courses provide young musicians from a range of ages and abilities with the opportunity to work alongside tutors with professional-level performance experience – and this year will be taking on a wider range of students than ever before. The Moment talks to Robin Norman, PYO founder.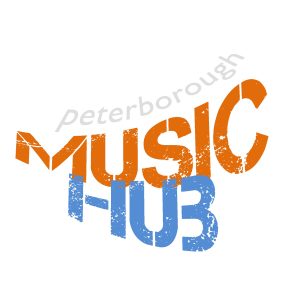 First of all, tell us what's going to be happening with the PYO courses this summer…
The initial PYO course was back in 2016. It's grown year on year, and over the last two or three summers we've tried to have as many young people as possible involved in some way. We have PYO, which is Grade 4 plus, and also PYOToo, which is essentially a junior orchestra – Grade 2 to Grade 4. But also this year we have a summer school for people who are just starting out with instruments – those who are pre-grades who have been playing about a year. We did this last year and it was hugely successful, and gives young musicians their first chance to play in ensembles. So each group has its own course over several days, with mini concerts where each group gets to perform on its own, but then we also have a performance where everybody – PYO, PYOToo and the summer school – all get to play together. This is great, because the youngest, who are just starting out, get to play in the orchestra with all those orchestral instruments around them, and also get to see what they are aiming towards in a few years time. Last year, that was around 40-45 players in total, but we think this year we'll have about 60 altogether. I run the PYO sessions, a gentleman called Neil Quinn runs PYOToo and Lindsay Evans will be taking the summer school – but when we have everyone coming together at the end, it'll be me out front waving the stick!
Inevitably, most kids learning instruments play solo most of the time – but how important is it for them to be able to play together?
I've always thought that actually playing together with other people is the real beauty of being a musician. And, whilst all the schools have got their own little groups, and have their own orchestras, their own bands, the idea of having lots of different schools coming together is wonderful. We have people from King's Lynn, from Stamford, from Huntingdon, all these areas around Peterborough that come together – and they do make friends that they keep in touch with well beyond the course. A few years ago we did The Snowman for the first time, and we had people from schools that had never met each other before. And yet, I know that many have remained friends through social media, and they still keep in contact. Here we are three years later, with everything that has happened through COVID, and these people are still keeping in touch with each other through social media and occasionally meet up. So there's doing music on your own, which is amazing, but doing it with others is the absolute beauty. And you can make friendships through it that literally last a lifetime.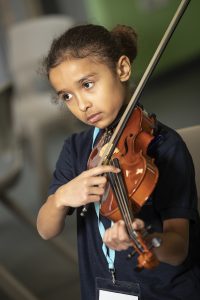 And, presumably, playing in an ensemble requires the development of a set of skills that might not have been developed before?
There's been a lot of scientific research into playing an instrument in groups over the last few years, and one of the things they've discovered is the range of skills it takes. It's the only thing that uses the entirety of your brain in one go, because you've got motor skills, and you're having to listen, and you're having to watch the conductor, read your music… lots of different things. That has been proven, through studies both in the UK and the States, to build new connections in the brain. Those connections then get used for other things. So playing in groups does help with general schoolwork and problem solving, and all those life skills.
Presumably, that's also why it's so satisfying – that it's an all-encompassing experience…
Definitely. I'm not usually the performer now – I'm the person standing waving my arms around at the front – but I can still remember the absolute adrenaline rush from performing to an audience with a bunch of other people. There's nothing like it. It does take courage, because you put yourself out there, but that achievement is something that you can then take into other areas of life.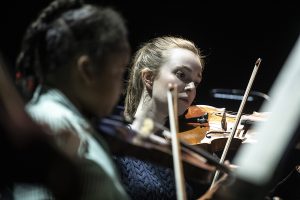 You get to see a lot of young people going through that. What kind of effect does it have on them?
I think the best way I can describe it is to talk about the younger people, those who are playing in the main orchestra for the first time. They're the best example. Not that the older ones don't feel the effects, but you see the biggest change in the people that have never done it before. Last year, we played some pretty major pieces of orchestral music that professional orchestras – people that are the best they can be at their craft – would take two or three days to learn. And we do it in five days. So it's pretty intense! Some of these youngsters who have never played in the orchestra before may feel daunted because it's not easy. However, by the time we've gone through six hours of rehearsal each day for five days, and they get to that concert, you see them change. All of a sudden they've got a lot more focus, their concentration is so much more. And for me, when we finish that concert on the Friday night, to see their faces and their laughter, is amazing. They float out of the room. They have got so much more confidence in what they do. Then when they come to the next one, they're still daunted and they're still nervous, but they come with a completely different attitude, because they know they can do it. The confidence builds year on year. The young lady who will be leading the orchestra in the summer has been there since she went to the very first course, and when she first came, she was right at the back of the second violins – one of those young people who was actually not incredibly confident. But here we are five years later, and she is now leading the orchestra and doing a fantastic job! We've been lucky enough to see her grow musically, but also grow as a human being.
PYO Summer Course – 22-26 Aug
PYOToo Summer Course – 22-24 Aug
Music Summer School – 22-24 Aug
All courses take place at Ormiston Bushfield Academy.
For more information and to sign up, visit: www.facebook.com/PeterboroughYouthOrchestra
peterboroughmusichub.org.uk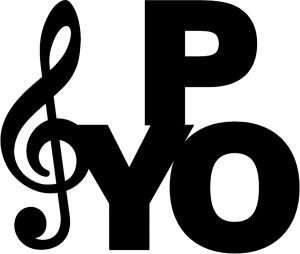 Leave a Reply