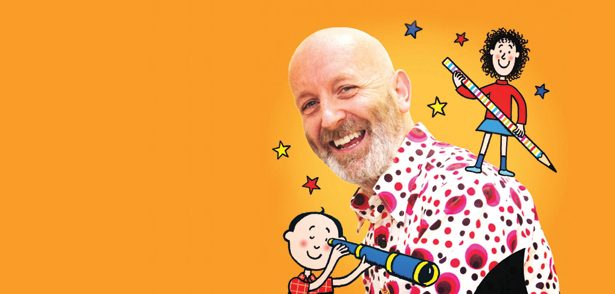 Award-winning artist Nick Sharratt has illustrated over 260 books, from board books for babies to novels for young teenagers. In addition to working with authors such as Julia Donaldson, Jeremy Strong, Michael Rosen, Kes Gray and Dame Jacqueline Wilson, he's written around 40 of his own – and now he's bringing a special exhibition of his work, Pirates, Pants and Wellyphants, to Peterborough Museum & Art Gallery, as well as hosting a Right Royal Drawalong at Vivacity's Key Theatre. Moment editor Toby Venables talked to him
Tell us a little about the exhibition…
It's a very interactive, family-friendly exhibition that's been designed to entertain, inform and encourage creativity. There's dressing up and all sorts of drawing activities to take part in. It's been touring around the country for quite a while now. It began with three arts centres in the north of England coming together to put on an exhibition that would bring people into galleries who perhaps hadn't visited before, and also to involve children and promote literacy and the joy of reading. I was delighted when they approached me as an artist who could help them with that. What can people expect to find? Well, it's really bright and colourful, showing how I became an illustrator, right from the beginning when I was a little boy through to how I work now. I always like to show children the drawings I did when I was younger to help them relate to me, and in addition to sections on how I create pictures for my books and the techniques I use now, there's an area focussing on my own childhood. The earliest drawing on display is one I did when I was nine. I always encourage parents to keep their children's drawings, and that particular picture was incredibly important for me: it's the one that kind of made me think I could be an artist one day. I'd really worked hard on it, took it into school and my teacher was impressed enough to put it up in the school hall. I got lots of nice comments from the staff and the other kids. It was a real confidence boost and made me realise that in addition to enjoying art I was actually quite good at it. At that very impressionable age, at primary level, words of encouragement or appreciation are so important. They can have a lifelong effect.
You're also doing a 'drawalong' at the Key Theatre…
Yes, and I love doing drawalongs. Everyone from four to grandparent age can come and draw with me, and the results are always fantastic. So often I have parents saying they can't believe what their child has drawn – or what they've drawn either! Drawing is something that people lose confidence in really quickly. It gets sidelined, and people move on to writing instead and start saying: 'I can't draw', but I really do believe that everybody has the potential. So much of it is about confidence. I'm very keen on getting everybody drawing, because I think it's an incredibly important life skill that is often overlooked. All the thought processes involved in drawing a picture are fantastically useful; you have to use logic, you have to use your imagination, you have to do a bit of unconscious mathematics working out where to put things and how big to draw them. It teaches how to observe and take notice of the things around you. Above all it's about communication. To be able to communicate something visually is very empowering and there are lots of connections between visual literacy and literacy with language. Because I write and draw I get to see how the two intertwine.
Making art can be quite a solitary process. Do you relish performing or find it daunting?
It is true that most artists are quite solitary people but it's part of the job to help publicise a book by getting out and meeting children and doing book events. I used to be quite nervous about it but I really love doing events now. It's a fantastic opportunity to talk with youngsters and get their reactions, and very often I come away from a school visit or book festival bubbling with ideas. But my main aim is to encourage the young writers and artists in the audience. Being able to meet and talk to someone with my job shows children that it is possible. In every class there's at least one person who is like the young me, and hopefully when I talk to a school group it gives them some inspiration.
What is your drawing process?
I always draw manually with pencil, pen or charcoal – so, fairly basic tools. I don't get my drawing right first time; I do a lot of rough drawings and each one goes through quite a lot of redraws, and for that I use a lightbox to trace over earlier versions until I get it just the way I want it. But I colour digitally now. I've always loved bright, flat colours, so for me a computer is great – like a box of magic felt tip pens that never run out! I've tried most media over the years – crayons, watercolours, inks, collage… In the exhibition there's a little mock-up of my studio where you can go and draw using a light box just like mine.
How do you go about visualising a character?
If I'm illustrating a text that someone else has written, by the time I've read the manuscript two or three times I have a very clear idea of what the character looks like. That's definitely the case with Jacqueline Wilson's books. WithTracy Beaker I exaggerated the hair a little from Jacqueline Wilson's written description, and that curly hair has now become one of her defining characteristics. Actually, I spend a lot of time thinking about a character's hair. Tracy is very bouncy and lively; she's not a quiet girl, so she hasn't got quiet hair! If I was doing a book about a very neat, tidy person I'd reflect that with their hairstyle. I have illustrated in a number of books by Kes Gray starring a girl called Daisy and she has this quite solid helmet of hair. Daisy is a pretty strong-willed character so I gave her a hairstyle to reflect her determined nature.
And what will people be drawing at the drawalong?
Well it's a Right Royal Drawalong! If you look in the exhibition, going right back to drawings I did in my teens, you'll see I always loved drawing kings and queens – so that's a bit of a clue. There'll be castles and dragons too, but we'll also be drawing Tracy Beaker, albeit with a royal twist!
Nick Sharratt's Right Royal Drawalong
• 18 Feb, 2.30pm • Vivacity's Key Theatre, PE1 1EF
Join acclaimed children's writer and illustrator Nick Sharratt and draw along with him! He'll be showing you how to sketch favourite characters like Tracy Beaker and Timothy Pope, sharing ways of creating fantastic creatures like dragons and unicorns, and giving loads of top tips. And to celebrate his latest book Nice Work for the Cat and the King everything will have a special 'royal' twist! Bring pencils, paper and something to lean on and expect plenty of chances to join in. Suitable for everyone aged 4 years and above £11.50 per person. Running time: 75 minutes, no interval.
Pirates, Pants and Wellyphants – The illustrated world of Nick Sharratt
• 11 Jan-29 Mar • Peterborough Museum & Art Gallery, PE1 1LF
Perfect for families and any Nick Sharratt or Tracy Beaker fans! Pirates, Pants and Wellyphants is a wonderfully bright and colourful FREE touring exhibition all about Nick Sharratt and his illustrations. There's loads to look at, from drawings he did as a boy and student to original picture book artwork. There are sections on how picture books are made, lots of activities to do, including dressing up, creating your own 'Sharracter' and working in his studio. You can even meet Nick Sharratt himself on the opening day, 11 Jan.
Check vivacity.org for special events taking place to coincide with the exhibition!  
Leave a Reply