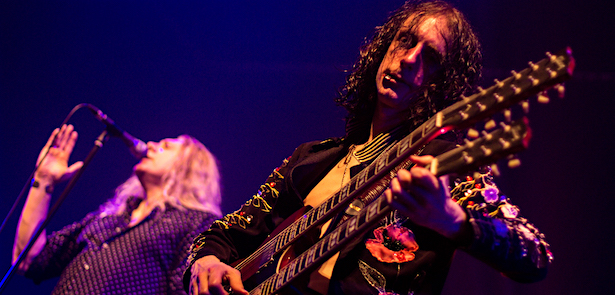 Key Theatre, 17 May, 7.30pm
'I walked in, I saw me' was the comment of legendary Led Zeppelin vocalist Robert Plant after he attended a show by Letz Zep. The official number one tribute to Led Zeppelin, Letz Zep has been awarded the 'Top Rated' and 'Most Popular' tribute to Led Zeppelin by the authoritative Ticketmaster organisation.
Formed by four professional musicians, Letz Zep is capable of bringing that 'tight but loose' sound so synonymous with classic Zeppelin performances. Members have performed with the likes of Ozzy Osbourne, Roger Daltrey and Paul Stacey (Black Crowes/Oasis) , and recorded projects with members of Iron Maiden, Deep Purple and Thin Lizzy.
Letz Zep tours take in over 40 countries on four continents, bringing the music of Led Zeppelin to new generations. From the haunting melody of Kashmir, the ethereal No Quarter, including folksy acoustic songs such as Going to California to the timeless classic Stairway to Heaven, a concert by Letz Zep brings you the very best of one of the greatest bands of all time.
Performing to packed houses and rave reviews as part of their Rock Legends tour 2019, Letz Zep has already performed to more than 45,000 people in seven countries this year alone. This included two sell-out nights at the prestigious Paris Olympia Theatre, an unprecedented achievement. The band was also honoured to headline the 'John Bonham – A Celebration' concert to celebrate the life and legacy of the late, great Zeppelin drummer.
Letz Zep – Celebration Tour
The Key Theatre
Fri 17 May, 7.30pm
Tickets: £21.50
Bookings: 01733 207239, www.vivacity.org/whatson
Leave a Reply