Lee Nelson: 'Ever since David Cameron left his kids in the pub, I've felt I've got what it takes to be Prime Minister…'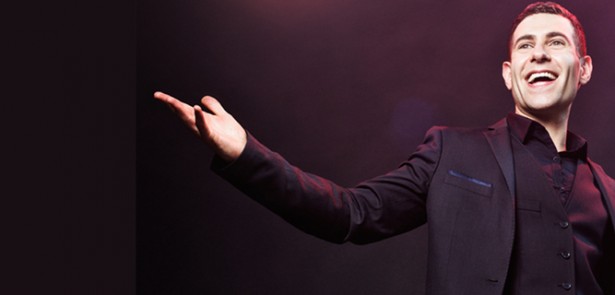 Proper legend and quality geezer Lee Nelson will reveal his more thoughtful side in a brand new show, Suited and Booted, at Key Theatre in February. The Moment magazine online spoke to Lee – and fended off some frankly inappropriate advances – to find out more…
Good afternoon, Lee. How are you today?
I'm feeling exceptionally good, sweets! The tour is up and running, I'm heading to Northampton for another sold-out show tonight. I'm absolutely buzzing!
Are you feeling the love from your audiences?
I am feeling the absolute love, both during the show and with a couple of lucky girls after the show… no, no, that's a joke. I would never do anything to upset my Amber. But it feels nice, you know? I've shaken things up a bit, I'm talking about different stuff, I'm coming at it with the suited and booted thing, looking smart – everyone's feeling good watching the show, the young'uns, the oldies… well, I don't know if the oldies can hear a lot of the show, I think they're just reading the programme over and over again. As long as I finish before 10.45pm, they're happy as Larry.
This tour is called Suited and Booted. So, where do you get your suits?
Nice question, babes. I went to Topman, tried a few on, till I found one where I thought: 'Yeah, I look proper. This is it'. The shop assistant agreed so I thought, 'Nice one, mate, thank you for helping'. Then I ran out of the shop with it.
This new show is all about a more thoughtful, more mature Lee Nelson. What's prompted you to make this change?
Well, after my 16th kid I thought I'd better… grow up a little bit. And also, I put on a suit and my nan said: 'Oh my gosh, you've got to go after the older generation, they're gonna love you' – and yeah, we did get great feedback at that funeral.
I like to step off the estate, see what life is like outside – the election's happening and I've been thinking, maybe I could get into politics? Ever since David Cameron left his kids in the pub I've felt I've got what it takes to be Prime Minister of this country. All this UKIP thing, too, they're saying we've got too many foreigners over here, but I did some research and found out there are definitely more foreigners abroad. Sweetie pie, you're not just gonna laugh at this show, you're gonna learn.
Russell Brand did an interview with Ed Miliband before the General Election. Which political figure do you think might benefit most from some time with Lee Nelson?
I think they could all learn a thing or two from me, sweetie pie.
Which demographic do you think you could tap into on behalf of party leaders?
That is a question… that I'm not sure I understand. But I'm going to try to answer. I'd like to chat to them all, and tell them how life is for ordinary people. Boris Johnson is obviously the one I could chat most to about London. I don't know what I think about Boris's policies, in all honesty… I like Boris's bikes, I have six of them at home.
I have bit of a delicate question, I hope you don't mind…
Okay, go for it sweetie pie.
Well, you've said often that you're always skint. But you work on the telly – you must be loaded
Loaded, I don't know. But I've certainly got more money than I used to and it feels absolutely great! I don't have to shoplift these days, I buy nice things – I bought a new 3D TV the other day. I don't watch naughty films on it though, tried that once and it nearly had my eye out. I have got a bit more money… do you want me to take you out for a little dinner date, sweetie pie?
I won't say 'yes', Lee, as I'm actually a married lady
We wouldn't do anything naughty, sweetie pie, just a nice time, a couple of drinks, a little walk? If things go on to the next level, well, we don't have to tell your husband. But let's not rush into things.
Yes, good. Anyway, my final question: popped collars – are they still acceptable?
Popped collars. I think they are. I don't pop my collars any more as I'm wearing a shirt and tie, but if people want to pop their collars, who are we to judge?
Lee Nelson – Suited and Booted
Thursday, 4 February, 7.30pm
The Key Theatre, Peterborough
T: 01733 207239
Leave a Reply