The Ladykillers of Orton Brimbles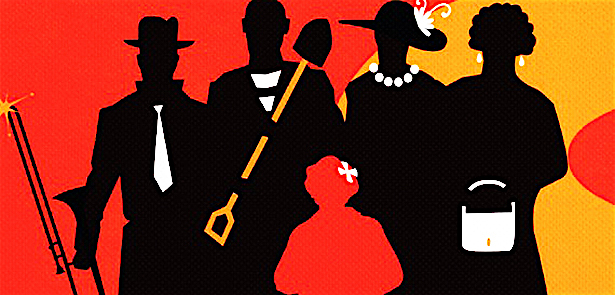 Eastern Angles have been creating Christmas shows – their 'alternative to panto' – for over 30 years. Always new writing in a quirky, alternative style and with an East Anglian theme, they frequently spoof a literary genre or well-known film or TV characters. Previous victims have included Lord Peter Wimsey, Agatha Christie, St. Trinians, Charles Dickens and the Tudors of Wolf Hall. This year, Eastern Angles – in partnership with Shanty Theatre Co – are turning their attention to the famous 1950s Ealing comedy The Ladykillers... We talked to writer and co-director of Shanty Theatre Co Harry Long (who also created 2015 hit Holy Mackerel) about the new production.
Eastern Angles' Christmas shows have built up a cult following over the years – tell us how you came to be involved…
Shanty Theatre Company, which I run with Tim Bell, did a production of the Rime of the Ancient Mariner – a very silly rock musical version – and Ivan Cutting, artistic director of Eastern Angles came and saw it. He approached us and said 'How do you feel about doing Christmas shows?' So we did a Christmas show two years ago with Eastern Angles, and that was Holy Mackerel!
For those who may not be in the know, how would you sum up an Eastern Angles Christmas show?
It's such an established tradition now that people have very definite ideas of what it is! Fortunately, Tim had seen every one since the beginning of time and I'd seen a few, so we had a sense of the vibe – which is, essentially comic anarchy. A touch of Monty Python, a bit of parody, a soupçon of panto, but also a good story. A strong storyline is important.
How did this idea come about?
From a couple of ideas, really. The first was the idea that it would be funny to see a group of hardened convicts trying to put on a very mannered production of Oscar Wilde's The Importance of Being Earnest. The second idea was to base something on the brilliant Ealing comedy The Ladykillers, where an innocent little old lady is unknowingly harbouring criminals. We put those two ideas together, and set it in Ipswich, where the first performances are taking place, and just saw what came out of it. It worked rather well. The basic premise is that a group of convicts have broken out of prison, come to Ipswich and decide to stage a production of The Importance of Being Earnest, and while the audience is watching it, rob their houses. They are hosted by a lady called Binky, their local theatrical digs provider, who once provided digs for Michael Ball and has never forgotten it. And mayhem ensues! At one point I summed it up as a mixture of The Ladykillers, O Brother Where Art Thou?, Dude Where's My Car? and pantomime. It's very much in the spirit of Ealing – a mad, character-led caper comedy.
Is it true that when it transfers to Peterborough it's being adapted to its location?
Yes! In Ipswich it's set in Humber Doucy Lane – a great location which had all the things that needed to be there, such as a hall for the production. It also lends a comically brilliant name… So, The Ladykillers of Humber Doucy Lane was born. But at the Key Theatre we are moving all the locations in the play to Peterborough, so it will have a completely fresh Peterborough face by the time it arrives and will be known as The Ladykillers of Orton Brimbles!
Is it just the names that will change?
One of the great things about the Eastern Angles Christmas shows is that they have great flexibility within them, so as the actors inhabit what they are doing and get ownership of the work, they start to have a rapport with the audience. So, to begin with it'll mainly be the names that are different, but night by night the casts adapts it to the people they're doing it for. So, it's always fresh – but also nerve-wracking for the writer!
Does it ever end up being nothing like what you've written?
I have to put my foot down at some point! But basically the deal is, if it's better than what's on the page, it's in.
Although these shows aren't strictly panto, it sounds like the spirit of panto is certainly present…
There's definitely a strong kinship. Binky, the equivalent of the old lady in The Ladykillers, speaks directly to the audience all the time, and it's definitely got the irreverence of a panto. It takes the mickey out of itself. There's also a lot of music in it, all played by five fantastic actor-musicians. So they have to be insanely multi-talented, playing several different instruments as well as about 20 different characters! There are rock numbers, love ballads, funky bits… And I think people will have a damn good time!
The Ladykillers of Orton Brimbles
23-27 Jan 2018
Key Theatre
To find out more, visit: www.easternangles.co.uk
To book, visit: www.vivacity-peterborough.com
Leave a Reply