Key Theatre panto: putting on the glitz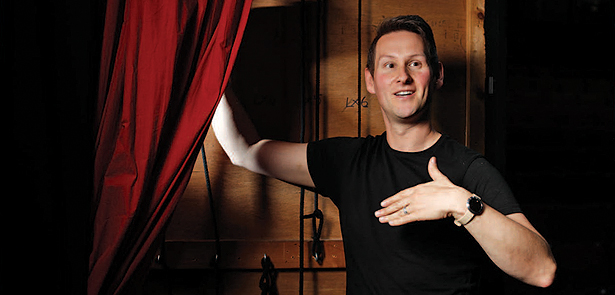 Panto time approaches, and the Vivacity Key Theatre is gearing up for this year's magical production: Sleeping Beauty (7 Dec-7 Jan). But have you ever wondered how all that magic is created? How the set is designed? The stage managed? Who builds it, lights it, and creates the illusions? Well, this year all those things are down to one very busy man – Vivacity Theatre Technician David Griffin-Stephens, who started his varied career right here at the Key over 20 years ago. Toby Venables talks to him...
With actor-musicians on stage and a director who is also writer and the composer, it seems everyone working on this panto has at least two jobs – but you seem to have even more than that! What will you be doing?
I'm production managing, so I will ensure the 'delivery' of the panto and all the visuals, essentially. But I'm also designing it, building it – because I'm also a scenic artist – and designing all the lighting and special effects.
Is it unusual for someone to have so many different roles on a production of this size?
It is, actually. You do get a lot of people like me who are multi-skilled, but generally on a show they'll be doing one element of it – and the part that is most unusual is being production manager as well as a creative. Usually it's the production manager who is breathing down my neck. I'll have to breathe down my own neck! But it really helps having a good knowledge of the venue – and it's nice getting to light your own set. Sometimes in panto the lighting designers are so focused on lighting the actors that they forget about the set, so it's nice to get to do it all.
You also have a long history with the Vivacity Key Theatre…
When I left school I went straight to work at the Key. That was when it was more of a repertory theatre, producing a lot of its own shows. Then I left and went into the wide world, and ended up working for various pantomime producers up and down the country, in various different roles. I've worked on over 30 professional pantomimes – writing, designing, directing, theatre managing, and yes, performing! On numerous occasions I've played the Dame, but have now hung up the wigs and heels… Then, a couple of years ago I made the decision that I wanted to be closer to home, because it wasn't great to be away from home over Christmas. A technician job came up at the Key Theatre which also allowed me to continue doing some of my freelance design and scenic work, and it's been really nice to be able to do all this at home, doing what I love.
Does it help when designing the show, having been a performer?
You become a bit more wary of things like entrances. I'm six foot, so by the time I have a wig and heels on I'm seven foot, and I've gone through lots of entrances where you have to remember to duck! It's good from that aspect – but you almost do it subconsciously. You can get carried away, thinking how beautiful your set is and that it's a shame to have to put actors on it! But if you have that in mind to start with, it's a lot easier. You don't then have to compromise your vision.
How did you come to be so involved in this year's production in so many ways?
Maggie Saxon, the producer, approached me to design the set and production manage, which I was very happy to do – and then I was talking to the director, Simon Egerton, and that led to me lighting it as well. One thing led to another! What makes it possible is that none of these things really happen at the same time. Can you take us through that process? I actually started designing the set in December 2016. Originally it was all going to be set in winter with snow, but as the original concept drawings progressed it changed to spring – but some elements of the original design remained. Once the designs have been signed off by the producer and director I build the 1:25 model, which is a perfect scale model of everything that will be seen. That's when we look at it and decide whether we want to move things, or maybe take something away if there's too much. At this point there may also be bits that are cut out of the show – sequences that maybe don't add anything to the narrative, which may mean we don't need a particular piece of set. At the end of that we cost it again, and then we transfer everything – so from the model I work out how much paint, timber and canvas we're going to need. Then we go into build, which starts in August and takes 13 weeks. That then takes us into rehearsals and technical week, where we get it all into the theatre and working for opening night. So, it's nice staying with the show all the way through. If I was there just as a designer my job would be more or less finished by now.
Does it make for a better production, having everyone so involved in different areas?
You do get more for your money this way; it means you can spend more on the extra glitter and sparkle, and all the illusions and special effects. And what we're getting is going to be a real spectacle! The show curtain alone has got 1.5 million sequins on it, we've got 30kg of glitter for the set, with 10,000 rhinestones just to give a bit of extra sparkle. There's about a mile of timber and scenic canvas if it's laid end-to-end… There's a lot going into it! I'm also designing illusions for the show, such as having someone disappear from one part of the stage and reappear on a balcony. There's a lot going on!
What will be going through your mind on opening night?
As long as you have a good technical week – so everything moves and works and is safe – you have fewer worries. A lot of the set moves in this, so rather than the typical front cloth coming in while the set is changed behind, we transport you from the palace into the forest in front of your eyes. That involves a lot of moving scenery with actors and children on stage, so you're always worried about whether something is going to get stuck, whether someone is going to miss their mark… But, touch wood, I've never had anything go drastically wrong! It usually all gets ironed out during technical week.
Are you ever able to simply sit back and enjoy the show?
No! Actually, once the curtain goes up, I'm on stage working with the stage and stage management crew, so I am literally with the show all the way through…
What makes the Vivacity Key panto so different from others?
I honestly believe that theatre should be for everyone. I've seen some shocking pantos with no production value to them where the producers just wanted to make as much money as possible. But I do think that with Vivacity being a charity with the aim of enriching people's lives, it means we can go that extra mile and make it all about the show – really giving people an experience of what panto and theatre is. It's the first time many children get exposed to live theatre, so it's nice to give them the very best experience, and we are doing that. There are not many theatres that have an actor-musician panto – I think we're one of two doing it who have an original score as well. It is quite unique in the UK. And we're aiming to bring a bit of West End production value to the Key panto this year!
Leave a Reply