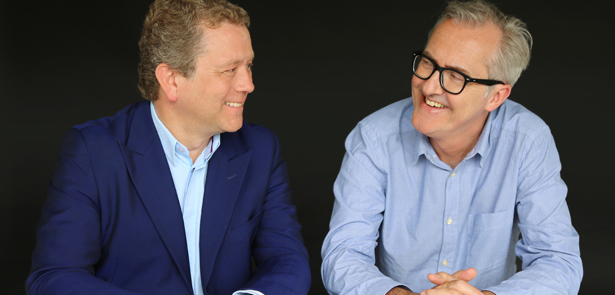 Just about everybody in the UK is familiar with the voice of Jon Culshaw – even if they don't realise it. Recognised as one of Britain's greatest and most versatile impressionists, known for Spitting Image, The Impressions Show and Dead Ringers he's reckoned to have over 350 voices and impersonations in his repertoire – everyone from Donald Trump to Professor Brian Cox – and if you want to throw a new one at him, he's up for the challenge. On 3 June you'll have the chance to do just that; in the company of producer Bill Dare, he'll be hitting Vivacity's Key Theatre with his show The Great British Take Off – an evening of unscripted, unrehearsed, interactive comedy and conversation in which politicians, sports personalities and celebrities old and new are all up for a roasting. Moment editor Toby Venables talked to him about the show, pizzas and making a good impression...
Most people will probably know you from sketch shows or guest appearance, but this show is a little different – tell us a bit about it…
It's quite unplanned, quite spontaneous and led by the audience. There is a loose structure to it where I'll talk about characters I knew when I was growing up and how they influenced what I was doing – characters who could well have been written by Alan Bennett or Les Dawson. These are the people I met in my early jobs and also the characters I started to impersonate, so it's sort of a spontaneous trip through my career featuring lots of characters I've encountered along the way.
How does the audience get involved?
There's a section where we have the audience call out characters for me to do, and then at the end of the first act we make a phone call to a local pizza place and place an order in the guise of two or three characters chosen by the audience. It makes it bespoke for that particular theatre.
Do you ever get asked to do a voice you've never done before and have to try it out for the first time live?
Yes, sometimes you do get that. You kind of workshop it on the stage, starting off with other characters that it reminds you of. Moments like that, not knowing quite what you're going to get, are the real beauty of it! Many people will ask for characters who are relevant to that area – in our very first run we did a show at Chipping Norton which is in the former constituency of David Cameron, for example… So, while many of the stories and anecdotes may be the same from show to show, I never know quite what order or what format the story will take, and it never plays out quite the same way. That keeps you sharp – it means you never fall back and rest on your laurels. I love the idea that one show will be bespoke to that audience, on that night – that keeps it interesting for all concerned. You're never able to simply sit back and phone it in.
Talking of phoning it in… Tell us about those pizza orders!
It's our gift of canapes! In essence, it's a call from a very bizarre house party where a bunch of unlikely celebrities are all ordering pizzas. There was one time when the audience suggested Boris Johnson, Professor Stephen Hawking and Brian Sewell. We usually defer to the most sensible sounding person to actually make the call and give the details – somebody like David Attenborough or the Prince of Wales – and we give the address as the theatre. We make the call at the end of the first act and they usually get delivered about 2/3 of the way through the second act, and are put on the stage and the audience help themselves to a slice.
Do you get strange reactions..?
Sometimes people put the phone down, but our tour manager will always call to explain afterwards that it is a genuine order, so they get delivered and we pay for it and support the local economy. And the first few rows get a slice. It's just a nice way to do it. The audience also help to choose which pizza place we go for – and people always call out their favourites.
There are actually two of you of you on stage…
Yes, it's myself and Bill Dare, the Dead Ringers producer. He's sort of like an interviewer, holding it all together – and it's lovely doing a show like that with a mate. Also, because he's got such a producer's brain he's very good with the structure and order. I can do all the loose, spontaneous bits, breaking off into a character, but Bill's great at steering it along.
Bill was also producer on Spitting Image, where you had you big break in 1994. That meant going from local radio to doing around 40 different voices on this very high profile show. Was that daunting?
Oh, it was, yes! I used to catch the train from Blackpool and go down to the studios in London to do the sessions every Tuesday, when you'd do the non-topical stuff, and Friday when you'd do the more up-to-the-minute stuff. It was my first job in telly and in London so I'd always put on a suit and tie like the newsreaders on Radio 4 even though no one saw me! The other voice artists John Thomson and Kate Robbins were quite sympathetic to me and took me under their wing. There are many anecdotes about Spitting Image in the show and the tapestry of characters that there was in the 90s. It's quite a good way to measure your life, to think abut the characters you were doing at any one time.
Are there characters who you just love to do, either because of their voices or their personalities?
Oh yes – they're the ones which come out without thinking about it. Les Dawson, Larry Grayson, Brian Sewell, Alan Carr… They just kind of appear without you realising. The audience always asks for Donald Trump first – you have to do it and he always gets a good reaction, but you're glad when that moment passes!
Does it get challenging when politics almost goes beyond satire?
[as Donald Trump] 'Satire is my favourite village in all of Sweden. It's a very beautiful place…' With Trump you have to be very specific, writing about the clumsiness of what he's actually doing and actually saying. A line of comedy that really works with Trump is having him attempting to be presidential and statesmanlike and messing it up at the end, so it all goes like a custard pie in the face. On the day it was a year until Brexit, Dead Ringers did some great video shorts and there was Trump answerphone message where the writers summed him up brilliantly [as Trump] 'Thank you for calling. This is the president of the world. I'm on important golf business. Go away.' You get a sense of what his priorities are, you get the arrogance, a bit of stupidity… I think people find that kind of writing cathartic! A bit of ridicule and a dollop of the truth. [as Trump] 'I enjoyed the running for president bit – that was great. I will enjoy having been president when it's all done. The bit in between that I'm having to go through right now is a little bit tedious…'
One thing that is remarkable is the range of the voices you do, some of which I have never heard anyone else even attempt, such as Tom Baker…
[as Tom Baker] 'Well the only way I can do that is to travel into the future, you see…' It's an amazing voice to hear. I've done a few of the Dr Who Big Finish recordings with Tom, and he sits there in the corner telling the most amazing anecdotes. [as Tom Baker] 'When I was a monk there was this amazing nun who came to visit, who had raised an owl from an egg. She incubated it between her breasts…' You can't really believe what's unfolding before you, and with that voice to frame it it's just the most perfect thing to behold.
Something you did recently that was a little different was play David Bowie in the BBC radio play The Final Take, about the recording of his last album. Was it a daunting prospect, playing it straight, and with such a revered character – did it take you out of your comfort zone or did you feel 'I can do this'?
It was all of those things, not necessarily in that order! Immensely daunting, but the kind of feeling where you want to run towards it rather than back off. I was massively out of the comfort zone, but I did sense it was within my ability to do it. And the thing about being out of your comfort zone is that it can be exhilarating. Much as I love comedy, it's good to do other things. I just set about the research doing all the listening and reading that I could, just absorbing as much of the person as possible. And, fortuitously, the first YouTube clip that I came across was Bowie giving a bit of life advice, really, telling people how they should never play to the gallery and stick to what they truly believe. And then he said [as Bowie]: 'Just as an add-on, the other thing I would say is that if you feel safe in the area you're working, then you're not working in the right area. Always go a little further into the water than you feel you're capable of being in – go a little bit out of your depth, and when you feel your feet aren't quite touching the bottom, that's the right place to do something exciting.' And that was exactly how I felt attempting a role like this. That really spurred me on.
I've always been a big fan of his music, but doing this drama means you've got to look closer. It just left me absolutely smitten by his creativity, his sense of humour and his charm. By everything really. 'Genius' is a word chucked about quite a bit, but it doesn't do justice to him. And it's a completely different approach from comedy; with this, you have to do it in such a way that none of it feels exaggerated, that it's just a grabbed piece of time, listening in to a making of documentary about Blackstar. But it was a great opportunity and I'd love to do more like that. I would love to play Les Dawson. George Michael would be a great one to do in a radio drama, too. I would love to do more like that.
Jon Culshaw – The Great British Take Off
The Key Theatre
Sunday 3 June, 8pm
To find out more about this and other Vivacity events, go to: vivacity.org/whatson
Leave a Reply