Jo Caulfield: 'I don't know what's going to happen, and that excites me…'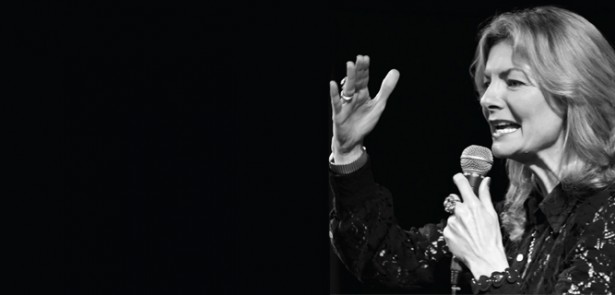 Jo Caulfield's comedy CV is ludicrously full. She's appeared in 50 TV shows and 30 radio series and one-offs (including four series of her own), written for 22 of them and been the regular warm-up act for 16 more. And all that's before you even get to the tours, the awards, the TV drama credits and the appearances at Edinburgh (she'll be there in August). Toby Venables talked to this one woman comedy whirlwind ahead of her appearance at the Key Theatre (18 October)
FIRST OF ALL, I UNDERSTAND YOU HAVE A CONNECTION WITH PETERBOROUGH?
Yes, I know Peterborough very well, because I went to school in Rutland, so Peterborough was like the place we went to for the big shops. I performed there once, ages ago, and haven't performed there since – and weirdly, I remember that gig because it was the first time I met Graham Norton. He had just started to do standup, having done some one-man shows. I remember thinking this guy was hilarious, because he didn't really know what standup was, and he was talking to the audience about topiary. And I was thinking: 'I don't think these people have ever seen a gay man, let alone know what topiary is.' But when it wasn't going well he would just walk into the audience, and that's when you thought 'Oh my God, this guy is just amazing…' And then I gave him a lift back to London – and it's just as well I did because we became friends and he gave me my first big break on his C4 show warming up the audience and employed me for years as his writer.
THE NEXT TOUR IS CALLED A CELEBRATION OF ANGER. DO MANY THINGS MAKE YOU ANGRY?
A lot of things make me angry. I find it makes me laugh, then, to think about why that is and to make fun of it, because it makes it not a powerful thing any more. When there was the banking crisis and things were so out of control, it felt like we were powerless, but I found having a good old rant about things made me feel a lot better. It's cathartic, and it gives you a kind of control back. That's why, at the very end of the shows, I let the audience tell me things that they find annoying and that make them angry. And sometimes they argue with each other. I know when people leave they will feel they've been to something live. They know they've connected. And that's good. Also, I don't know what's going to happen, and that excites me.
YOU ALSO DO WARM-UP FOR TV AND RADIO SHOWS. IS THAT AN ODD THING, GETTING AN AUDIENCE READY FOR SOMEONE ELSE?
I don't do warm-up so much now, because you kind of come away thinking 'I don't feel important enough…' I did Graham Norton for years and that was a lovely job, but you have to put some ego aside, because it's not – unfortunately! – the Jo Caulfield show. The only one I actually do now is Have I Got News For You, because they're so lovely to me on that show. It's a bit different, too. What normally happens is you warm up the audience before the recording, then you hang around in case there are breaks, but with HIGNFY I don't, I can just leave because Paul and Ian just say 'Well, we'll just talk to the audience ourselves'.
YOU MOVED TO LONDON AT THE AGE OF 17, IN THE EARLY 80S, TO BE IN A ROCKABILLY BAND. THAT MUST HAVE BEEN A VERY COOL TIME TO BE IN LONDON.
I was working in a hotel as a breakfast waitress, so that wasn't so cool. But getting a job made me feel very independent. Back then, London was very cheap, and I lived in what was called a 'legal squat', where you paid for your electrics, but it was rent-free. There was a lot going on, and lots of people coming to be creative where now people come to make money in London. People were coming to be in bands, my sister was in a theatre company and was a writer, and everybody was doing things with no thought to where it would go.
HOW DID COMEDY COME OUT OF THAT?
People always ask how I started my comedy career – but nobody knew it even was a career then. I was in the band, then drifted around and went to comedy nights with a friend of mine. And it was so easy – not the ease of doing it, but the ease of getting into it, completely open to everybody. The club I went to – The Comedy Café, in Shoreditch, which is still running – you just turned up, put your name on the list, and if there weren't too many people you'd get on. There was a competition every Wednesday, and I won the competition. It happens a lot with comics, I think, that the first gig is full of energy and you don't know yet quite how afraid you should be. I was very nervous, but also slightly drunk, and you don't realise how bad you are! I was the best of a very bad bunch. I still remember some of the comics who were there that night, who are still going. But I was hooked. I remember thinking: 'This is it. This is what I want to do.' Then I decided to open a club, book the acts and learn how to do it. That really helped me improve because I was compering the club. You have to learn to respond and not just rely on material you've already done, and you have to learn who you are on stage. Before that, the whole place could have been bombed and I would just be standing there, carrying on, not remarking on it… I also learned what not to do – the things that annoy people. For example, comics would phone me at 8 am on a Sunday, and I thought 'Well, I'm not booking you now!'
WHAT WERE YOUR INFLUENCES BACK THEN?
Dave Allen was my first big influence. I loved the way he just sat there with a whisky, chatting away like he was one of my Irish uncles. Alternative comedy started then, but people forget what it was a reaction to – that there was a largely racist, sexist, homophobic comedy that it was the alternative to. I remember seeing The Young Ones on telly and thinking it was amazing. But I also remember seeing a video of Steve Martin – when he had the rabbit ears on – and I'd never seen anything like it. It was hilarious, but I also thought: 'He's just an idiot! I could do that!' I didn't realise how clever it was. But also, it wasn't a man in a frilly shirt doing smutty jokes like all those comics we used to see on telly. Steve Martin just seemed like he was arsing about, like you'd do with your mates. It made it seem so accessible. Then I saw Ben Elton on Saturday Night Live and began thinking this was something I could do.
YOU MENTIONED THE YOUNG ONES – IT WAS A GREAT SHOCK TO LOSE RIK MAYALL RECENTLY…
So sad. He influenced every comic I know of my generation – and many of the younger ones as well. He had an amazing ability to do things that were really over-the-top but which seemed believable. And I loved Bottom, where there were homages to older sitcoms like Steptoe and Son, and a bit of Morecambe and Wise with these two men living together, and absurd Spike Milligan. And it was very British, that pomposity that Mayall always had – it's Leonard Rossiter, Basil Fawlty… But it's just terribly sad, because we all looked forward to seeing him in something else, and now we won't.
DO YOU GET FED UP BEING ASKED 'WHAT'S IT LIKE BEING A WOMAN IN COMEDY?'
I have been asked this so often, and I find it absolutely infuriating. Sometimes I might be the only woman on the bill, but also if there's an Asian comic, he's the only Asian comic, and if there's a black comic, he's the only black comic. All of us, other than the white men, are seen as slightly a novelty act – because that's the way the world is. But comedy is hard, and you have to work hard at it, and it's hard for everybody, so you can't think 'It's harder for me'. You can maybe get more from the audience because they're surprised sometimes. And women are very proud of you. They're really happy that you were good. And you can do an awful lot more than just deliver a feminist rant. Just be really good at whatever you're doing.
SO, WHAT ELSE IS CURRENTLY MAKING YOU ANGRY?
At the moment, the thing that is driving me nuts, which is creeping over from America, is corporate friendliness – like in Starbucks, with them asking me my name. It's just not British. So I just say 'Trevor'. I don't blame the people themselves – they've been told to do this. I was in a shoe shop the other day and the girl comes up and says: 'So, what are you doing today? Doing a bit of shoe shopping?' Er… Well, I am in a shoe shop… And in Marks and Spencers they have this thing where they ask: 'So, what have you got planned for the rest of the day?' But this is at Edinburgh station when I'm about to get on the train, so it's like, well, what do you think? I'm at the station, about to get on a train! There are ways to deal with this. 'So, what have you got planned for the rest of the day?' 'I'm having a smear test'. That should put paid to any further questions.
Jo Caulfield appears at the Key Theatre on Saturday, 18 October
For more information, visit www.vivacity-peterborough.com
Leave a Reply