It's all going on at The Broadway theatre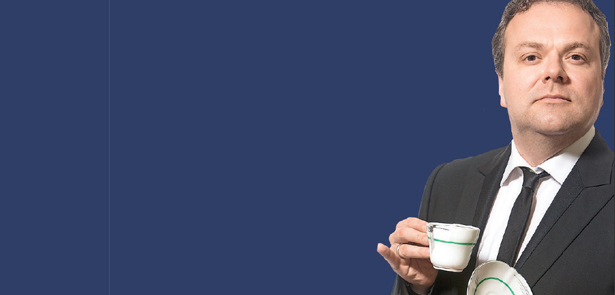 The historic Peterborough venue is up and away – with more shows being announced all the time...
Following the relaunch of The Broadway on 2 September 2017, exactly 80 years to the day since it first opened its doors as an Odeon cinema, events are beginning to be announced thick and fast, to tempt everyone with the range of entertainment which is already on offer. That first evening also saw the BBC Concert Orchestra take to the stage for a memorable Film Music Gala, and the day after The Broadway staged its first ever Record Fair, where fans of vinyl from across the region met up to savour the unique atmosphere and socialise – part of the theatre's remit to bring communities together. With Walter's Bar and Eatery being open every day from 9am on the first floor of The Broadway, this is rapidly becoming the place to be seen – both for turning up for a chat or for holding informal business meetings. So far announced as coming soon to The Broadway are comedy acts, both established and those onameteoric rise, tribute bands, and even an international music superstar. It's worth keeping an eye out to see what else is coming up, as new events are being announced almost daily.
Mark Ringer, Managing Director of The Broadway, said: 'We secured full access to the building a lot later than we had hoped, so we are working hard to sign up and bring in as many acts as we can in the run-up to Christmas. However, we are in the excellent position that agents and managers are now contacting us directly, to see if we can fit in those they represent within our calendar. So, the word is out – not only do the paying public want reasons to visit The Broadway, we also have those who take to the stage wanting to savour our unique atmosphere.'
Already announced
Thursday 7 September – Comedy Funhouse
The Broadway's first comedy and dinner event in The Broadway Suite. It will feature three great comedians, with the superb Hal Cruttendon as headliner, as seen on Mock The Week, Live at the Apollo, and Have I Got News For You. Also on the bill are familiar TV faces Tanyalee Davis and James Dowdeswell. A fun night's entertainment with a quality buffet meal included means this is something not to miss.
Friday 15 September – The Strange Doors
Experience the music of The Doors played live and accurately. Audiences don't just get a Doors Tribute band, they are getting the ultimate Doors experience, including great costumes and authentic instruments. Doors fans can relive the psychedelic sixties and step back in time with a tribute band which looks as good as it sounds.
Friday 22 September – WAW All-Star Wrestling
Action from the World Association of Wrestling, featuring WWE Hall Of Famer Scott Hall (aka Razor Ramon). Also included in the line-up are The Knight Family (the family of WWE's Paige), Rowdy Ricky Knight and the UK Hooligans, plus more stars to be confirmed.
Saturday 23 September – The Everly Pregnant Brothers
A powerhouse of parody fuelled on best bitter, pork pies and raucous gigs. They regularly play to sell-out crowds in their native South Yorkshire, and are rapidly growing a cult following far and wide. You'll discover two hours of hilarious re-workings of your favourite hits, and they sum up their interests as ukuleles, pubs, stew and chips, trams and nightshifts – in effect living life how it should be lived, with a smile and a uke!
Saturday 30 September – The Revellers
2017 marks the 70th anniversary of The Revellers – who describe themselves as a group of caring extroverts who first decided, in 1947, that they could raise money for local charities by producing plays and concerts to entertain the local populace. And now, they celebrate their anniversary with a special occasion at The Broadway Suite. They are true thespians, that prefer to extend themselves and the bounds of theatre whenever possible, and will continue to do so in the future.
Thursday 2 November – The Bohemians
An internationally renowned Queen Tribute band, you will be taken on a high-energy roller coaster ride of a concert, featuring the back catalogue of one of the World's most popular and iconic rock acts of all time. Right from the beginning you will be gripped by a bombastic, authentic audiovisual representation of Queen's iconic Wembley '86 performance as The Bohemians burst onto the stage to the strains of One Vision and A Kind of Magic. So many fabulous hits to be covered but they're all here, from the early piano and harmony-heavy wonders of Killer Queen and Don't Stop Me Now, to the later, catchy pop anthems of the eighties.
Thursday 9 November – Doreen: Rise of the Yam-Yam
Doreen Tipton is a name quickly spreading across the nation. A workshy character with roots firmly in the Black Country, she is being pulled away to 'foreign climes', and the first territory to bag her is Peterborough. Ents24, the UK's largest live guide, has just included her in their Top 20 List of Rising Comedy Stars, based on pure public demand and their tracking figures. A 'Yam-Yam' is the slang name that Brummies (people from Birmingham) give to their counterparts in the Black Country, but the humour in this show has smashed down borders. Please note this show contains adult humour and occasional strong language, and is recommended only for ages 16+.
Saturday 9 December – Alexander O'Neal
A huge name secured by The Broadway, Mr O'Neal is one of the R&B genre's most iconic names. With chart smash Criticize having lit up dance floors across the world some 25 years after its original release, his sound has transcended generations. Signed by Prince to Warner Brothers Records back in the early days, his journey in and out of various band formations propelled him to be the solo artist that we know him as today. With his heart firmly in the music industry, and a loyalty to the thousands that still buy his records, O'Neal's passion to keep his sound alive is ever-present.
● For tickets, please visit the new website at www.thebroadway.today today – additionally, the Booking Office telephone service is open on 01733 306071, and you are now able to book tickets in person every day from 9:00am to 5:00pm at The Broadway itself, 46 Broadway, g Peterborough PE1 1RT
Leave a Reply