It's a date for dinosaurs!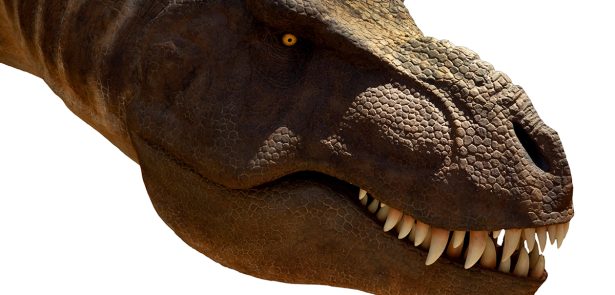 Animatronic and other models of millennia-old dinosaurs are heading to 900-year-old Peterborough Cathedral this summer, in the form of the Natural History Museum's touring exhibition, T. rex: The Killer Question.
Plans to present the exhibition in 2020 and 2021 had to be shelved due to the pandemic, but this time the dinosaurs are definitely on their way.
This world-class exhibition includes nine roaring and moving animatronic dinosaurs of various sizes, a three-quarter-size T. rex and a life-size T. rex skeleton.
The exhibition poses the killer question: Was T. rex a ferocious hunter or a mere scavenger? To help visitors think about this, the exhibition presents scenes showing the behaviour of several different dinosaur species – from the small and agile Sauronitholestes, to the savage Dromaeosaurus and the plant-eating Tenontosaurus. It also shows examples of bones and fossils to see what they can tell us about T. rex.
The Very Revd Chris Dalliston, Dean of Peterborough, said: "We're excited that after a long wait due to the pandemic, we are now able to bring this wonderful exhibition to the Cathedral. We know that many people, children especially, are fascinated by these prehistoric creatures and this will be a fantastic opportunity to see them right here in Peterborough rather than travelling to London. Of course, reflecting on the extinction of dinosaurs long ago will also help us to explore very current environmental issues like the diversity of species and how many of them are vulnerable to extinction. These are big questions about God's creation and the responsibility we have as human beings to care for it and protect it."
Brad Irwin, Head of Global Engagement at the Natural History Museum said: "We are thrilled to be bringing T. rex: The Killer Question to Peterborough at last. We hope that the exhibition will be able to educate and entertain an entirely new audience about dinosaurs, specifically the awe-inspiring
T. rex. It is our hope that these exciting animals that once roamed the earth can inspire a love of the
natural world and motivate people to become advocates for the planet."
BOOK NOW
Tickets for the exhibition are already selling fast. They are £8 per adult, £6 per child or £25 for a family ticket (2 adults plus up to 3 children, or 1 adult and up to 4 children). They are available via the Cathedral website at www.peterborough-cathedral.org.uk/t.rex
Cathedral events
Upper Level and Tower Tours
"Spellbinding and informative." "One of the best activities we have done as a family."
Just some of the feedback from our Upper Level and Tower Tours which take place on selected dates throughout the year. Numbers are limited so pre- booking is strongly advised.
● Tickets: £15 per person (ages 8+ only) via www.peterborough- cathedral.org.uk/towertour Conditions apply.
As You Like It
Wednesday 15 June
Outside on Cathedral Green
The Lord Chamberlain's Men, the UK's premier all-male theatre company, bring their outdoor production of Shakespeare's sparkling comedy to the green in front of the Cathedral. The company, which has a history stretching back to William Shakespeare himself, performed Macbeth, to great acclaim, in the same location last year.
● Tickets: £17 adult, £10 child + booking fee via ticketsource.co.uk/whats-on/ peterborough/peterborough-cathedral or call the Box Office on 0333 666 3366.
Leave a Reply