Interview: Katya Jones in The Wizard of Oz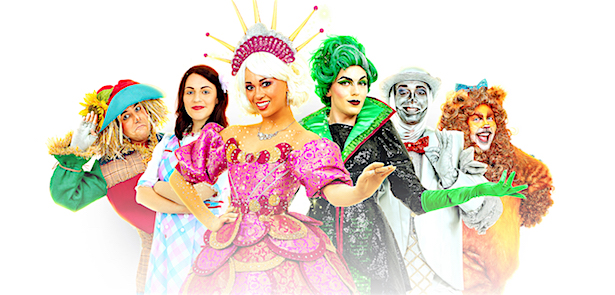 This Christmas Peterborough's New Theatre and Prime Pantomimes present a brand-new all-singing, all-dancing production that will literally blow you away! Everyone knows the story of Dorothy, the Scarecrow, the Cowardly Lion and the Tin Man, their search for the might wizard Oz and their struggles against the Wicked Witch of the West. But we wanted to talk to the person who guides Dorothy on her epic adventure – the Good Witch Glinda. Well, it turns out she is an exceedingly busy witch, with a punishing schedule of dance rehearsals, publicity events, TV appearances and live performances, but we finally caught up with Peterborough's very own Glinda – AKA Strictly champion Katya Jones – as she was sitting in the make-up chair before going on air for It Takes Two...
Tell us a little about your part in The Wizard of Oz…
This is going to be my first ever appearance in panto, and I'm going to play Glinda, the Good Witch. She's quite a fierce character, and she's got attitude, she's sassy and she's obviously got dance moves! So, I'm going to be bringing some of my dance experience onto the stage at Peterborough, which I am really excited about. But I really like her – like I say, she has attitude and she's loud, which suits me really well!
I've heard you say you can't sing but you'd give it a go. Will that be happening..?
Maybe they'll stick me at the back for that, so I can sort of lip-sync! But no, I've never sung. I do play an instrument – I play piano – so I probably wouldn't be off key, but it wouldn't sound that nice I don't think! I did say I would take on any challenge, because I love learning, I love doing new things, and if I really had to, well, I would push myself to do it. But I think I'm probably going to stick to what I do best, which is dancing, and really smash out some good routines. So, we'll see how that goes!
Panto is such a uniquely British thing – how did you first encounter it and what did you make of it?
I came to England about 11 years ago, and my husband Neil said we should go to panto, and I was like 'What IS panto..?' We don't have anything like this in Russia. It's just such an amazing celebration – a family thing that everyone can look forward to – not just children, but parents and everyone of all generations. It reminds me a bit of Strictly, actually, how whole families sit down on Saturday night and look forward to this amazing show that brings families together and makes them happy. It really is like that. I'm very used to performing for families, to bring joy to them, and that's why I loved the idea of doing panto. Also it's got a moral to it, and children can learn from it, and they all get involved… I just love everything about it, really! It's something I never had as a child myself, so it's a bit like living a childhood dream. It's absolutely amazing being in it, and hopefully I'll also be discovering other sides to my talents, too, beyond just dancing. And like I said, it kind of suits me, being extra-loud…
You're obviously very used to performing, but is this an extra challenge?
This is live on stage, so you've got to find that energy, but also make people feel they are part of this story and take them on a journey, so this is something new for me to discover. I love to entertain people, I love to get them involved and to get them to feel something, so hopefully I can bring some of that to the stage. It's a new production so I think everyone is very excited to be bringing it to the New Theatre and I feel I have a bit of a responsibility to help deliver it, so I hope I can do it justice!
Costumes are a big part of pantomime. Have you tried out yours yet?
I have – it's amazing! It's a kind of mix between the Statue of Liberty and a Russian doll. The crown is massive, everything is exaggerated… It's very, very pink, and there's this huge wig. I absolutely love it. It kind of takes everything to another level, the big, bright costumes, and everything in the production being so happy and colourful. But that's what you want isn't it? It's Christmas, it's a time of celebration! But I can let you in on a secret… Because I've also got to dance in it, there might also be a little reveal of another costume. People will find out about that on the night though!
There are lots of professional dancers from Russia on Strictly; is dance a really big deal there?
As a child, in Russia, you do lots of after-school activities – literally everything. Painting, singing, gymnastics, piano, dancing. It's almost like part of the curriculum, so all these children do ballroom dancing, boys and girls, and then they get to decide whether they go further with it or not. Also you start going to competitions almost immediately – so, as soon as you've learned your moves it's like 'Right, the competition's coming up!' And that's really why there are so many Russian dancers – not just because so many do it after school, but because they get hooked on the whole competition side of it. From that, quite a few end up going into it professionally, and many pursue career opportunities abroad, as I did. I've been kind of spread all around the world!
How did you come to be involved in Strictly?
Me and Neil had competed a lot together as dance partners and had won a lot of titles – World Champion, British Champion – and then Neil was asked by Kevin Clifton to help him out. He stood in for him, and because that went really well, the opportunity to be part of the regular team came up. At that moment we were still competing in championships, but we took the decision to retire from it as we'd achieved about everything we could. It was perfect timing for us. But also you can't really say 'No' to an offer of Strictly!
Is it tough balancing the demands of Strictly with your preparations for panto?
I'm missing the panto opening night, because that's the night of the Strictly final and I have to be there for the group dances, but I will be joining immediately after. I've actually already been rehearsing for the panto with the director, learning my script, and that's been really fun, exploring the character with them and putting my own interpretation on it. I absolutely loved it. I just need to meet the whole cast now, which is a little bit scary! But, you know, I dance in front of millions of people on live TV, which is pretty scary, and if I can do that, I should be able to do this as well!
What are you most looking forward to?
I think that very first moment when I walk out in the first show. I'm really looking forward to the reaction – because, you know, you've got to get the right response. So I'm going to work really hard to make sure it's something special. But I'm really looking forward to the whole thing. It's an experience unlike anything I've ever done!
---
About the show…
Starring Strictly Champion Katya Jones* as Glinda, ease on down the yellow brick road to the New Theatre this Christmas as Prime Pantomimes proudly presents a brand-new pantomime spectacular guaranteed to have you in STITCHES…The Wizard of Oz!
Join Dorothy on a whirlwind adventure through the Emerald City as she and her loyal friends: the brainless but cheeky scarecrow, the cowardly lion, and the heartless (literally!) tap-dancing tin man, navigate through the magical Land of Oz in search of the mighty and mysterious wizard. With the Wicked Witch of the West determined to stop them by any means necessary, however, will the spirit of friendship triumph over evil?
With lashings of audience participation, dazzling costumes and plenty of laughter, this hilarious pantomime promises to have you shouting, clapping, and singing along to a host of chart-topping hits!
* Please note that Katya Jones will not appear in performances on Saturday 14th December
The Wizard of Oz
New Theatre, 14-31 Dec
Leave a Reply