I Dream In Colour: Vanda Harvey at Norman Cross Gallery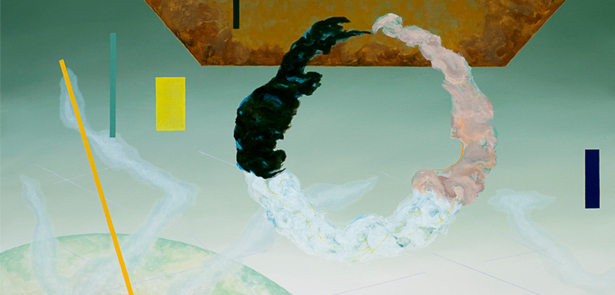 One of Peterborough's art-scene gems, the gallery at Norman Cross will be hosting an exhibition by painter Vanda Harvey in April 2017…
Exhibitions at the Norman Cross gallery continue to combine the astute taste of owner Derek Lopez with high-quality and engaging work that people will happily travel to see. Rescued from near-dereliction by Derek and his wife Mary over fifteen years ago, the Norman Cross building is, incidentally, at the site of the world's first purpose-built prisoner-of-war camp, created to house French prisoners from the Napoleonic Wars (1803-1814).
Now a comfortable home and sleek, contemporary art gallery, it's very much 'on the map' for art lovers across the region. Coming up in April is the much-anticipated solo exhibition by the late painter Vanda Harvey, who sadly passed away in 2015 after a long battle with cancer. Harvey's work was part of a winter exhibition with other artists held at Norman Cross at the end of 2016, and this new showing will enable the public to explore her work in more depth and breadth.
Vanda Harvey
Vanda's bold, beautiful and colourful abstract works are held in corporate and private collections all over the world. Her art reflects a life well lived; a life of study, travel and embracing new experiences, in full pursuit of what mattered to her and her work. ''If painting can do anything, at best it will take you somewhere else emotionally, sensually, intellectually but it will always lead you back to being human" she said in 1999.
Neither did Harvey limit herself to one medium: her work in glass is as exquisite as her work in oils and watercolour. Vibrant colours and strong, sensuous lines combine to bring the intensity and clarity of her artistic vision into stunning three-dimensional form. The exhibition promises to be a real treat for art lovers everywhere, and in particular an opportunity to enjoy the legacy of this exceptionally talented and much-missed artist.
For more information on Vanda Harvey's exhibition 'I Dream In Colour' at Norman Cross art gallery from the 3-28 April, visit www.normancrossgallery.com or telephone 01733 245189. The gallery is open for this exhibition Monday – Saturday 10am to 3pm
Leave a Reply