Harry Christophers: 'Peterborough Cathedral has an acoustic to die for…'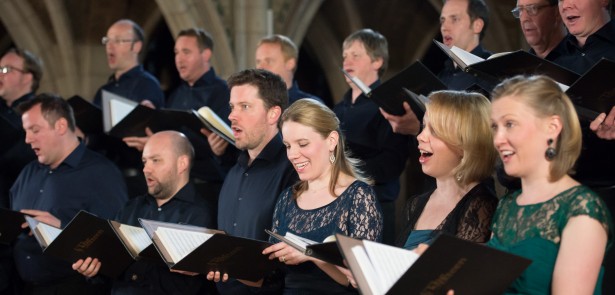 The Sixteen will be bringing their performance of Monteverdi's Vespers of 1610 to Peterborough Cathedral at the end of January, following seven other performances across the UK. Alongside this they have taken part in a BBC documentary and set up a major education project. We caught up with founder and conductor of The Sixteen Harry Christophers to find out more
You are currently touring Monteverdi Vespers of 1610, can you tell us what this is?
Monteverdi's Vespers of 1610 is quite simply one of the greatest works of sacred music ever written and without doubt the most varied and inspired before Handel and Bach began composing their oratorios and passions. Where it was written, why it was written and who it was written for are actually immaterial. Its variety alone makes it unique – thrilling psalm settings with virtuosic writing for both multi-part choir and instrumentalists to exotic and sensual settings of texts from the Song of Songs for solo voices. Monteverdi had spent many years as a court composer to Duke Vincenzo Gonzaga in Mantua but he was growing increasingly dissatisfied with the constant demands made on him to produce entertainment music. In 1610 he published the Vespers and this was, in effect, his calling card for the top job. He wanted Rome – he went in person to present a copy to the Pope – sadly for Rome he didn't get that post but he immediately got Venice, Maestro di Cappella at St Mark's.
Why did you choose this one to tour with?
It's a great work and it shows off the virtuosity of everyone in The Sixteen, both singers and instrumentalists. It is also perfectly suited to the gorgeous acoustics of Peterborough Cathedral – it is a wonderful cathedral.
You have recently done a BBC documentary which links to this – can you tell us a bit more about it?
This documentary continues our ongoing series of sacred music with BBC television. The actor and our great friend Simon Russell-Beale will tell us the fascinating and intriguing story behind Monteverdi's rise to fame, from Mantua to Venice, and we will explore the innovative and incredible music of hisVespers. You will also see soprano Grace Davidson, tenor Mark Dobell and me performing from the original 1610 partbooks, now housed in the Library in Bologna.
What was it like filming for this? When did you do it and when can we expect to see it?
We filmed all the music extracts in one day at St Augustine's Church in Kilburn, North London – not quite as romantic as going to St Mark's in Venice but St Augustine's is a hidden gem – well worth a visit if ever you happen to be in North London. It was a long day full of great music-making and as always the BBC crew are an inspiration. We filmed it in March last year. The BBC has just unveiled its 'Year of Song and Dance' and our programme is among the classical highlights for 2015. Watch this space – we are hoping it will be screened on BBC2 around Easter.
Can you tell us about the Monteverdi in Medway Project?
We received funding to run a larger education project with one of the areas we're visiting on our Vespers tour. The project is led by our Associate Conductor Eamonn Dougan, and for the first time involves some of our orchestral players too, orchestra leader Sarah Sexton and sackbut player Susan Addison. We decided to run this project in Rochester as their music hub, Dynamics, is setting up a new youth orchestra in the area. We have invited 30 singers and 40 players in their A-Level year to spend a day working intensely with our performers on a selection of music by Monteverdi including two movements from the Vespers of 1610. The day will culminate with a public performance at the Royal Dockyard Church. This event is being used as a recruitment drive for the new youth orchestra and we plan to visit the orchestra later this year to run further training and mentoring sessions.
You have a lot of projects currently focused around Monteverdi, what do you think is special about this piece?
Monteverdi's music is virtuosic; he stretches every singer's versatility to the limit yet his demands have an exhilarating effect. His dictum is simple: recitar cantando (speak through singing) and this allows us the most amazing licence. The Vespers is the icing on the cake and Monteverdi gives us the freedom to be expressive and interpret the words, just as any great actor recites Shakespeare. A set of words, often repeated many times, can have different inflections, a different gesture each time. But it isn't just the singers who are stretched; his writing for the solo strings, cornets and sackbuts is ceremonial, evocative and full of rhythmic vitality and in true baroque fashion the continuo section (in our case of organ, harp and chittarone) can luxuriate in Monteverdi's harmonic language: the variety of textures and sonorities they achieve are quite extraordinary. The Vespers is quite simply an extraordinary work of art.
As part of the tour, you will be performing in the grand setting of Peterborough Cathedral, what effect do you think such a setting will have on the piece?
It's always a pleasure performing in Peterborough Cathedral – previously I have only brought the choir as part of our annual Choral Pilgrimage. It's quite simply a great honour to be able to bring the ensemble in its entirety. Peterborough Cathedral is steeped in history, it is one of the finest cathedrals in the country and has an acoustic to die for. The Vespers are going to sound spectacular there.
And you will be performing with a full orchestra…?
No. The instruments Monteverdi calls on are very much specialist instruments and they are one to a part, that is they are all playing solo. There is no full string section for example. I have opted for Monteverdi's full ensemble of single strings, recorders, dulcian (early bassoon), cornets and sackbutts and a continuo force of chamber organ, chitarrone and harp. I have also enlarged the choir to twenty singers from which the seven soloists can luxuriate in Monteverdi's sensual and virtuosic writing.
What can the audience expect on the evening?
A wonderful experience listening to a wonderful work in a wonderful setting.
You are offering a great opportunity for Peterborough Cathedral Choristers – can you tell what they will be doing and why you chose to do this?
For the last four years we've been developing a relationship with young people in Peterborough through our Schools' Matinee Concerts, and most recently through our Chorister Masterclass Series. This is the third project we've worked with the choristers on and it's definitely the most exciting! We have invited the choristers to sing the 'Sonata sopra Sancta Maria' movement on stage with The Sixteen during their concert at Peterborough Cathedral. A few weeks before this one of our sopranos Kirsty Hopkins will run a workshop session to prepare the choristers for this, all of whom will receive free and discounted tickets to the concert along with their parents and friends.
Peterborough is the last stop for your UK tour that started back in November, how are you feeling about it?
Sad in a way – it is the final concert of our UK tour (for the moment!). Nevertheless, come 7.30pm on 31 January we will be eager to enjoy some great music-making. We simply love performing and bringing this exceptional music to as wide and diverse an audience as possible.
The Sixteen will be performing Monteverdi's Vespers of 1610 at Peterborough Cathedral on Saturday 31, January at 7.30pm. Tickets are £15-£30. To find out more visit www.thesixteen.com or call the national box office on 01904 651485 or the local box office on 01733 452336.
Leave a Reply