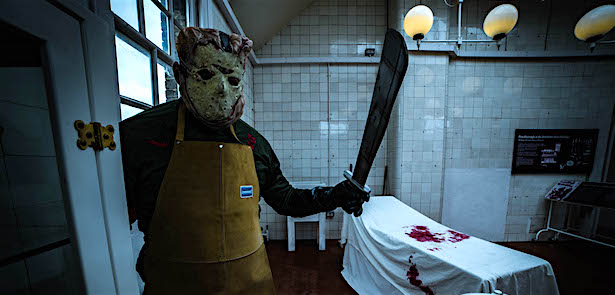 Some super-spooky events from the terrifying team at Vivacity...
Theatre of Screams
Selected dates between Fri 19 Oct – Sun 4 Nov, evenings only
Tickets: £15 per person
You wake up on a dark Halloween's night, chained to the wall in an operating theatre. Your friend is chained to the operating table and it becomes clear you are not alone. Can your team escape before you become the next victim?
Not recommended for the fainthearted, people with heart conditions or pregnant women. Our most scary Halloween experience yet, this game is for strictly over 18s!
Booking is essential. Book or find out at www.escape-peterborough.co.uk/book-now.
---
An Evening at the Priestgate Vaults|
Wed 24 October, 7pm
Tickets: £4 adults, £3 under 16s
Explore the museum's 500 year old cellars with a guide as ghosts from the past tell their stories.
The cellars have original features, including windows from the Tudor house, the Georgian wine cellar, coal cellar and a room we used as an air raid shelter during World War II. But they also have a sinister side, being part of Peterborough's most haunted building. So we recommend they are not suitable for those aged under 8 or of a nervous disposition!
Booking is essential for this evening tour. To book please call the Museum on 01733 864 663 or book online: https://vivacity.org/heritage-booking/
---
Halloween Ghost Walk
Fri 26, Sat 27, Sun 28 Oct & Wed 31 Oct, 7.30pm & 8pm
Tickets: £5 adults, £3 under 16s
Discover the most haunted parts of Peterborough in the European Luxury Travel Guide's 'Unique Experience of the Year – 2018'.
Stalk the streets this Halloween with our costumed guide to discover the eerie secrets of Peterborough's most spooky locations. Listen closely to the city's more morbid tales and keep an eye out for any ghastly apparitions who may appear as they hear their stories told…
Not recommended for children under 8 or those of a nervous disposition. Tours last around 100 minutes.
Booking is strongly recommended for these popular tours.  Call Peterborough Museum on 01733 864663 or book online: https://vivacity.org/heritage-booking/
---
Halloween Horror Night
Sat 27 Oct, 6.30pm – 9pm, Tours start every half hour
Tickets: £8 adults, £6 under 16s
Prepare to be entertained, enthralled and downright scared by a night of dramatised tours around the Museum!
Hear about some of the Museum's ghostly stories by candlelight……but prepare to jump as the stories come to life using costume actors, projections and other effects. One of our scariest events this Halloween season, and as such not recommended for under 14s, the nervous or unwary!
Tours last just under an hour. Booking is essential.
To book, please click here or call Peterborough Museum at 01733 864663 or book online: https://vivacity.org/heritage-booking/
---
Peterborough Museum Candlelit Ghost Tour
30th October, 7.30pm
Tickets: £5 adults, £3 under 16s
The museum is reputedly one of the most haunted sites in Peterborough, with many ghosts said to be lurking around the building.
This tour sets out to uncover some of their stories. The tour is led by a costumed guide, who shows visitors around the building by candlelight, explaining the various paranormal happenings at the sites where they have taken place, including the back stairs, where people have reported a ghostly servant falling to her death, a phantom girl seen and heard in recent months, the story of the museum's most notorious ghost, the 'Lonely ANZAC' Thomas Hunter.
Due to limited places, tickets are strictly pre-booked only. Tours last about 90 minutes. The tour is not recommended for under 14s or those of a nervous disposition, and due to the nature of the building is unsuitable for those with mobility impairments.
To book call Peterborough Museum on 01733 864663 or book online: https://vivacity.org/heritage-booking/
Leave a Reply