It's Halloween: who you gonna call…?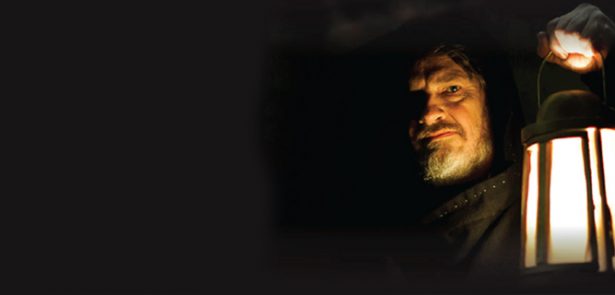 Halloween – it's not just for children. And when the kids are in bed, the ghosthunters come out to play. At this most haunted time of year, the city's most haunted location – Peterborough Museum – offers some spooky activities for the stout of heart...
"I think he can hear you, Ray…"
You know the feeling. Part of you has always yearned to tackle a Free-Roaming, Vaporous, Full Torso Apparition but in spite of everything, the sum total of your ghostly encounters is no more spectacular than an unexplained mass sponge migration. Well, perhaps you've just been looking in the wrong place. A better bet might be Peterborough Museum – a building with a history that goes back to the Tudor period (at least) which is acknowledged as the city's most haunted location. The Halloween period sees a host of ghost-related events for the public to enjoy, and one of them – definitely not for the fainthearted – will allow members of the public to become ghost hunters themselves – in the Museum, after dark. It normally runs from 11.30pm to 4am and begins with a candlelit tour of the Museum which then evolves into a real, live ghost hunt. Nothing is set up, and there are no tricks – the Museum simply provides the ghost-hunting equipment and talks aspiring ghosthunters through the basics – and in recent years there has hardly been an occasion when someone hasn't had something strange happen…
So, what might you bump into in the night?
It's said at least eight different ghosts haunt the building's many rooms and corridors. Looking back over recent years, we number ten distinct manifestations (see our Terrifying Top Ten) – and that's not even counting the strange, disembodied voices, footsteps and bangs that have all been regularly reported – by staff as well as visitors. Stuart Orme is author of Haunted Peterborough, a compendium of local ghost sightings and folklore, and until 2016, when he moved to a post at Peterborough Cathedral, was Vivacity's Events and Programmes Manager based at the Museum. 'I've had things happen to me inside the building which I can't quite explain,' he says. Most startling of these is the fleeting appearance of what we're choosing to call The Blue Lady. 'We were setting up the Belle Epoque exhibition of Edwardian costume,' says Stuart, 'and myself and two colleagues were working late one Thursday inside the gallery, getting ready for the opening. One of us was on the other side of the room setting up some graphics; the other was fixing a wall hanging up a ladder, and I was footing the ladder for her. Nothing out of the ordinary.' As he stood there, he happened to glance across at the door leading out onto the ground floor corridor. 'And then this woman walked past the doorway. I'd never seen her before in my life. She wasn't a member of staff or a visitor. The building was all locked up and I knew we were the only people in it.'
No ordinary spook
This ghost did not fit the familiar stereotype, however. 'She wasn't a grey, misty figure – she looked like a living, breathing person. She was about 40 years old, hair pulled back in a bun, dressed in a dark blue Victorian style dress with a white apron or pinny on the front. And she just walked past the door. My colleagues were looking in the other direction, so didn't see anything. I sort of coughed and they said: "Are you all right?" I said: "Hang on a minute…" shot to the door and looked out into the corridor. But there was absolutely nobody there. The door was locked.' He shrugs. 'It's just one of those things. Buildings have memories.' As with so many ghosts, this one seems tied to a specific location. 'Lots of colleagues over the years have reported footsteps in that corridor, or glimpsing someone moving past the doorway, and then they look and there's nobody out there. When we've had ghost hunters stay in the building overnight, sometimes they've reported similar experiences.'
It is supposed that Halloween is the Christianised version of the pagan Celtic festival of Samhain, when the veil between this world and the next was at its thinnest, and things could drift through. The perfect time, then, to go in search of your own ghostly encounter. But be careful what you wish for…
From ghastly ghost hunts to horrifying haunts after dark, there are plenty of ways to satisfy thrill-seekers this Halloween season. For details of the full programme including dates and times, head to www.vivacity-peterborough.com/Halloween
Leave a Reply