Half term fun for your little explorers!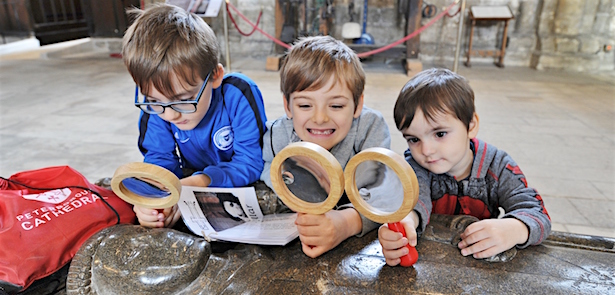 There are lots of things for families to do at Peterborough Cathedral during half-term and they won't cost a fortune...
Have a hands-on, low cost and fun day out for all the family at Peterborough Cathedral this half-term! With Explorer Backpacks for little ones, a Monks, Mischief & Marauders activity book for slightly older children, and a free augmented reality app for mobile phones and tablets, there is something to entertain all ages.
From Sunday 26th May to Sunday 9th June there is also an interactive prayer trail called Walk the Lord's Prayer, with colourful stopping places around the Cathedral and the opportunity to add your own thoughts and prayers.
The Explorer Backpacks invite children to get up close and personal with the 901 year old building. Equipped with a magnifying glass, a tape measure, a pair of binoculars and a torch for peering into dark corners, they can follow a map and discover some fun facts. The pack also comes with a little teddy bear called Benedict. The Backpacks can be borrowed from the Welcome Desk in exchange for a refundable deposit of £5.
The Monks, Mischief & Marauders activity book (£2 per copy) was created by children's illustrator, Emma Metcalfe. It is full of quirky facts about characters from the Cathedral's past, with puzzles and some terrible jokes!
The Cathedral's new augmented reality trail, made using the award-winning Gamar app (www.gamar.com), was launched by the Archbishop of Canterbury in April. It enables visitors to explore using visual recognition to find the trail's stops. Each stop triggers snippets of information, as well as augmented reality animations – look out for the leaping fish in the font – and hands-on games and quizzes.
The new restaurant and tea room in the Cathedral Precincts, Sundays, is open for carvery lunches and afternoon teas from Tuesday to Saturday, and for lunches only on Sundays (closed Monday).
Normal Cathedral visiting hours are Monday to Saturday from 9.00am to 5.00pm and Sundays from 12.00 noon to 3.00pm, but these sometimes change due to events or services. Please check the website before your visit at www.peterborough-cathedral.org.uk/opening-times.aspx or call 01733 355315.
Leave a Reply