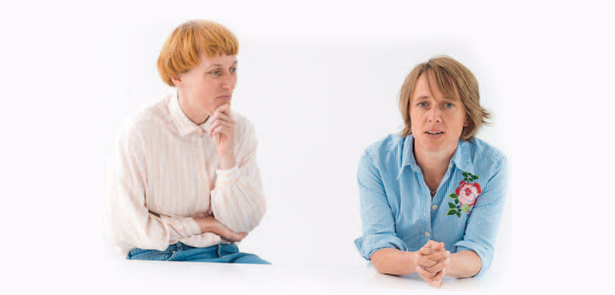 Each year arts organisation Metal invites a number of artists into residence. The artists spend time in the city undertaking research to inform new performances and art works. Working in the city, meeting people and exploring places, invariably ends up with the resulting art works being about Peterborough or involving local residents. This month H2Dance returns to Peterborough for their second residency. H2Dance Artistic Directors Hanna and Heidi explain why they have come back to the city and what they hope to achieve...
What brings you to Peterborough? 
We have been in residency at METAL previously with our last production Strangers and Others.  It is a fantastic space to work in with a very supportive, open and curious team, who are always ready to join in!  This means a lot to us as we are in early stages of the development process and the new project is still raw and fragile – the ideas are unformed as yet.
What was it that made you want to come back to Peterborough to develop this next project?
We are excited about METAL's relationship to their audiences and residents in the city. Workshops with local communities are a huge part of our process when we make work. We have scheduled workshops every Thursday of our three- week residency at METAL and we are interested in meeting and having conversations and exchanges with people local to Metal and Peterborough.
Can you tell us about your work and what you are doing in Peterborough this time?
We are developing a new choreography which will premiere in autumn 2019. We want to draw attention to elements and objects in the performance space and everyday life that are usually hidden, making visible what is in the background, we ask: what if our world was organized differently?  We will be exploring notions of the illogical, looking at non-conventional ways of interacting with the performance space and its objects. Through re-organizing lights, microphones, cables, filters, ropes, curtains and smoke, the performers take a central role, deciding to bring items to the foreground or not. In a continuous quest to find new relationships they set the objects in motion, arranging, rearranging, building and destroying in order to create fleeting landscapes.
Who do you hope to work with on this project / who are you looking to work with?
We hope to work with a mixture of people of all ages and abilities with no performance or dance experience necessary. The workshops will be movement based, and through improvisations led by us, we will discover relationships to space and objects.  We will end each session with conversations around space and agency.  Questions we will explore in the workshops are:
What is our relationship to the spaces we inhabit everyday, and how does it impact on our everyday lives?
How do we feel part of or separated from the spaces we occupy?
How are we dependent on the objects and spaces we interact with in everyday life?
To what degree do objects and spaces serve us or vice versa?
How can people get involved?
Workshops will take place on 22, 29 November and 6 December from 6.30 -8.30pm at Chauffeurs Cottage on St Peters Rd (behind the town hall).
Just email Sarah at Metal () or call 01733 893 077 to sign up! For more details visit www.metalculture.com or H2Dance.com
Leave a Reply