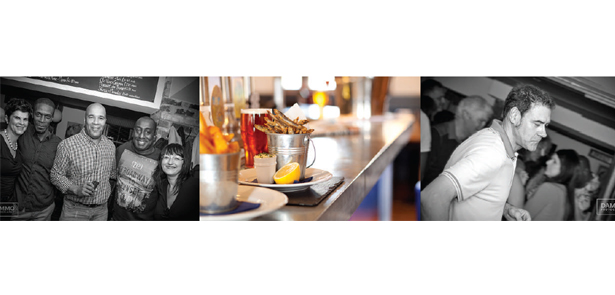 The Beehive pub has become the place to enjoy jazz, funk and soul, thanks to their energetic 'Classic Soul Night' every last Saturday in the month, and their chilled-out, lazy 'Jazz, Funk and Soul' Sundays (every last Sunday in the month). We spoke to Steve Allen, the promoter behind the events
DESCRIBE THE JAZZ, FUNK AND SOUL EVENTS THAT YOU PUT ON AT THE BEEHIVE. WHAT MAKES THEM SO SPECIAL?
Together with Jim and Sharon at The Beehive, we've created a mod, soul and Motown night, the last Saturday night of every month. Then on the last Sunday of every month, we've been revitalising the interest in jazz-funk in Peterborough. We get packed out with people having a bit of Sunday lunch, then lingering longer to hear a good bit of jazz – and by 11pm we're having to push everyone out of the door to close up! But the place is rammed, it's the generation who were 'at it' and young in the 70s, were into jazz-funk and probably travelled round the country following it. They're now middle-aged, got kids, got businesses, and they're turning out on a Sunday evening to relive what they loved about their youth. It's all about people who are grown up, want to go out have a bite to eat, and listen to the music they enjoy – it's very special.
WHAT ELSE SPECIAL HAPPENS AT THE BEEHIVE?
We also work with The Beehive on parties, and we also stage a very successful New Year's Eve event.
AND WHAT ELSE DO YOU GET UP TO, WHEN YOU'RE NOT WORKING WITH THE BEEHIVE?
My main business is an entertainment agency and mobile disco supplier. We've been doing that since 1972, and have a great team of DJs representing all kinds of different music. We have great function bands through to fun casinos, charicaturists, magicians. We even put funfairs on for people and national name attractions. Any kind of entertainment, come to me – I've been doing it man and boy! We're Peterborough-based, but we work all over the country. Very early on in my career as a promoter, I used to run a club night called Cloud Nine which combined the mod/skinhead fraternity listening to some great soul names, and a Saturday night that introduced progressive rock, including names such as Genesis – this was in the 60s! But from the mid-70s onwards we've primarily been an entertainment agency. Just one example of what we do now: recently, we put together a great package for a charity ball in Peterborough, including band, disco, magician, mock paparazzi. The phone could ring with anything, and generally we can accommodate it. I guess you can measure our success by the amount of time we've been in business, and it's driven by my enthusiasm for music and entertaining.
WHY THE BEEHIVE?
I always enjoyed visiting Jim's restaurant in Stamford, and when he opened The Beehive we were in there, straight away! One day, standing chatting to Jim and his wife Sharon at the bar, I said 'This is just like a London venue, when I used to go to Camden and similar and put on great music: the Sunday papers would be lying around, great food would be available – all you're missing is the music!' And he said, 'Well, you'd better get on with it!' The following day he phoned to say he hadn't been joking! 'Next Sunday, let's do it!' So we settled on the last Sunday of the month, and we've kept that going for three years, increasing attendances. People can come in, order a roast, or just a Bloody Mary and some nibbles at the bar, the day just takes it course, it's the original lazy Sunday – which actually turns into quite a busy Sunday!
HOW DOES THE BEEHIVE WORK AS A VENUE?
The Beehive is like a Tardis! You walk in and think it's a small local pub, but it has 70 covers so we can feed people, play music to them, give them drinks. And then find that they're still there at 10 at night! You can dress up for it or down for it, read a paper, have lunch, or turn up at 7pm, have a few drinks and think about dancing – you can mould it to whatever you want it to be…
Classic Soul Night – last Saturday in the month; Jazz, Funk & Soul – Sunday lunch and beyond! Booking now for New Year's Eve dinner dance www.beehivepub.co.uk T: 01733 310600
Steve Allen Entertainment www.sallenent.co.uk T: 01733 569589
Leave a Reply