Cyclepaths!!! | Rutland Cycling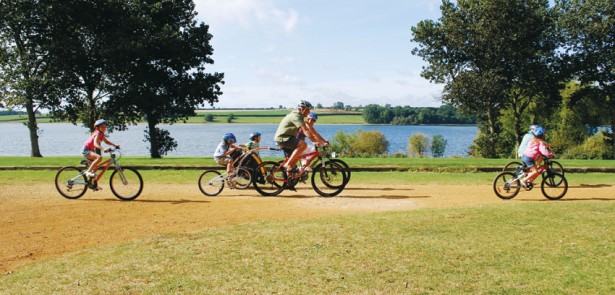 If you're a loony for lycra or just plain crazy for cycles, there's no better place to road-test a two-wheeler than the banks of Rutland Water. Bertie Simmonds gives it a try.
From time to time you hit the sweet spot during one of those 'perfect days'.
This is one of those days. There's a cool breeze coming in from across the water, the sun is beating down, the shades are on and I'm actually enjoying a bit of gentle exercise for once.
I'm astride a push bike at Rutland Water and if there was a country pub at the end of this eight-mile cycle ride then this 'perfect day' would make my all-time top five, but still, with the weather as it is and the scenery picture postcard perfect, we're not far off.
Riding a bicycle around here, I begin to think: 'if there's a better place to 'try before you buy' a product, then I've yet to experience it.'
It would be like Harley-Davidson having a dealership slap-bang on Route 66, or Rip Curl flogging surf boards at Surfer's Paradise. Chances are they both do so, but maybe Rutland Cycling were first to do it?
First, because this family-run business has been here at Rutland for more than 30 years and at their other location at Grafham Water for more than 20. And with Rutland Cycling's shrewd hiring system you can enjoy your wheels with the backdrop of this majestic setting, which makes the purchase all the sweeter and more pleasurable.
Today I'm sharing my ride with Rutland Cycling's Dom Coates and The Moment's adventurous snapper Simon Hipperson, who is carefully carrying his expensive photographic kit in a buggy normally reserved for cyclists and their offspring.
Dom actually joined Rutland Cycling's Grafham Water branch at the tender age of 14.

After a short time as the boy with the broom he was soon doing more than sweeping up. By 19 he was managing the store. Now he's the main buyer for the company, snapping up boat-loads of bikes, many of which end up enjoying the glorious water-side vistas either as hire bikes or to be whisked away by some lucky purchaser.
My own push-iron career is less successful than Dom's, but possibly more representative of the rest of us.
After wobbling down the road from the age of eight, I fell in love with Raleigh Choppers and Grifters despite my flares often getting caught in the chain.
Push bikes were my main method of travel until my late teens. Then they missed a large chunk of my life while motorbikes, cars and beer took hold, but now – like many of us – the prospect of having fun while getting fit as my forties stretch out before me has made me re-consider. Hence I turned up for this photo shoot with my new Trek DS Series Kaitai bike and a lycra-covered derriere that seems way too big for such a small saddle. Being a very recent purchase, I wanted to test ride both the bike and the route, but what would Rutland Cycling's expert, Dom think of my purchase?
"Ah, that's a hybrid," enthuses Dom, as I drag the bike out of my van. "We're finding those very popular at the moment. Half-mountain bike, half road bike – perfect for round here. Good choice."

I'm feeling buoyed by my purchasing decision, but now Dom insists I wear one of Rutland Cycling's hire helmets. Being a motorcyclist I know the value of wearing one, but – well – growing up in the 1970s we never really bothered, did we? And while many of the pleasure cyclists that are leaving the Rutland store may be shirking the need for a helmet Dom says that it would be for the best, just in case we hit any tricky terrain.
As we set out on our ride, Dom admits he's a lucky guy: "It is so great to work around here, it's just beautiful, a gorgeous part of the world," he enthuses. "Lunch times you can just take a bike, go for a ride, eat your lunch and just chill out. It's little wonder that this is such a popular area with locals and holiday makers alike. We've recently had tourists up here – and at Grafham – who are just knocked out by the sheer amount of space, water and glorious scenery and all about an hour from London. We had a party up from Golders Green in London recently and one of them said that they'd never seen so much grass before…"
Poor Londoners, we are spoiled up here, aren't we?
Rutland Water is near the county town of Oakham, is run by Anglian Water and opened during the mid-1970s. It is one of the largest artificial lakes in Europe and is also home to its own nature reserve, bringing with it a veritable army of visitors, ramblers, anglers and twitchers, as well as being home to a number of watersports. Reservoirs like Rutland follow both function and form. Form as they play host to a wealth of wildlife, offer stunning views and routes for walks/runs and cycle rides and – in Rutland's case – performs the function of supplying the majority of Peterborough's drinking water. Today, for our purposes, it offers around 23 miles of rideable routes, but (thankfully, as I'm still getting used to this saddle) we will be doing less than half that.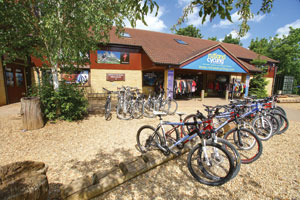 With outlets at both Rutland and Grafham Water, you could argue that Rutland Cycling has a bit of a stranglehold on the local market, armed as they are with probably the Midlands' if not England's best two-wheel test track, as well as several very well appointed stores.
Rutland Cycling started out as a hire centre with a fleet of 80 bikes but it's since developed into both a retail store and an online entity. If you want to buy a bike, you can chose from a bewildering array of machines priced from £199 up to £8500. Styles are similarly diverse, from kids' bikes and family favourites such as Raleigh, through to the more serious ranges provided by Giant, Specialized, Trek, Orange, Marin and Kona. So, whatever you want, from a child's first foray into two wheels, a serious road bike, a triathlon bike for £3000 or a pukka mountain bike to take on the county's trails, Rutland Cycling's got it covered. Bike kit too… helmets, waterproofs, pumps, body-armour, inner-tubes, wheels, tyres, forks and shocks – they've got it all.
Dom explains: "Really we've grown and grown. Our customers know that we're not here to hard-sell them anything. All of our staff have a vast knowledge and they love cycling. We find that customers come back again and again."

The Whitwell store at Rutland is now 15,000 square feet of pure cycling and it was soon joined by the site at Normanton. This site is on the other side of the reservoir, about four miles from Whitwell and it too has hire bikes but is now also home to the world's largest Giant Store. Dom adds: "The Giant Store is around 9000 square feet, is on two storeys and really shows what you can do with a store which has a quality boutique feel. Again, we're trying to give serious cyclists everything they need from Giant under one roof and give them a positive buying experience. Here we have things for every pocket. Take a look at this." Dom hands me a bottle holder, small, painted and made of tubular metal which costs just a few pounds. He then hands me a small, delicate, artful cage made from a featherweight black material. "Now check this out," he says. "This is made from carbon fibre and it does the same job and obviously costs more, but is stronger and much lighter. Cyclists often want the lightest bike and bike parts they can get. It just depends how serious you want to be."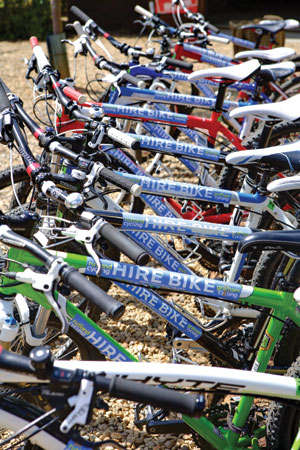 And that's the beauty of Rutland Cycling's stores. You can be a serious cycle-head or not. It doesn't matter. You can hire general purpose bikes for a jaunt around the reservoir or get a demo on something more 'serious' – try before you buy. Perfect!
Dom says: "That works well for us. We find that hiring the bikes works for retail too. If people love the bikes they hire, we tell them they're for sale in our shop and often they will make a purchase. We look after them and despite some people thinking bikes are expensive – some top-end bikes are thanks to the cost of raw materials such titanium and carbon fibre – you can end up using a bike for a couple of years and then selling it on for a profit. We've had that happen with a customer. It happens because certain models may only be in the range for a while and then they're gone. If they're desirable then people will search for them and pay a premium even for second hand. So it can be an investment."
If there's one down side to being located in (arguably) the UK's most scenic location for cycle sales it's this. Dom: "Yeah, I guess we don't get passing traffic that we would if we were in the local high street, but the advantage is that people come to us and we have these amazing locations to work from."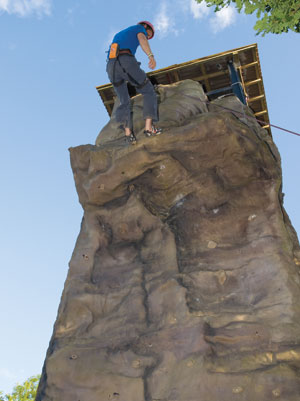 Equally amazing is Grafham Water in Cambridgeshire and the shop there is a similar size to the Normanton Giant Store, at around 8000 square feet and offers the same mix of hire and retail expertise as Whitwell. It also offers around nine miles of rideable routes, so is about half the length of Rutland.
As we stop to take pictures (de-camping Canon cameras from bike-drawn baby-buggies takes time) Dom explains that two wheels aren't the only thing on the agenda at Rutland Cycling. They also have 'Rutland Outdoor' which is based in the original store which once housed the bicycles before they outgrew their first home. Now, that store handles the walking/camping/climbing side of things. Handy as there's a climbing wall and hi-ropes section which is proving very popular with visitors. Again, it's not just about trying the product but buying what you need for your chosen outdoor pursuit too. Whatever you're into when you're outdoors, you'll find the very best bling at Rutland Cycling. I for one never realised that I needed an ice screw, which is used in mountaineering, until I saw the exquisite, wrought item in all its glory. It was marvellous! Outdoor goods meet art at Rutland Cycling…

Recently the two stores at Rutland and the one at Grafham have been joined by a smaller one at Fineshade Woods, situated in Wakerley Woods on the A43 towards Corby. This has been open just a month, when we visited, and offers, perhaps, a cosier purchasing environment compared to the other stores and a different riding experience too. Dom: "It's early days for the store there and the routes, but we will be offering three routes to ride. Blue will be a gentle graded trail, perfect for the family, Red a 6km or so medium route complete with tree roots and climbs and we will also be having a much more challenging Black Run, which promises to be a much harder proposition."
By the time we've finished our ride at Rutland, I'm won over. Cycling is fun, keeps you in some semblance of fitness, can be done with family and friends and best of all, three gorgeous locations are a stone's throw from the City.
Don't believe me? Go to Rutland Cycling and hire a bike. Tell them I sent you.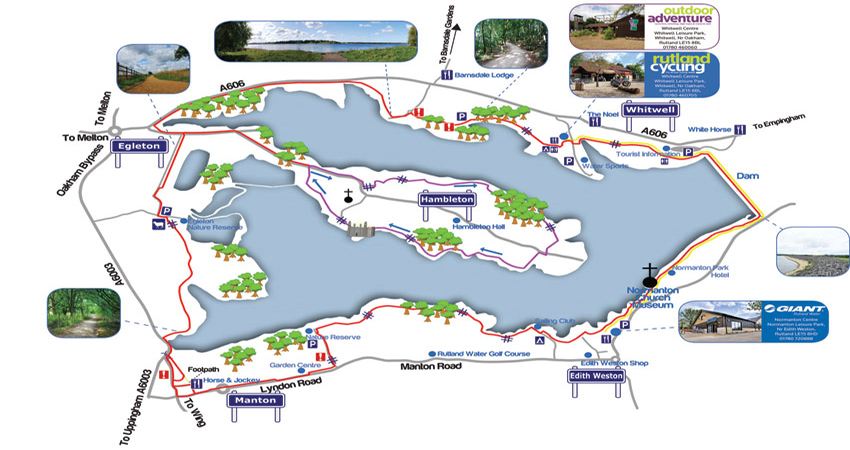 For more on Rutland Cycling and their three sites go to: www.rutlandcycling.com
and for more on the nature reserve, go to www.rutlandwater.org.uk
Leave a Reply