The Panto That Never Grows Old! Peter Pan at the Cresset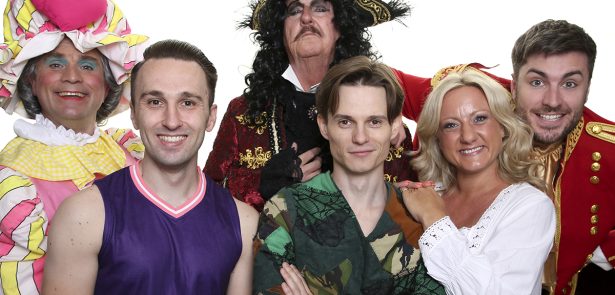 Panto season is rolling around fast, and it's hard to think of a more popular festive favourite than Peter Pan. The timeless tale of the boy who never grew up has captured the imagination of children for generations, and a brand-new production of the show is being staged by The Cresset Theatre this December.
Headlining the cast is Kevin Kennedy as the dastardly baddie, Captain Hook. Kevin is a star of both stage and screen and is probably best known for the 20 years he spent playing the role of the hapless-but-honest 'sex symbol' Curly Watts in Coronation Street. He has also appeared in Mrs Brown's Boys Christmas Special, Doctors, Blue Murder' and Holby City, as well as in stage roles, including Dennis Dupree in Rock of Ages and Pop in We Will Rock You. You might also remember him as Muddles in The Cresset's 2017 panto Snow White.
In the role of Peter Pan himself is another Cresset favourite, James Fletcher. James starred as the titular role in The Cresset's 2016 production of Peter Pan, and he's returning to Neverland once again. Having trained at The London Academy of Music and Dramatic Art (LAMDA), James is best known for his role as troubled teen, Dylan Jenkins, in Channel 4's Hollyoaks. Since then, he's also appeared in Bloodyminded, Giri Haji, and Downton Abbey, as well as at theatres across the country in a huge variety of productions.
Joining Kevin and James will be the hugely talented Joseph Chambers as Smee. A high energy actor, presenter, and director with a range of talents (including unicycling and tightrope walking!) Joe has a host of TV and stage credits to his name, the best known probably being his role on CBeebies' The Rhyme Rocket as First Officer Ditty. He's also performed in pantomimes across the country and is the face of Salford University's online content, as well as starring as the main role in Duran Duran's 2021 music video for the lead track on their 40th anniversary album.
Edward Simpson joins the cast this year as our wonderful Dame, Mrs. Smee. Edward has been lucky enough to play such diverse roles as Celia in As You Like It, Yepikhodov in The Cherry Orchard, and Sir Joseph Porter in HMS Pinafore. More recently, he has created the roles of John Dolittle and Henry Clerval in entirely new musical adaptations of The Adventures of Doctor Dolittle and Frankenstein. And he's certainly no stranger to the world of pantomime – nor to wearing frocks and wigs!
Returning to The Cresset stage this Christmas in the role of Wendy is Katie Paine. Katie not only has numerous theatre and recording credits to her name (including We Will Rock You, Seussical, Godspell, and Breaking Up Is Hard to Do), she has also previously starred as the Fairy Godmother in our 2019 pantomime, Cinderella.
Last, but not least, is another familiar face from The Cresset stage – George Dee. Alongside his other panto and theatre credits, George has appeared in a whopping 15 Cresset pantos over the years.
Writer and Director, Stuart Morrison, has been producing and directing Cresset Pantomimes – both alone and with Premier Pantomimes – since 2008, and is thrilled to be taking everyone on another trip to Neverland with this latest production.
There are few shows guaranteed to delight the whole family like Peter Pan, and the very fact that new productions of the pantomime based on the characters created by J. M. Barrie are still thrilling audiences some 120 years later is proof enough of that.
And as if the story itself isn't heart- warming enough, Barrie gifted the rights to all his books and plays about Peter Pan to Great Ormond Street Children's Hospital in 1929. So, in having a fabulous evening out with your kids, you will also be helping less fortunate kids, just as Barrie himself did. And that's an idea that really is never going to grow old.
Peter Pan runs at the Cresset Theatre from Thursday, December 15, to Saturday, December 31. Tickets are priced from just £16.00 with fantastic group offers available. Book through the Box Office on 01733 265705 or online at www.cresset.co.uk
Leave a Reply