Katharine of Aragon, Queen of Peterborough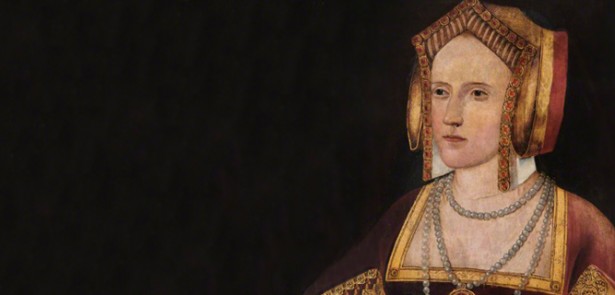 She was born a Spanish infanta in Alcalá de Henares in 1485, and died a British queen at Kimbolton Castle only 50 years later…
Katharine of Aragon achieved so much more than popular culture now acknowledges: films, TV and novels routinely portray her simply as the devout yet bitter ex-wife replaced by a younger, far more charismatic model, but Katharine was a trailblazer, taking up the post of Spanish ambassador to the English court after the death of her first husband, Arthur, (the first female in Europe to do so), supporting a revolution in the education of women, and bringing about English victory against the Scots at the battle of Flodden while Henry was in France. She was a politician, philanthropist, tactician, a natural leader, an early feminist and beloved of the British people.
After her death, she was buried at Peterborough Cathedral, and every year the city celebrates this remarkable, pioneering woman with a series of religious and more light-hearted events such as talks, walks and feasts.
Katharine of Aragon Service of Commemoration
Friday, 31 January, 10.30 am, Peterborough Cathedral
Dignitaries and local school children dressed in Tudor costume, led by the City Beadle, will proceed from Peterborough Museum via the Town Hall to Peterborough Cathedral for a service to commemorate Katharine of Aragon. All are welcome and admission is free.
The service will be followed by a Tudor activity day at the Cathedral for schools.
For more information, visit peterborough-cathedral.org.uk
Sung Vespers
Friday, 31 January, 5.30 pm, Peterborough Cathedral
Evening worship with Peterborough Cathedral Choir, featuring music from the time of Katharine of Aragon. All welcome.
For more information, visit peterborough-cathedral.org.uk
Tudor Music and Ale Evening
Friday, 31 January , 7.30 pm, Beckets Chapel, Peterborough Cathedral
A merry Tudor evening with hog roast, apple pie, local real ale and music from the Tudor period performed by members of the Peterborough Cathedral Choir.
Tickets £25 per person, available from 01733 355315 or visit peterborough-cathedral.org.uk
Tudor Peterborough walk
Saturday, 1 February, 10.30 am, Peterborough Museum
Join Peterborough Museum staff for a fascinating tour around Peterborough's historic city centre with a costumed guide, to explore what the city was like during the time of Katharine of Aragon and discover some of the surviving buildings from this period.
Tickets are £5 for adults, £3 for children and concessions. To book, call Peterborough Museum on 01733 864 663 or email
Katharine of Aragon – Tudor authors' talk
Saturday, 1 February, 2 pm, John Clare Theatre (Peterborough Central Library)
Two bestselling historical novelists, Vanora Bennett and Elizabeth Fremantle, will give a talk about Katharine of Aragon and her impact on British history.
Tickets cost £5 (£4 concessions and reading group members). Book at any Peterborough Library, Waterstones Peterborough, call 01733 864 280 or email
Tudor Family Day
Sunday, 2 February, 10 am – 4 pm, Peterborough Museum
Peterborough Museum heads back in time to the Tudor age for one day only, with a chance to meet Tudor characters such as the Barber Surgeon (beware of his cures!), learn manners from a Tudor lady, handle arms and armour or try period food in the kitchen. Take part in family activities and crafts with a Tudor theme or go on one of our hourly tours to the rarely-seen Tudor parts of the building!
£3 adults, £2 concessions (children, students, seniors), £7 families, under 5s and Heritage Pass holders FREE. Call 01733 864 663 or email museum@vivacity-peterborough for more information.
Leave a Reply