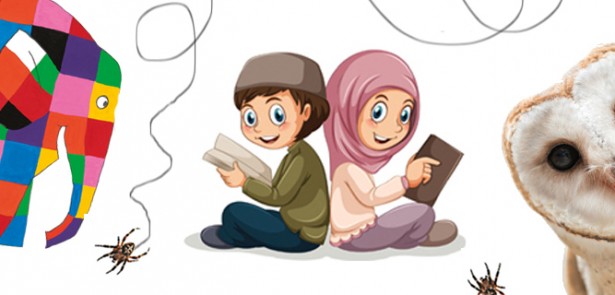 There are no excuses to be bored this half term. With something for everyone across Heritage, Libraries and Sports, Vivacity has fun-filled adventures and activities to keep the whole family entertained for the entire week – and beyond!
Drop in to the Zoo-seum, where the animals are taking over at Peterborough Museum, enjoy Roald Dahl's Revolting Rhymes with poems, pictures, activities and quizzes at Peterborough Central Library, celebrate National Elmer Day in May, with half term Elmer the Elephant-themed story times across Peterborough's libraries, visit the Vikings at Flag Fen as they hone their battle skills ready for the invasion of Peterborough at this year's Heritage Festival and combine fun and fitness across the city's Sports Centres with Club Viva – including Army assault course training and a Nerf War!
PETERBOROUGH MUSEUM
ZOO-seum
Peterborough Museum
Tuesday, 31 May – Friday, 3 June 2016 10am – 5pm (last entry 4pm)
Are you barmy about birds of prey? Raving for reptiles? Serious about snakes? This half term, Peterborough Museum becomes Peterborough ZOO-seum as the animals are taking over! See owls and other birds of prey from the Raptor Foundation on Tuesday and Wednesday, before Jungle Jo and her collection of creepy crawlies takeover on Thursday and Friday – you might even meet a snake or two! All animal interactions are led by trained professionals so this is a great, safe way to get up close and personal with some amazing and unusual animals, discover why colour is so important in the animal kingdom, and get involved with some handson activities. There's no need to book for this animal extravaganza, just drop in! Admission ● Children £3.00 ● Adults £4.00 ● Families £12.00 (under 5s Free)
LIBRARIES
Roald Dahl's Revolting Rhymes
Family Learning Roald Dahl event
Central Library
Friday, 3 June 10am-1pm, drop in session – FREE
Join a tutor from City College's Family Learning service to celebrate Roald Dahl's centenary year! In this session families can listen to some Revolting Rhymes and experience Roald Dahl's unique slant on traditional tales. After hearing some rhymes, families can create and decorate their own Revolting Rhymes scrapbook, and fill it with poems, pictures, activities and quizzes.
● Suitable for ages 6 and over, accompanied by an adult
Wimpy Kid Fun and Games!
Hampton Library, Wed 1 June, 10am
Werrington Library, Tues 31st May, 3pm
Bretton Library – Wed 1st June, 2pm
£3 per child
Everything you need to celebrate the Diary of a Wimpy Kid series…. 'First of all, let me get something straight: This is a JOURNAL, not a diary. I know what it says on the cover, but when Mom went out to buy this thing I SPECIFICALLY told her to get one that didn't say "diary" on it. Great, all I need is for some jerk to catch me carrying this book around and get the wrong idea.'
Celebrate Jeff Kinney's 'Wimpy Kid' books with some super awesome stuff to do in libraries this half term. Art projects, make your own comic, wimpy Kid Bingo and tons more games and activities! Design your own book cover, and have a go at writing your own diary (or JOURNAL?). Learn to draw Greg Heffley and write your own comic strip! Have a go at a game or two, and make bookmarks or badges. Test your Wimpy Kid knowledge with a fun quiz, and follow the trail to uncover the hidden word…
● Suitable for ages 7 and over
Children must be accompanied by an adult
● £3 per child, book in advance at any library
Elmer the Elephant Story Times at all libraries
FREE
Celebrate National Elmer Day in May, with these half term Elmer-themed story times. 'Elmer was different. Elmer was patchwork. Elmer was yellow and orange and red and pink and purple and blue and green and black and white. Elmer was not elephant colour.' David McKee's first book about Elmer turned this adorable patchwork elephant into a children's favourite. Deservedly a modern classic, with over two million copies sold worldwide, Elmer's subtle message – which is that it is OK to be different – resonates with children across the world. Come along to your local library to listen to some Elmer stories, and take part in a simple craft afterwards. No need to book – just come along!
● Central Library Tuesday 31st May, 10.30am
● Orton Library Thursday 2nd June, 10am
● Bretton Library Thursday 2nd June, 11am
● Werrington Library Friday 3rd June, 10am
● Story times are also held in smaller libraries – check with your local library for details.
● Suitable for ages 5 and under, accompanied by an adult
CLUB VIVA AT VIVACITY SPORTS CENTRES
Tue 31 May – Fri 3 June 2016, 8.30am – 5.30pm
The Club Viva crew welcome all 4-11's this half-term for supersports, amazing activities and creative crafts! Their jam-packed timetable is designed to keep the kids on their toes as they hit the footie pitch, prepare for a full-scale nerf war with the Army assault course, get messy at the crafty kids session and even go treasure hunting with pirate games. Club Viva takes place at Hampton Leisure Centre, Jack Hunt Pool & Gym and the Regional Fitness & Swimming Centre with different ranges of activities at different times, offering you the flexibility you need to find something to suit both you and your child. A full range of activities and timetables can be found at vivacitypeterborough. com/clubviva All activities are suitable for 4 – 11 year olds and are subject to change at the coach's discretion. Any children under 8 MUST be accompanied in the pool by a parent/ guardian when attending swimming. Additional activities will be provided for children not swimming. Please supply children with their own lunch. 'At Vivacity, we understand that every parent's needs are different. As such, you can choose to book your child into Club Viva for selected days or the whole week – whatever suits you best…'
Club Viva kicks off on Tuesday 31 May and runs until Friday 3 June Club Viva Hampton Leisure Centre and Jack Hunt Pool & Gym
Price per day 8.30am – 5.30pm, £18 OR 10am – 4pm, £16.
Price per week 8.30am – 5.30pm, £80 OR 10am – 4pm, £70.
● Club Viva Regional Fitness and Swimming Centre
Price per day 8.30am – 5.30pm, £20 OR 10am – 4pm, £18.
Price per week 8.30am – 5.30pm, £80 OR 10am – 4pm, £70.
Leave a Reply