Easter holidays: Club Viva!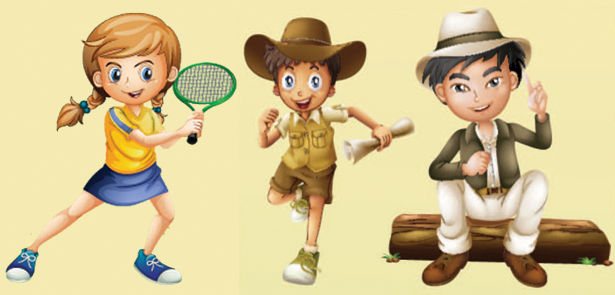 Easter Holiday fun at Club Viva Tuesday 29th March – Friday 9th April
Keeping the kids occupied and active for two weeks over Easter may seem like mission impossible but fear not! The crew at Vivacity's Club Viva are here to take away those stresses and provide variety, adventure and fun to spark your child's imagination! Located at three Vivacity leisure centres across Peterborough the varied programme offers over 50 activities, including everything from Easter craft to classic playground games, talent competitions to football tournaments and even a chance to make a splash at one of Vivacity's swimming inflatable sessions! Whatever your child is into there is something to suit both sporty and creative children. Vivacity understand that every parent's needs are different. As such, you can choose to book your child into Club Viva for individual sessions, entire days or for whole weeks – whatever suits you best.
Club Viva at the Fitness & Swimming Centre
The team at Club Viva welcome all sporting enthusiasts aged 8-12 for two weeks of sporting madness! If your child dreams of kicking a ball like Messi or diving like Tom Daley then this club certainly has something to offer! Each day includes a great variety of team sports such as football and cricket, as well as indoor activities such as dodgeball and classic playground games like tag and stuck in the mud! Club Viva at the Regional is a social hub where your child can make new friends, learn about teamwork and somewhere where they can discover their hidden sporting talents.
Club Viva at Jack Hunt Pool
There is plenty of fun to be had at this popular activity club! Your little explorers will love the adventure trails and their imaginations will run wild as they practice their map reading skills on the search for hidden animals. Or if sport is more their thing they can try their hand at smash up badminton shoot arrows in adventure archery! And if your child loves the water they will love making a splash on the giant inflatable course. The Jack Hunt activity club will also host special theme days where your child will learn about other continents. Monday see them stepping onto stage at the Eurovision contest, whilst Tuesday offers the chance to perfect their tribal printing at an African themed day!
Club Viva at Hampton Leisure Centre
The Club Viva crew at Hampton Leisure Centre welcome all 4-11-year-olds this Easter for super-sports, animal antics and creative crafts! Your kids will love the jam-packed timetable which is designed to keep them on their toes as they hit the footie pitch, join the Easter adventure trails and get messy at the crafty kids art sessions! Children can learn about different continents as Hampton Leisure Centre plays host to American, European and African themed days. Whether they're learning the flags of Europe, choosing the traits of the African animals or taking part in America's Got-to-Dance, the children can enjoy a fun programme and come home with plenty of stories to share!
To book your child's place at Vivacity's Club Viva visit www.vivacity-peterborough.com/onlinebookings, alternatively call 01733 864754 or email . Please note, Club Viva will be closed on Easter Monday, 28 March.
If you have a little one under 5 try Vivacity's mega bouncy castle play session! A great opportunity for your child to socialise with other children in a safe and fun environment whilst you get to catch up with other parents. ● Wednesdays 10.30am – 11.30am, term time at Hampton Leisure Centre ● £3.00 per child and £2.00 for each additional child.
Leave a Reply