A Passport to the Skies | Conington Flying Club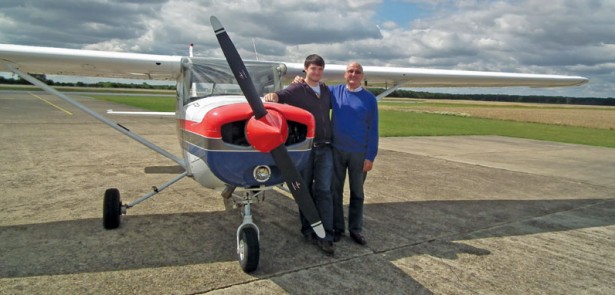 In the very first issue of The Moment (Dec 2010) we visited Conington Airfield for our 'Flight Club' feature. One of the people we spoke to was Peter Guy Boyall, a then 17-year-old Peterborough College student who was training for his private pilots' licence (PPL).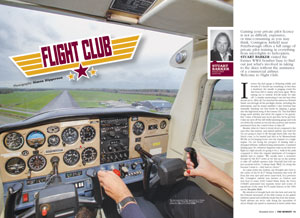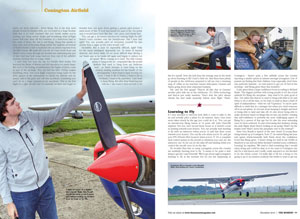 Boyall took his first lesson in August 2009 and was 'about three-quarters of the way through' his training when we visited the airfield. The Moment is pleased to report that Boyall, now 18, has now gained his PPL and has a passport to the skies. 'Getting my PPL has definitely made me more confident as a person' Boyall says. 'I was a bit nervous going up for my first flight as a qualified pilot but, both in the air and on the ground, I'm much more confident now than I was when I turned up for my first flying lesson.'
Boyall is now planning to do further training before enrolling at an aviation academy. 'I'm progressively learning things like bad weather training and trying to get my IMC (Instrument Meteorological Conditions) rating first then I'll hopefully go to the academy in a couple of years. My ultimate ambition is to be a commercial airline pilot. I'm learning to fly the Piper Arrow now, which is a more complex aircraft than the Cessna 152 I did my training in but I still fly the little Cessna to keep my hours up.'
Joining Boyall on many of those flights is his proud father John who came up with the original idea of a flying lesson as a way to build his son's confidence and give him a much-needed direction in life at a time when he was struggling with GCSEs. 'It's done him the world of good' he says. 'It makes you believe you can do things. With the lack of work available for teenagers nowadays, they need things to build them up and make them believe in themselves, they don't need more things to drag them down.'
Getting There
Conington Airfield is 7 miles south-east of Peterborough, just off the A1 between the villages of Conington and Holme. It is signposted off the A1.
Contact Conington
For further information on anything relating to Conington call 01487-834161,
email
or visit www.flying-club-conington.co.uk
Leave a Reply