Burghley House: 'Capability' Brown's masterpiece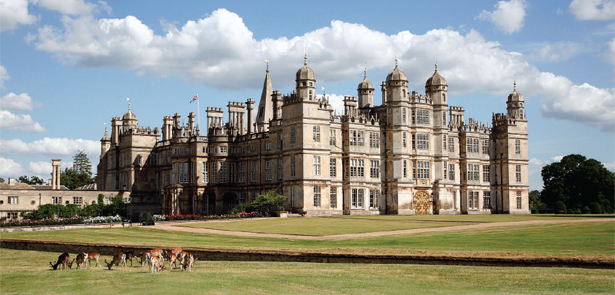 England's greatest Elizabethan house is gearing up for a bumper season as the 'Year of the English Garden' combines with the 300th anniversary of parkland and garden designer 'Capability' Brown to make Lincolnshire's Burghley House this year's must-visit destination
This year marks the 300th anniversary of the birth of Lancelot 'Capability' Brown, regarded as the father of landscape architecture. Burghley's connections to the landscaping visionary have seen it feature among top 2016 travel hotspots in the likes of National Geographic Traveller and Le Monde – and now The Moment! Burghley House is believed to be Brown's longest commission, during which he not only landscaped the grounds but, perhaps less well-known, constructed buildings.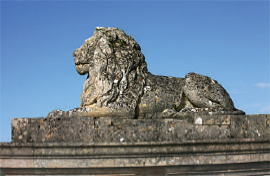 Brown had a great affection for Burghley, recalling his work at the house, on the edge of Stamford, as "25 years of pleasure". It is his work on the grounds of Burghley House that is most appreciated by today's visitors. And as Britain gears up for a year of celebrations to mark his centenary, Burghley has just completed a major parkland project, part of which has helped to restore the views that Brown originally created.
Vistas and views
'Capability' Brown's quarter-of-a-century association with Burghley began when the 9th Earl inherited the estate in 1754 and employed him to mastermind the modernisation of the grounds. Many of the estates avenues and formal gardens were swept away in favour of a more natural style that Brown was pioneering at the time. The Serpentine Lake was created and intimate groups of trees were planted around the park's perimeter to provide visual context while helping the earl to indulge in the new sport of game shooting.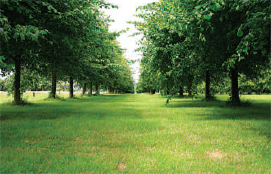 As well as adding his mark to the garden and parkland, with sweeping views down to the stone buildings and church spires of Stamford, Brown constructed extensive stables, a fashionable Orangery (now Burghley's popular restaurant) and a gothic garden summerhouse. Today the park retains a largely 'Capability' Brown feel. And now, centuries after he worked his magic on the landscape, the original views and vistas he created have been restored as part of the estate's Parkland Management Plan. By re-creating the natural look Brown had designed Burghley hopes that visitors will be able to enjoy his landscaping vision in all its glory.
The landscape work was supported, in part, by funding from Natural England's Higher Level Stewardship scheme, which Burghley entered into three years ago. Funding has also come from the Rural Development Programme for England (RDPE). The completed work makes the estate one of the key British sites marking Brown's anniversary this year, with a host of events and activities being held throughout the country.
Celebrating genius
There's a lot planned for this year. At Burghley the restored views in the free-toenter parkland will be accompanied by a new self-guided trail revealing the results of Brown's landscaping genius, including its key vistas and the famous Lion Bridge. Inside the house visitors can discover more about his eye for perfection in a special exhibition ''Capability' Brown at Burghley'. Discover the life and work of the great gardener and learn about his influence on the grounds and his masterpieces as Brown the Builder.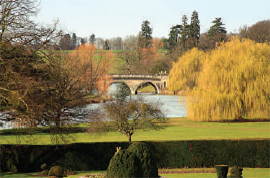 There's also the chance to put a face to the man himself, as Burghley is home to one of only two portraits of Brown, on display in the State Rooms. Other events are also planned, including a series of lectures and special group tours that will offer a more in-depth exploration of Brown's landscape and architectural designs during his association with Burghley (see box on next page).
Year-round appeal
Of course there's more to Burghley than Brown. As well as the usual mix of events, gardens and free-flow tours of the house with its huge collection of treasures, 2016 once again sees the return of Burghley Film Festival (27-31 July) featuring classic movies, Hollywood blockbusters and children's favourites. This year promises even more film fun with major movies lined up alongside barbeque food, themed cocktails and family entertainment. Details of the films being shown can be found on the website and tickets are now on sale.
This year also sees another royal celebration as the nation marks the Queen's 90th birthday. Burghley – built by the first Queen Elizabeth's chief minister William Cecil – will commemorate this major milestone with a floral tribute to Her Majesty in the annual Flower Festival (1-9 October), which this year is themed on The Royal Households of Europe.
For youngsters there will be a chance to become a queen or king for the day during one of the summer workshops. Foodie fans will enjoy Burghley's Fine Food Markets staged in the cobbled courtyard with the house as its spectacular backdrop. The spring market runs over the weekend of the 9-10 April, when more than 30 local suppliers will celebrate the quality and taste of local produce with their selection of handmade cheeses, artisan breads, organic vegetables, luxury sweet treats and rare-breed meats. Other Fine Food Markets run on 25-26 June and 28-29 August with a special Christmas market on 26-27 November.
Among the most popular annual events returning this year is the 12th annual Battle Proms, one of the country's premier picnic proms, offering an evening of soul-stirring classical music on 9 July. Cue cannons, cavalry, fireworks and a Spitfire display! Ending the season will be the Burghley Pumpkin Trail (15-30 October) and Spooky Tours (17-31 October), which this year will see new routes and even more spooky surprises, while Christmas at Burghley will be the biggest yet, featuring festive food and a craft fair. It's a truly packed year at Burghley with more than ever to celebrate. The lasting legacy of 'Capability' Brown is something our region should be proud of. And with those timeless views to admire, this season there's no better place to be than Burghley
Burghley House, Stamford, Lincolnshire PE9 3JY.
Burghley House and Gardens are open until Saturday, 30th October. For full details of opening times, all events and to book online tickets, visit www.burghley.co.uk or telephone 01780 752451.
The parkland remains open daily from 8am to 6pm or dusk if earlier. Parking and admission to the parkland is free of charge, and dogs are allowed when kept on a lead.
Leave a Reply