7 BEST Christmas activities to do in Peterborough!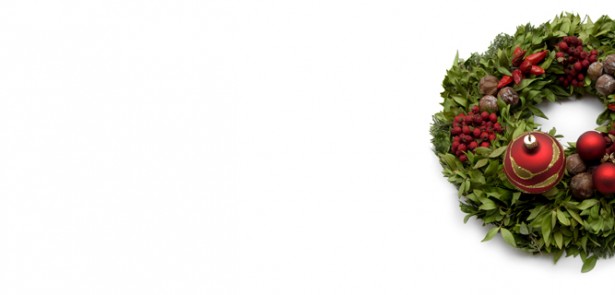 There's no shortage of Christmas activities in Peterborough this year, from Christmas merriment set in the middle ages to joining the ranks of Santa's workshop or a local history or literary talk. Even if tangible 'things' are your thing – or you are looking to keep idle little hands busy – there's also plenty to make and take home, including Christmas tree decorations or scrummy biscuits. Below you'll find just some of the events on offer in and around the city this year to fill up those empty advent-calendar-opening days and make them whizz by…
WREATH MAKING WORKSHOP
Sunday 6 December, 10:30am-1:30pm
Peterborough Museum
Deck your halls with a hand-made wreath this Christmas. An experienced florist guides you through the techniques to make a wonderful moss ring wreath worthy of any winter wonderland. Learn a traditional festive craft in a friendly and relaxed atmosphere – complete with mince pies! All materials provided, please bring your own strong scissors and apron. Over 16s only.
£27.50 per person. Pre-booking is essential. Call 01733 864663 for tickets.
WINE TASTING
Friday 4 December, 7:30 – 9:30pm
Priestgate Vaults, Peterborough Museum
The festive season is a perfect time to visit Peterborough Museum's Georgian wine cellar for a relaxed and atmospheric evening of wine tasting. This introductory experience is suitable for everyone from the complete beginner to the wine enthusiast. A fantastic opportunity to order quality wines for seasonal celebrations or simply to become more confident ordering wines in a restaurant. Over 18s only.
£25 per person. Pre-booking is essential. Call 01733 864663 for tickets.
CHRISTMAS CERAMICS WORKSHOP
Saturday 5 December, 10:30am-1pm
Peterborough Museum  
Paint the perfect Christmas with this ceramics workshop and craft precious keepsakes to enjoy year after year. Dress your tree with your own handpainted bauble and design your own festive plate that's perfect for mince pies or leaving treats out for Santa! It's not about being the best artist it's about creating your own masterpiece and having fun! Over 8s only, children must be accompanied by a guardian. Pre-booking is essential.
£30 per person. Call 01733 864663 for tickets.
LINO PRINT CHRISTMAS CARD WORKSHOP
Saturday 28 November, 10:30am – 1pm
Peterborough Museum
Learn the craft of lino cutting and give your Christmas An extra special touch this season. Design, create and hand print your own unique set of 10 cards. A fantastic opportunity for beginners to make and send something truly bespoke. 16s only. Pre-booking is essential.
£20 per person. Call 01733 864663 for tickets.
WRITING WORKSHOP: STORYTELLING FOR WRITERS
Saturday 28 November, 10am-12.30pm
L P Hartley Room, Central Library  
How do you write effective dialogue? What's the best way to use your time effectively? Plot-driven or character-driven? Come to this workshop to find out how a few simple techniques, some diagrams and some observation and analysis can help you shape the story you want to write. Helen Gould has a background in training and teaching. She has previously taught Creative Writing and Geology. She now writes Science Fiction and ran the Peterborough SF Writers' Group for several years, editing two anthologies of short fiction.
FREE – places limited, book in advance at any library
DOGS OF COURAGE: WHEN BRITAIN'S PETS WENT TO WAR 1939-45
Saturday 14 November, 1pm
John Clare Theatre, Central Library
What did the nation's dogs do for the war effort? In her latest book Dogs of Courage, author and journalist Clare Campbell explores what part man's best friend played in the Second World War. The book is co-authored by her husband Christy, and both authors will be present to talk about this fascinating and moving subject. Based on original documents, first-hand accounts and interviews, discover the incredible and sometimes heart-breaking journey of the dogs who were conscripted to fight for their country, with some even returning with medals for their bravery. Tickets available from any Peterborough library or Waterstones, Bridge Street.
Tickets £5 (£4 concessions). Call 01733 864280 for more information.
STORIES WITH SANTA
Saturday 5 December, 11am
Central Library
He's back! Santa has kindly agreed to visit Central Library again this year! Come and listen to some favourite Christmas stories. Enjoy a festive craft session, meet Santa himself, and take home a present.
£5 per child
A MERRY MEDIEVAL CHRISTMAS
12 – 13 December, 10am – 5pm (last entry 4pm)
Longthorpe Tower  
Travel back in time this festive season and experience a medieval Christmas first hand. Meet colourful characters as they deck the halls of Longthorpe Tower. Get a taste for Christmas' past as you help prepare a festive feast fit for Lords and Ladies, discover medieval traditions and craft your very own historic decoration to take home.
Admission: £4 Adults, £3 Concession, £10 Families
For more details on any of these events, head to www.vivacity-peterborough.com and follow the links or type name of the event into the search bar. Whatever you decide to get up to this Christmas we wish you a very merry one indeed.
Leave a Reply