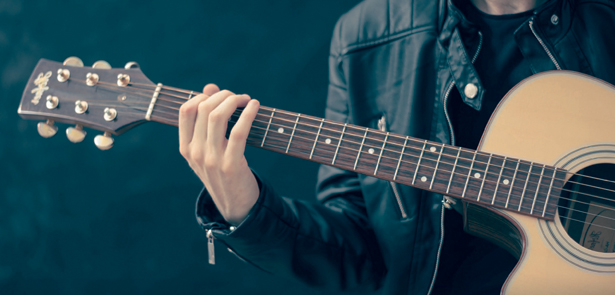 The Glasshouse Acoustic Sessions are a long-standing feature of the Peterborough music scene. Taking place one Sunday afternoon a month at Vivacity's Key Theatre Riverside Bar and supported by Vivacity, they create a uniquely friendly, family atmosphere in which people can enjoy a relaxing afternoon of great music from new and seasoned acoustic performers – and they're completely free. We talked to Paul Biggins, who has been running the event with Charlotte Purser since January 2016
For those who don't already know Glasshouse Acoustic, what styles of music do you feature?
We like to mix ages, genres, styles and genders. The remit from Vivacity is to promote young acts, but we usually put on a real mixture. The only underlying criterion is that it has to be acoustic. We don't want backing tracks. In fact, in the past we've had an artist to whom we said 'no backing tracks' who hooked up with a guitarist in order to play and they then went on to do really good things together. We do let people play electric piano, though, because getting a piano up from the theatre is a bit of a challenge…
How does it all come together?
We try to schedule it for the last Sunday of each month so it's an event that people can plan for, but we do have some exceptions to that. For example, we don't do the Sunday in December because of the pantomime, but on the whole we're able to fit quite easily around other events. Basically, Vivacity give us some dates and then myself and Charlotte, my partner, look through lists of performers and try to put on a balanced event for each of those dates. I do a printed programme with photos and biographies of the acts, and links to their websites – it's really about promoting the acts and putting on a good show.
Is this an important stepping stone for people just breaking through?
In some cases this might be the first big gig they've played. But some are buskers, and we have quite a few semi-pro. And it's an opportunity for singer-songwriters to present their own material. I do a kind of Jools Holland compere thing, but beyond that it's up to them to occupy the next hour however they want. Just recently we had possibly our busiest session to date when we featured two superb young singer-songwriters – Meg McPartlin and Tom Wright – followed by the brilliant Brotherhoods Roundabout playing acoustic prog! There are very few places now where you can do your own stuff when you're just starting out – though we're fine with covers too. Just this week I had the Outlaw Eagles contact me – an entire set of acoustic Eagles covers!
And it's family friendly?
Definitely – and it's totally informal. It breaks down barriers, because there's no stage, no green room, so at the end of an event people come forward and chat to the artists – which we absolutely encourage! It's relaxed, it's familyfriendly, it's accessible – and it's free! Just a lovely way to spend a Sunday afternoon.
● For details about forthcoming and past Sessions, and also details of other local acoustic events and open mics, visit www.glasshouseacoustic.org.uk ● You can also follow Glasshouse Acoustic on Facebook and Twitter.

Leave a Reply