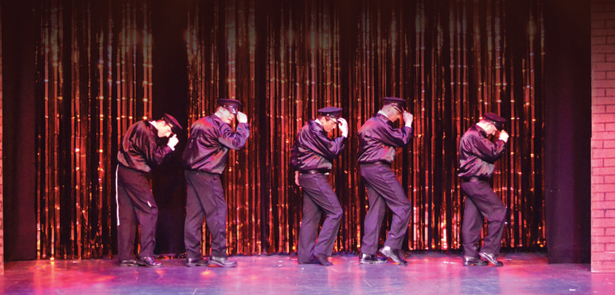 Stamford Amateur Musical Society (SAMS) is one of the UK's oldest amateur groups, and in 2011 were the winners of a NODA (National Operatic and Dramatic Association) Award for Best Musical for their production of the musical of The Full Monty. This November they're bringing a new production of the show to The Cresset – and yes, they will be baring all! Is Peterborough ready..? The Moment to talked to SAMS Chairman Adrian Worgan – who played the part of Dave in the 2011 production – about what's in store, and what it's really like to go the Full Monty...
The production at Stamford Corn Exchange back in 2011 was a huge success, earning SAMS a NODA award. Why bring it to Peterborough now?
This is actually our first time in Peterborough. Stamford is only 13 miles away, so we're not doing anything too radical, but it does give us far greater scope for the development of the group. We actually first spoke to the Cresset over three years ago about getting a performance at the venue. They had a long waiting list, but also we wanted to make sure we could bring a really high quality show. For us, it's a larger venue which means performing in front of a bigger audience and it's a larger stage which means we can do more in terms of the scenery and set we bring to it. We had sell-out shows in Stamford and we're hopeful we can do the same in Peterborough, but bring it to a wider audience base, which in turn means the company can put on higher quality productions each time. So, yes, we're very excited!
Pretty much everyone will know the film, but is the musical any different?
The musical version was originally produced on Broadway and is set in America. When they wrote the musical they were unable to get the rights to tracks that are used in the film, but the musical score is created to complement to production and is very cleverly written. Although the audience may not know the songs, they're close in feel to the songs featured in the film. And it is exactly the same storyline; you have a group of steelworkers who have been made redundant, trying to raise some money, and the only way they can think of doing it is by forming a parallel group to the Chippendales! And it's got all the classic scenes in there that everyone knows.
The way the plot unfolds involves different storylines with various couples – probably about four stories going on at any one time – and you see how each character changes, and the love that each couple has for each other, and then the group of blokes have amongst themselves. And it's not just about the blokes, either; there's some great development among the female characters, who actually are in an empowered position because all of their men are being laid off, and they're thinking about where their futures and fortunes lie. It is a real feelgood show, which I think most people can relate to, showing how life knocks you back sometimes and you have to find a way to pick up the pieces and move forward. But it's also a great comedy production, with a lot of laugh-out-loud moments for the audience – all leading to the ultimate performance at the very end where everyone does indeed go the Full Monty and reveal all – to the delight of the audience!
And does your cast do that for real?
Absolutely! Everyone does bare all for the production. It's not the only thing the show is about, of course – I'm sure it could end without that reveal and still deliver a great time and a great evening's entertainment – but rest assured the reveal does happen. And for those who really like it it doesn't have to be 'for one night only' – they can come and see all five shows!
What was it like, the first time you did it?
I think you do just have to go for it! You've rehearsed over months, learned the musical numbers and the dance moves, and the music is timed to that final moment when the thong is removed, and you stand at the edge of the stage and just have to do it – hopefully to the delight of the crowd! Anyone who has performed on stage will tell you that you know when the audience is with you, and when they are you can't fail to performwell. This is a production where they're with you right from the start. As a result, the character portrayals become quite impassioned, and when we did it last time you could sense that all of the people playing the characters were living that character's problem and evolving with them. That just becomes stronger with each performance.
And does the big reveal get easier with each performance?
You definitely are more confident. You've heard the way the audience reacts – and there was never a situation when the audience didn't react! Whether they were pleasantly surprised or disappointed in what they saw, we as men will never know, but there were certainly no disappointed groans on the night… We experienced many evenings of high volume, raucous screaming and cheering last time, and we very much expect the same.
It obviously takes a certain person to reveal all – are you looking for potential cast members to do that?
Right now we're going through the director and choreographer selection processes, so if there are any budding directors or choreographers out there, please drop me a line! We have our musical director already lined up, and once we've got our director we'll be starting open auditions for the cast, with the intention of starting rehearsals towards the end of July. That's a couple of evenings a week with the occasional Saturday or Sunday afternoon up until the production in November. It's not about a particular body image, either. It's not six-pack, ripped men baring their chests and revealing their manhood; what we're looking for is a mix of individuals who look like an average set of blokes. They've worked together, and they're pulling together during tough times, and getting those characters and the relationships between them right is really the essence of the production. The audience is genuinely taken on a journey.
So, we're throwing it open to anyone. Part of that involvement with Peterborough is about encouraging wider membership, so we hope it will inspire people to join and become part of SAMS. SAMS has a legacy of over 113 years in amateur theatre so we're obviously very proud of that heritage, but we're also looking at innovative and exciting ways we can expand the society and widen our horizons.
Well, it sounds like The Full Monty will certainly do that!
Wherever it's performed, it's almost guaranteed as a sell-out show. It delivers everything. There are some tender moments in there, there are some absolutely hilarious moments, you have some great dance routines. For the members and the cast of the show to perform in front of 800+ people at the Cresset is just phenomenal. I can say now that performing before the audiences that came for the previous production of The Full Monty is something I will never forget – an experience to remember!
The Full Monty runs from Wednesday 14 to Saturday 17 November and tickets are on sale now! Cresset Box Office: 01733 265705. Online booking www.cresset.co.uk
Leave a Reply