From the Street to the Hood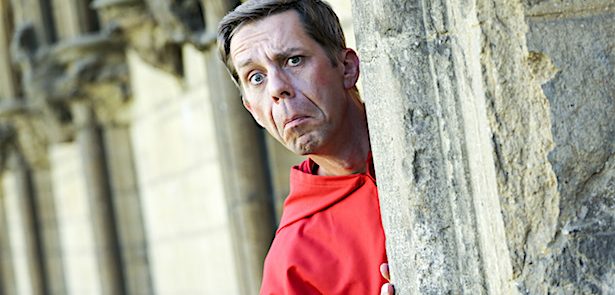 The spectacular family pantomime Robin Hood comes to the Cresset this Christmas – and headlining this year's cast is someone more used to the cobbles of Coronation Street than the forest of Sherwood... Accomplished actor, presenter and director, Nick Cochrane, best known for his 20 year stint as Andy McDonald in Corrie, will be whipping audiences into a frenzy as Will Scarlet. The Moment talked to him.
What can you tell us about your part in this year's panto?
It's been a long time since I did Robin Hood – probably about 15 years – and Will Scarlet, the part I'm playing this time around, is a new one on me, but I assume he messes around and makes a fool of himself. That's what I generally do… I am sure there will be a plot I'll need to learn. I'll find out when I get the script, but I think it will probably come down to Will Scarlet being a lot like me…
So, you haven't seen a script yet?
No, but when we did the press day Stuart Morrison, the producer, said to me: 'Nick, I've not actually bothered writing anything for you – just do what you normally do and make it up…' I'm basically the comic, the funny man of the show. I used to play the prince but I'm too old now!
Every year we interview panto stars and without exception everyone genuinely loves doing it. Why is that?
I think it's a couple of things. First of all, you're all thrown together and you've got to work hard and very quickly, because there's never a great deal of time to rehearse, in terms of days. In terms of hours we're there quite a bit. There are early mornings, and depending on whether there's tech run or whatever we could be there for 12-14 hours. I think that's the initial thing, everyone mucking in together and working like crazy to get the show ready for opening night. Having said that, it's not Shakespeare! At no point is it serious, so it's muckabout all the time – and, fortunately for me, I do indeed get the opportunity to just make it up as I go along if need be, just as long as I include the audience! I get to wind other people up as well. I do like trying to make people laugh who aren't supposed to laugh…
Does that means you can just laugh it off if something goes wrong?
You can get away with it. I did a show with Stuart last year, which was Aladdin, and for some reason we had a panda in it. And the panda had a tendency to go to the bookies in between shows. He turned up a bit late for one as a result. He got himself on stage when he should have been but had backed horses on a couple of races and was on the old iPad a lot and forgot to go back on at one point. I have to be honest, I actually prefer it when something goes wrong!
It can be a pretty gruelling schedule can't it?
It's the one time of the year when theatres are really full, so they tend to want to put on as many shows as possible. Having said all that, I'm not down a pit. Some days you've got three shows a day, and they can be long days. But most days you've got a two o'clock and a six o'clock, so you rock into work at midday, finish by eight and you're straight in the pub… It's not the end of the world! We've even got a pub on site this year, which is slightly dangerous…
Do you need to get in training for it?
Are you mad? I'm an athlete!
The way soaps are shot – almost uniquely in TV and film – you get to play out whole scenes rather than cameras cutting every few seconds. Does that make them good preparation for theatre?
They do overlap, but the real difference is that when you're in a studio you're doing it to three black boxes and ten hairy-arsed blokes who don't dare whether you're good or not. Doing it in front of a few hundred smiling, laughing faces is a bit different for the soul. Other than that, it's the same game – you get to dress up and pretend to be someone else!
What is it like playing a character over a long period of time, as you did in Coronation Street? Does your personality feed into the character as it does in panto?
I think it's almost impossible for it not to. I have the utmost respect for people who are completely different from their characters. They really have to work. The bottom line is I was 15 and I was cast as a tearaway, which I actually was, so I just played me. But when you've got people like David Neilson, who played Roy Cropper, he is a quality actor. Roy is nothing like David, and I have great respect for actors who come in week after week – or year after year in some cases – doing the same character, and becoming the character rather than allowing it to become themselves. Another example of that is Fred Elliot. John Savident is a classical actor, who has performed Shakespeare and was in the original Broadway production of Phantom of the Opera on Broadway. By contrast, Liza Dawn – God bless her – WAS Vera Duckworth!
What's next for you after panto season?
I believe Steven Arnold [Ashley Peacock in Coronation Street] was here recently? [He was in Stamford, doing Kes]. Well, me and Steve are doing a film next year – just a short two-hander – so keep your eyes open for that. But honestly, I don't pursue acting that much. I have a normal job these days – I have a facilities management company, and that's my day-to-day stuff. I have enough going on! Anonymity is vastly overrated until you've lost it, as my wife and kids will tell you, and it's quite nice now going into the Trafford Centre or on holiday and being able to be normal rather than having to stop and do selfies every ten minutes! It still happens, of course – almost every day, in fact. Sometimes it's great, sometimes not, but you've got to take the rough with the smooth.
Because you don't do it all the time, does it make it all the more fun when you come back to acting?
I love it. If I could earn spectacular money acting every day, I'd do it. But unfortunately unless you're in Game of Thrones – or EastEnders or Coronation Street – the chances are you're out of work most of the time. It's a funny old career, and not one I'd push anyone to go down. Having said that, when you're on set or on stage, actually doing it, there's nothing better. I absolutely love it.
I could totally see you in Game of Thrones…
I auditioned for Game of Thrones a few months ago, actually. I didn't get it – though we probably wouldn't be having this conversation if I had!
Robin Hood
8-30 Dec
The Cresset
Presented in association with Newpalm Productions for Premier Pantomimes
Leave a Reply