Flame and Thunder at Santa Pod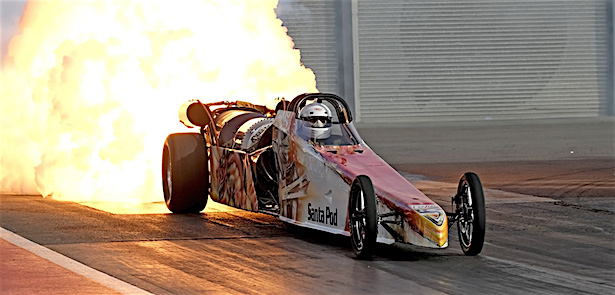 Santa Pod Raceway hosts the most spectacular season finale this October: Flame & Thunder!
Before bidding farewell to another fantastic year of events, Santa Pod has one last action packed, adrenaline fuelled day, with an exhilarating drag racing line up ahead. Flame&Thunder presents family fun, showcasing the best of the best with drag demos, stunts, the sensational firework extravaganza and much more.
With the season closer going off with a bang, track action features six fire-breathing jets that fly down the1/4mile at breath-taking speeds! For adrenaline-pumping excitement, the Fireforce 3 Jet Funny Car will tear down the strip at 270mph; this world record breaking machine has achieved five second passes, so if you blink you could miss it! The Live Action Arena will be on point so get ready to be blown away as world record breaking stunt extraordinaire, Terry Grant performs in a variety of cars, Team Maximum Lock present incredible precision driving drift displays within inches of one another, plus the Extreme FMX Bike Battle!
Not forgetting the almighty Monster Trucks Podzilla and Swamp Thing with their crazy car crushing antics! Elsewhere, there is a variety of family fun such as the Halloween disco, Monster Truck rides, fun fair, drift rides and more! The Peugeot 205 Jet Car will be lighting the Bonfire in true Santa Pod style as darkness falls and then its eyes to the skies for the spectacular Fireworks extravaganza. ●
Head over to Santa Pod Raceway's Flame & Thunder this October for a weekend full of exceptional family entertainment! Day tickets start from £25 in advance (plus booking fees) Kids under 16 go FREE (max 3 per adult). To view the full line up and to book tickets for this explosive event, please visit www.santapod.com or call 01234 782828.
Leave a Reply