Film Music Gala with the BBC Concert Orchestra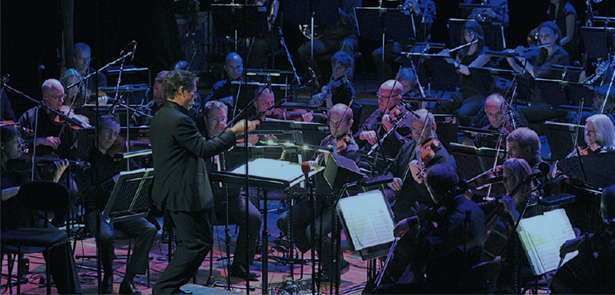 City choirs join the BBC Concert Orchestra on stage at Peterborough's Broadway Theatre
The city's iconic Broadway Theatre celebrates its 80th birthday this year, and to mark the occasion the BBC Concert Orchestra will perform live on stage in a spectacular musical salute to Hollywood's greatest composers.
Eighty years to the day since the theatre opened as Peterborough's first custom-built cinema – the ODEON – on 2 September 1937, with the exotically titled and very popular Hollywood romantic comedy Theodora Goes Wild, the concert will pay tribute to the long heritage of the building which operated as a cinema for over 50 years and continues to be an important and much-loved landmark in the city's cultural landscape. Showcasing music from Harry Potter, Indiana Jones, Lord of the Rings, Jurassic Park, James Bond and many more, and featuring performances from the city's award-winning choirs Peterborough Male Voice Choir, Peterborough Voices and Peterborough Youth Choir, Film Music Gala has something for everyone, young and old, so bring the family and join the celebration!
William Prideaux, the choirs' director, reflects: 'It's a real thrill to be able to invite people to relive the glorious history of the building with a programme packed with some of the greatest film music ever written, all performed live by the BBC Concert Orchestra. Generations of local people have fond memories of watching all the great films here on the giant screen. Who knows what stories of romance took place in the flickering darkness… If only those back row seats could talk!'
In more recent years, the Broadway Theatre has hosted a multitude of West End shows including Blood Brothers, Dreamboats and Petticoats, Evita, Joseph and Cabaret, bringing with them stars like Marti Pellow, Tommy Steele and Will Young, as well as welcoming stellar names from the world of music such as the Kings Singers and the Royal Philharmonic Orchestra, among many others. What better way to celebrate the building's 80th birthday than by marrying the two strands of its history in this landmark concert? Don't miss it… Get your tickets before they're Gone With The Wind!
Film Music Gala will be at the Broadway Theatre Peterborough at 7.30pm on Saturday 2 September. Tickets from £18 available at Peterborough Visitor Information Centre, online at www.peterboroughsings.org.uk or by telephone on 0333 666 3366. BOOK NOW!
Leave a Reply