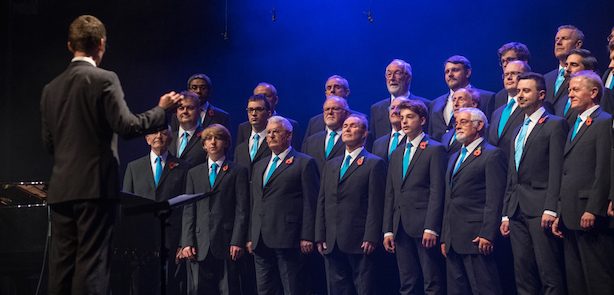 One hundred years ago, the guns fell silent on the world's first truly global war. To commemorate the city's fallen soldiers and the centenary of the end of World War One, award-winning choirs Peterborough Male Voice Choir and Peterborough Voices will present a moving evening of words and choral music at The Cresset on Friday 9 November, supporting the Royal British Legion's Poppy Appeal.
Over one thousand Peterborough men were killed in World War One. When war was declared in August 1914 there was a rush of volunteers to the recruiting office on Cathedral Square and by July 1915 nearly two thousand men had joined up, with even more being drawn into the conflict when conscription was introduced in 1916. Most of them served in the trenches on the Western Front, where conditions were appalling.
New weapons on both sides added to the carnage, some manufactured locally by companies including Perkins, Peter Brotherhood and Frederick Sage and Co. in Walton. "We went out to meet the dreadful fire of matching guns and rifles amid a constant rain of bursting shells, which decimated our men" said Sergeant Samuel Yerrell from Woodston in 1915. "If the worst comes to the worst, so be it, I am ready. Hope for the best, prepare for the worst and take what comes" said Corporal Eric Bunyan from Peterborough in 1916.
One of the city's most celebrated heroes is pioneer of modern nursing Edith Cavell who, educated in Peterborough, became probably the most well-known female casualty of the conflict. Respected for nursing both German and Allied soldiers, she helped some 200 allied servicemen escape German-occupied Belgium and was executed by firing squad 1915 amid worldwide condemnation. Displaying remarkable courage, she refused to be blindfolded or have her hands tied, and declared "I must have no hatred or bitterness towards anyone."
Peterborough's links with World War One don't end there: many soldiers and sailors from across the country passed through the city by rail on their way to the front or home on leave, often leaving messages and cartoons in the visitor's books at the refreshment stall at Peterborough East Station, two of which survive. And possibly the most famous visitor to Peterborough – one who never left – was Sergeant Thomas Hunter 'the lonely ANZAC', who was critically wounded in 1916 at the battle of the Somme in 1916 and died in the city.
"Peterborough played a significant part in the war effort. While its men went off to fight, its companies manufactured important weapons and supplies, and soldiers and sailors from across the country passed through on the railway" says William Prideaux, director of Peterborough Sings! "Peterborough Male Voice Choir has a long history in the city, going back to not long after first world war when so many local men made the ultimate sacrifice. Given our roots in the local community it seems fitting to mark the occasion with what promises to be a nostalgic evening of wonderful melodies and touching moments, while raising money for a really good cause."
Festival of Remembrance
The Cresset, Peterborough
7.30pm on Friday 9 November
Tickets available from the Cresset Box Office, by phone on 01733 265705, or at www.peterboroughsings.org.uk
Leave a Reply