Fabulous Family Fun in South Kesteven!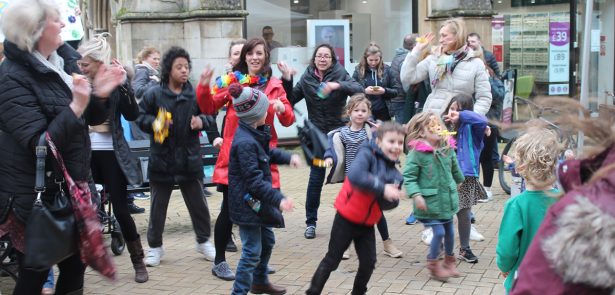 A programme of films and live events for families this half term and Easter at Stamford Arts Centre.
A fantastic live theatre show from Norwich Puppet Theatre for children aged four plus Pinocchio is on Saturday 12 February at 2.30pm. It's a fast- paced journey of discovery with hints of danger, slapstick humour and a playful exploration of identity suitable for young audiences. This highly visual production features puppetry, illusion and object theatre, as well as an atmospheric soundtrack.
Spiderman: No Way Home (12A) will be screened from 14 to 16 February with Disney's Encanto (PG) on Friday 18 and Saturday 19 February at 2pm.
Both inside and outside the town centre venue and free to attend is this year's Arts Around Town – Stamford on Friday 18 February, 10am to 3pm. Street art, music, dance, performance and crafts will be all be on offer in this free event at various venues across Stamford suitable for the whole family. Local artists will be working together on a piece of temporary public art. Stamford Sights and Secrets Tours are doing fabulous family guided walks around town too (booking required). Start at Stamford Arts Centre to find out what's happening across town.
During the Easter holiday M6 Theatre Company bring their heart-warming tale Pebble on the Beach on Wednesday 6 April at 2.30pm. Featuring a lively mix of dancing, singing and puppetry, Pebble on the Beach will magically transport you to a day at the seaside – a beach hut filled with treasures, sandcastles, seagulls and the waves lapping on the shore – to tell a positive tale that helps us all feel safe in the world and know that we matter. For children aged three plus and their families.
Check out the latest information on our social media pages!
Tickets for Stamford Arts Centre EVENTS can be booked online www.stamfordartscentre.com or by telephoning 01780 763203.
These town centre events are funded by the Welcome Back Fund. The scheme, backed by the European Regional Development Fund, was established to support local authority projects designed to help the recovery of town centres. The Welcome Back Fund is providing councils across England a share of £56 million from the European Regional Development Fund (ERDF) to support the safe return to high streets and help build back better from the pandemic.
Other events across the district:
Arts Around Town – In the Deepings
Wednesday 16 February 10am to 3pm
Pop up arts activities in the market area, Deepings Community Library and Community Centre. Enjoy arts and crafts, music, storytelling and more with some famous book characters popping up throughout the day. All welcome. Some sessions need to be booked through Stamford Arts Centre's website.
Arts Around Town – Bourne
Friday 18 February, 10am to 3pm
As part of SKDC's February half term activity days taking place across the district's four main towns, the centre of Bourne will be hosting a range of free family-friendly arts and crafts activities during the day on Friday 18 February.Arts Around Bourne will be taking place in and around the Old Town Hall, the Corn Exchange and the Darby & Joan Hall at the Well Head as well as in the pedestrian precincts of the town.

Families will be able to enjoy and take part in music, street theatre, workshops and other performances, some of which will be linked to 'Bourne in Lights', a new event that will be happening on 19 March.

There will also be a temporary skateboarding park near the Corn Exchange for anyone to come and learn or practice skateboarding and scooter skills.

Youth Fest – Grantham
Saturday 19 February, 10am to 3pm
A temporary skateboarding park, street art, music and entertainment will all be on offer in Grantham Market Place. Bring your scooter or skateboard along and have a go! Colourful street art will be created during the day and there will prizes and surprises, so bring the whole family!
Bourne in Lights
Saturday 19 March, 6pm to 9pm
An evening of lights, projections, and illuminated entertainment to celebrate Bourne and its communities. Interactive light displays, musical installations, projected animations and illuminated street art by local children will be on display along North Street which will be closed to traffic for the evening. Local pubs, shops and food outlets are encouraged to stay open late as it's hoped the event will be popular. Organised by the Different Light Collective in partnership with Bourne Town Council, Bourne Events Group and SKDC.
Leave a Reply