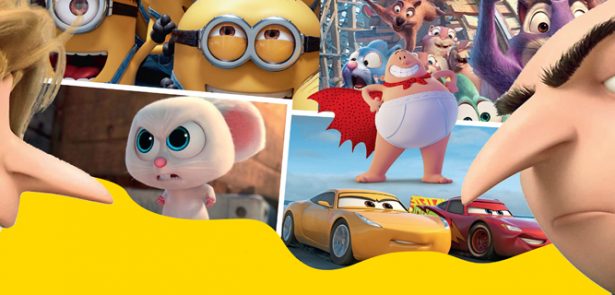 Family trips to the cinema can cost a pretty penny – but that doesn't mean you have to miss out. Vivacity's Key Theatre has just launched a family film club where you can see recently released family films in the comfort of the Key for just £3 a ticket
Tickets…3D specs…hot dogs… popcorn…drinks… The cost of family trips to the cinema can easily spiral out of control, and while it's great seeing big movies the moment they're released it can put a serious strain on the wallet. Now, Vivacity have come up with a solution. They have launched a new series of screenings at the Key Theatre aimed at family audiences, offering all the excitement of a morning out at the cinema at a fraction of the cost – just £3 a ticket. Screenings take place exclusively at weekends, on Saturday or Sunday mornings, which means they're convenient for parents to make a real family outing of it. The films being shown are all recent releases, too – between two and five months old. So, if you missed it the first time around but still want the big-screen experience – or if you and your family enjoyed it so much you want to see it again without the expense – put the dates in your diary! You can also sign up to the Vivacity Key Theatre's Family Film mailing list to ensure you're among the first to hear about the new releases as they go on sale.
Coming soon!
Despicable Me 3 – Sep 23
The team who brought you Despicable Me – and the biggest animated hits of 2013 and 2015, Despicable Me 2 and Minions – returns to continue the adventures of Gru, Lucy, their adorable daughters Margo, Edith and Agnes, and, of course, the Minions! The mischievous Minions hope that Gru will return to a life of crime after the new boss of the Anti-Villain League fires him. Instead, Gru decides to remain retired and travel to Freedonia to meet his long-lost twin brother for the first time. The reunited siblings soon find themselves in an uneasy alliance to take down the elusive Balthazar Bratt, a former 1980s child star who seeks revenge against the world.
Captain Underpants – Oct 7
George Beard and Harold Hutchins are best friends who spend their days creating comic books and dreaming up pranks. One day they accidentally hypnotise their school principal into believing that he is Captain Underpants, a dimwitted superhero whose costume consists of underwear and a cape. As if this isn't bad enough, their newest teacher is a disgraced evil scientist bent on exacting his revenge at their school. George, Harold and Captain Underpants must band together to thwart his evil agenda. Based on the hit children's books by Dav Pilkey.
Cars 3 – 29 Oct
Buckle up for a high-speed, all-action return to the world of Cars like you've never seen before. In this fast-paced Disney adventure new high-tech, next-gen racer Jackson Storm hits the Piston Cup, pushing the legendary Lightning McQueen to the back of the pack. To get back in the game Lightning will need the help of an eager young race technician, Cruz Ramirez with her own plan to win, plus inspiration from the late Fabulous Hudson Hornet and a few unexpected turns.
The Nut Job 2: Nutty by Nature – Nov 18
Surly Squirrel and the gang are back. We are once again in Oakton where the evil mayor has decided to bulldoze Liberty Park and build a dangerous amusement park in its place. Surly and his ragtag group of animal friends band together to save their home, defeat the mayor, and take back the park. Once again featuring martial arts legend Jackie Chan as Mr Feng, a street mouse who NO ONE calls cute!
Family Film Club dates
Family Film Club mornings take place on selected Saturday and Sunday mornings throughout the year. Screening dates for your diary this year are:
● 23 September 2017
● 07 October 2017
● 22 October 2017
● 29 October 2017
● 18 November 2017
● 26 November 2017
All films are recent releases, and new family-friendly film titles are being booked all the time.
● To keep up with announcements of films coming at the Key, sign up to the mailing list to vivacitypeterborough.com/familyfilms
Leave a Reply