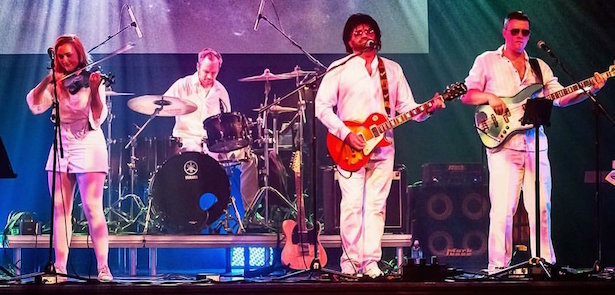 ELO Again are back with their stunning 'Return To The Blue' tour (The Cresset, 8 March)
Celebrating the truly universal music of Jeff Lynne and the Electric Light Orchestra, ELO Again really give you a dramatic taste of what a real ELO concert was like back in their heyday. The whole experience is professionally re-enacted with a great sound reproduction, light show and visual effects.
ELO Again provide you with the spectacular live effect of ELO's famous orchestrations, soaring strings and vocals, full of depth and tone. They certainly know how to entertain too. Their version of Mr Blue Sky – full of passion and fervour – will have the whole auditorium on its feet.
All the big hits are performed – Mr Blue Sky, Livin' Thing, Sweet Talkin' Woman, Roll Over Beethoven, Wild West Hero, Don't Bring Me Down, The Diary Of Horace Wimp, Telephone Line, Turn To Stone plus many more.
So, relive the age of Glam Rock in the 21 st century as ELO Again pay tribute to the beautifully crafted songs of Jeff Lynne. You will revel in ELO's unique symphonic rock style and hear some of the most unforgettable classic rock and pop songs of our generation. The timeless Mr Blue Sky returns, so Roll Over Beethoven – Rock 'n Roll Is King!
Leave a Reply