Eastern Angles: Stoat Hall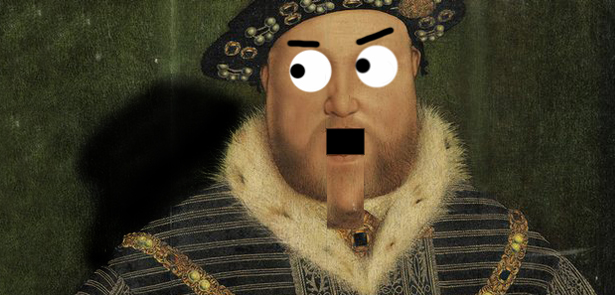 Eastern Angles Theatre Company will be returning to the Key Theatre Studio in January with another in their series of mad-cap theatrical spoofs. Multiple quick changes, live music and anarchic comedy are all hallmarks of the Eastern Angles' Christmas show. And as anyone who has seen the recent West End success The 39 Steps or the carefully choreographed The Play That Goes Wrong will tell you, much amusement can be had with a small cast, a slick script and an ingenious set of multi-purpose props...
After entertaining Key Theatre audiences with previous shows lampooning the Bronte sisters (pictured), Miss Marple, and the girls of St Trinian's (pictured), this time Eastern Angles will be turning their spotlight on Henry VIII and the Tudors with Stoat Hall, a bonkers re-working of the book Wolf Hall. Regular writers Pat Whymark and Julian Harries have come up with a typically wacky storyline featuring Sir Roger De Polfrey, once the reputable Duke of Suffolk, and owner of Stoat Hall. Lazy to the extreme and allergic to responsibility, Sir Roger tries to live a simple life with his eccentric wife Aveline and his three desperate daughters Isobel, Hedwig and Rosamund. But, with his humble abode falling into disrepair, and the house lying on a busy pilgrimage route, De Polfrey has his work cut out. To make matters worse, the Secret Order of the Stoats have hatched a scurrilous plan and Henry VIII and his entourage have just announced a surprise visit. It's at this point that Roger suddenly recognises the opportunity to marry off one of his daughters to the noble King and events take an unexpected and highly silly twist.
Eastern Angles have been staging their alternative pantos for more than thirty years, and the productions have gained what the company have termed 'a cult following'. Artistic Director, Ivan Cutting has overseen Eastern Angles' annual festive comedies since the company was formed back in 1982. 'There is a certain alchemy involved in creating one of our Christmas shows. There's no doubt that an apparent sense of chaos always goes down well with audiences, but any disorder and disarray is always carefully planned. Well, nearly always!'
'I think what audiences really love about our shows," Ivan continues, 'is the fact that they are original, inventive, often slightly off-the-wall and always have a local connection. We are known for producing straight drama that celebrates local heritage, but what many people don't know is that our Christmas shows do this too!'
'Take a show like The Mystery of St Finnigan's Elbow' set in a convent in Suffolk, Holy Mackerel which featured Lowestoft fishermen, The Pirates of Pin Mill or Ferry Across the Waveney… all very funny and entertaining, but all containing a pearl of East Anglian history.'
Since 2008 the Arts Council-funded organisation has notched up over 300 performances across the city of around 25 new plays including the New Town documentary musical, Parkway Dreams, the community play River Lane (featuring Walter Cornelius and Frank Brierley), the Edinburgh festival hit I Heart Peterborough and most recently a brand new adaptation of E. Nesbit's famous story re-titled The Fletton Railway Children.
Having spent most of the last eight years popping-up in an amazingly wide range of community venues across Peterborough – everywhere from the prison to the cathedral – Eastern Angles are now establishing a more permanent base for themselves at The Undercroft. Nestled under the rotunda on the south-side of Serpentine Green Shopping Centre, The Undercroft is Artistic Director Ivan Cutting's latest pride and joy.
'Finding The Undercroft has been fantastically important for us,' says Ivan. 'Travelling from place to place is in our DNA, and we will always continue to do that. But taking on the The Undercroft, kitting it out with lights, tiered seating and a proper floor and transforming it into an exciting new performance space is so satisfying – I suppose it's the nesting instinct, it feels as if we are really creating a home for ourselves in Peterborough, a new hub for all sorts of creative activity.'
But for now, the company's attention is firmly focussed on Christmas. 'We have our Stoat Hall cast all lined-up and rehearsals are about to begin,' says Ivan. 'The show has become so popular that we now take it to three towns – Ipswich, Woodbridge and Peterborough. But there's always something special about our visit to the Key Theatre. The Peterborough audience have grown to love what we do, and always help make this final week of the tour a fantastic finale.'
STOAT HALL 24-28 January 2017 The Key Theatre Studio, Call 01733 207239 or book online at www.vivacity-peterborough.com
Leave a Reply