Eastern Angles returns to The Undercroft with Signal Fires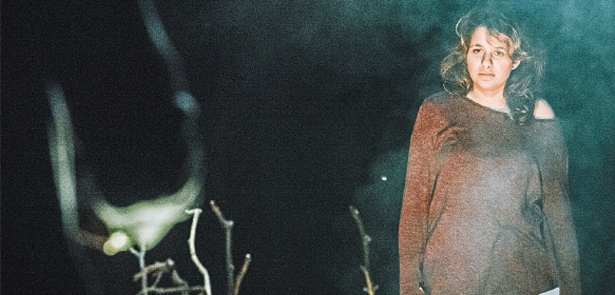 On a blustery autumn day in October Eastern Angles welcomed audiences back to The Undercroft for the first time in eight months. The event was Signal Fires. A national initiative for touring theatre companies up and down the country to signal to the world that touring theatre is standing by
Performers and audience gathered, socially distanced, around a life like technical fire – complete with smoke for this event in partnership with HighTide. Five actors performed extracts from plays produced by the Eastern Angles' Young Writers Group, alongside two monologues, one by Aisha Zia and the other by Ben Weatherill from HighTide's Love in the time of Corona series; both writers had mentored on the EA Young Writers course.
Keely Mills, Project Manager for Eastern Angles said ''If I was talking as a professional then having audiences back at The Undercroft was amazing! I was so excited to be back in the theatre and thankful that as a company, we have a loyal audience that wanted to come and see our first show at The Undercroft in over 6 months. It was an important learning curve too in these times of masks and sanitiser. I was worried that these new measures would kill the magic of a live event but when you get a cast of good actors, superb writing, and a great audience in the room then the enchantment is still there, even more so after such a long break. Talking as myself, I must admit I was so pleased to see some of our regulars, and I did cry at certain points with relief and joy, that this community had come back together in the scariest moment we have faced for a generation. I just wish I could have hugged them all, hopefully I can very soon.'
At the time of writing we are heading into a second lockdown, meaning that after a brief re-opening theatres are once again closed. It's hoped that by mid-December we can reopen again and The Undercroft's resident theatre company Lamphouse Theatre is crossing their fingers they can return live to the Key Theatre stage with a fun-filled one-man version of Dickens' A Christmas Carol. Presented in the Key Theatre Studio from the 15th-24th December, with socially distanced seating, Lamphouse's one-man show will see a single actor portray all the famous characters in A Christmas Carol, while playing, singing and cracking festive jokes at the same time! From Scrooge to Tiny Tim, with all the ghosts in between, you can expect magic, puppetry, live music and side-splitting comedy in this spectacular live show. Lamphouse are also working on a digital version of the show so if you can't enjoy it in person you can watch online – winner!
Tickets for A Christmas Carol are available via The Key Theatre Box Office: https://vivacity.org/theatre-events/autumn-2020/a-christmas-carol
T: 01733 207239
Leave a Reply