Eastern Angles: a home from home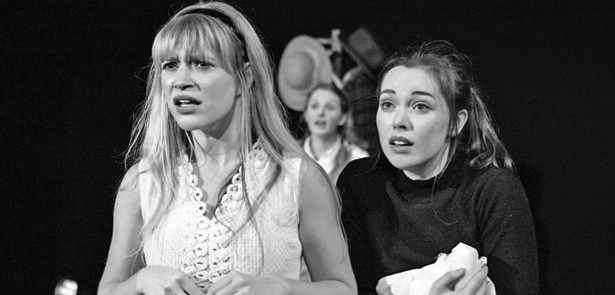 Touring theatre company Eastern Angles may have its main base in Ipswich, but Peterborough is its second home. In recent years, the company has created a whole range of new works reflecting the life, history and folklore of the city – many of them with major community involvement. Now, Eastern Angles literally has a second home – in the shape of The Undercroft, a brand new pop-up theatre and workshop space at Serpentine Green Shopping Centre. Helping to establish and run it is resident Artistic Associate, Poppy Rowley, who has been with the company for the past two years, using funding from the Esmée Fairbairn Foundation to work with local community groups and schools, seek out new writers and performers, and direct theatre productions. The Moment talked to her
So, Poppy, what was the last theatre production you were involved in for Eastern Angles?
I worked with Peterborough-born writer Julie Mayhew on a new version of the classic E Nesbit tale, The Railway Children. The Fletton Railway Children was updated to 1960s Peterborough and explored the fallout of the Beeching cuts on the city. We had a cast of four who took on a range of characters and it was a really fun show to work on that addressed some important changes in the city and poignant themes on growing up. It also launched our new venue, The Undercroft!
The Undercroft is becoming quite a hive of activity. Can you tell us about the types of events happening there?
At the time of going to press we've got Theatre Ad Infinitum coming up from London with Bucket List, which is part of Platform 8 run by Jumped Up Theatre and the BAC. We also have A Radio Play Project from Lamphouse Theatre – that's a local company with local writers – and UROCK youth theatre fromPeterborough are doing their NT Connections play, The Monstrum. All details are on our website: www.easternangles.co.uk
I hear that you're working with Peterborough Cathedral this summer on a Medieval Theatre project? Can you tell us more?
I'm pretty thrilled about this one as it's another homegrown piece with some very nifty writers! We've challenged five exciting Peterborian Poets (Charley Genever, Clare Currie, Keely Mills, Toby Wood and Pete Cox) to create their own version of the Mystery plays from Adam & Eve through to King Herod. They are all word wizards with five very different styles so it's going to be modern, unexpected, funny and very dramatic. Performed in July outside the Cathedral and possibly around Peterborough: think pick-up trucks, think farce, think heavenly proclamations!
You had experience of staging theatre outside the Cathedral through the Future Floodlands project. Can you tell us more?
Last summer at the Peterborough Green Festival we transformed the area in front of the cathedral into an immersive art installation and dynamic theatrical space. With driftwood, boats, an underwater hut and six short plays on the subject of a future flooded Peterborough – scary but possible! It was invigorating to hear audiences discussing climate change and plan to change their habits due to the space and the performances.
You are also working on an exciting new theatre project based on people's memories of working at Freeman's Distribution Centre? How did that come about, and what's your involvement?
Yes, this is a continuation of the Forty Years On project run by Vivacity and Eastern Angles. Ivan Cutting, our Artistic Director, noted that a lot of people mentioned the Freemans Distribution Centre in their interviews. With further digging through the archive material he discovered that Freemans was not only a pivotal business in Peterborough, offering work and social opportunities, but also a company of national importance as they revolutionised the way goods were transported around the country. They also ran a fantastic shop where locals used to stock up on clothes and other catalogue goods. We're going to be interviewing a whole range of people who worked there and then create a new community play to be performed at The Undercroft in October – it's going to be big! (And for those who question how good a play about a distribution centre can be, don't forget the fabulous Parkway Dreams, a musical about town-planning, that everyone loved!)
Eastern Angles tours all over the East region during the Spring making regular visits to Peterborough. What production will the company be bringing to Peterborough this year?
It's called The Strange Undoing of Prudencia Hart, directed by Hal Chambers. It's a fantastic play by David Greig. It's a haunting and mischievous folktale filled to the brim with music, verse and devilish comedy! Originally produced by The National Theatre of Scotland to rave reviews, Eastern Angles is touring it around East Anglia to about fifty venues. Catch it in Peterborough, at The Undercroft, on 4 May.
It sounds like Eastern Angles have got a busy year ahead. Are there any opportunities for volunteers to help the company in any way?
I should say so – we're both busy and have opportunities! We're bursting at the seams and always on the hunt for people to come and get involved. Whether you're an old hand at the theatrical bonanzas, interested in starting a career in theatre and looking for experience, or just fancy trying something different, we'd love to hear from you. From Front of House and bar staff, to performers, costume-makers and transcribers we've got tonnes for you to get stuck in to. Interested? Email Keely Mills:
What has been a personal highlight for you since working for the company? And what are you looking forward to getting your teeth into the most over the next few months?
Oh, too many things! I've loved relocating to Peterborough and getting to know the city and all the terrific cultural things that are going on. Working on Future Floodlands and seeing people engage with such important issues was a real highlight, and seeing young people engage (and giggle) with the city's history in The Fletton Railway Children was another! Coming up, well as you can see there's a huge amount, but one thing I haven't mentioned and I can't wait to get rolling is a project creating folk tales, myths and legends for Hampton Village which will be supported by the Arts Council through 'Peterborough Presents'. It's a pretty big one and is going to reach out and bring together so many people; at the end we're basically going to bring everyone together for a big festival style party – and I love a good party!
FOR MORE INFORMATION, GO TO WWW.EASTERNANGLES.CO.UK
Leave a Reply