Dick Whittington – looking gorgeous!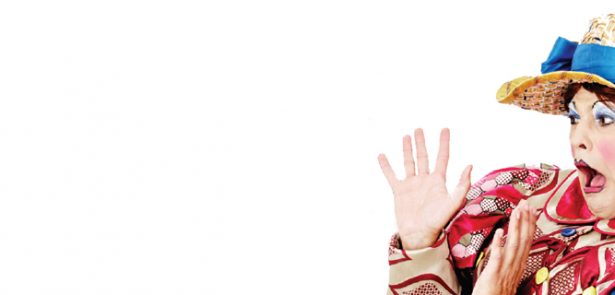 This year's Key Theatre panto (1 Dec-8 Jan) brings favourite talents from previous years' hit productions back to the Peterborough stage – once more under the watchful eye of director and composer Simon Egerton. One significant new addition, however, has a rather unexpected pedigree: set and costume designer Natalia Stewart – former ballet dancer and graduate of the Bolshoi Academy in Moscow – is more used to designing big productions for the Royal Opera House and the Royal Ballet. Toby Venables talked to her about inspiration, Dames and the transition to panto
How did designing Dick Whittington come about?
I usually design for big ballet companies, and also did a lot of opera, but I met Simon and he asked me would I like to do a pantomime. It is completely different – different ideas, different colouring, different spacing – in some ways, turning everything upside down.
When he suggested it were you excited or apprehensive or both?
Both! It's lovely to work with Simon, and pantomime really is fun. I go to pantomimes every year with my children and they were so excited when they heard – in fact they started giving me all sorts of suggestions!
Are the practical considerations in any way similar to ballet or opera?
Certain things are similar, because a theatre is a theatre – you've got the same sort of space to think about, but the ways you occupy the space is different. For ballet, you need to have a space to dance in with nothing restricting that, but with pantomime there's very different movement around the stage. There are also certain rules that apply to pantomime – certain things are always expected – but again, they are completely different.
The Dame's costumes are where things can go a bit crazy. Can we expect that here?
Yes, expect that! When we started talking about it I realised it was so much about the Dame, so I met Darren Machin, the actor who is playing the part, talked to him, and tried to find out what he felt about the character. That was my starting point on the costumes, really; everything else developed around that.
How would you describe the look and feel of this production?
When I read the script it wasn't quite the pantomime that I knew – it was actually much better, more exciting! I really liked it, and thought it would be nice to do something a little bit different. But also we wanted all the traditional elements, with all the things that one expects. They're all there – the bright colours and so on. But I did also look at children's' books. I couldn't even tell you, now, exactly what the influences were because it's a combination of so many things. I always wanted to do animation, for example, and that comes out a little in this pantomime.
What is the process? What comes first?
The ideas of the director come first. From hearing his ideas I start seeing something – certain colours, certain shapes – and then we talk together and the thing starts taking shape. It's a two-sided creative process and it goes back and forth, so, it all grows together.
How long does the process take?
Simon first asked me about April time, and did say that was quite late to be asking me, which it was! The time goes quickly. By the time you start talking and establishing the feel of it you're into summer. We start the rehearsals in November and the set and designs all need to be ready by then, so have to go into production of the set and costumes by September. But every little thing has to be discussed with the director and finalised. Right now, I'm sort of finishing it off, at the last stage of the model and the costume designs so they're almost ready to be made.
What's the most exciting moment for you?
The most exciting moment is when the set first goes on stage, and they set up the lighting for the technical rehearsal, because that's the first time you see it in the proper lighting. Up to that point, I have only seen it all together as a model. Then, when everybody is on stage in their costumes and then the music starts, that's really exciting…
Simon Egerton – director and composer

"One of the really desirable elements of the Key Theatre panto is to have a magical quality to the designs. I do think there should be a wow factor.
"Dick Whittington is going to be very big and colourful, and very much rooted in the 16th century, but with a modern flavour – so even though you've got that traditional medieval feel, somehow you've got the London Eye and the Shard in there! And we're also making the band – the actor musicians on stage – the primary focus, so everyone can see and enjoy the fact that every member of the cast picks up and plays at least one instrument, and often two or three.
"The Key is fantastic in terms of supporting a new work. There's new music and lyrics and a new design from an internationally renowned designer – not just stock stuff brought in. It's really a wonderful thing that they are creating an entirely new work here."
Darren Machin – Sarah the Cook

"The Dame's costumes go to extremes. That's what you want every time a Dame comes on – a new costume that is a bit outrageous! And that's exactly what you've got. I actually had a fitting at the Royal Opera House – which I don't often do! – so that was rather lovely. And I got to see some of the other designs, and they do look really wonderful."
Leave a Reply