David Baddiel: 'My life was out of control and I'm not a person who is comfortable with that'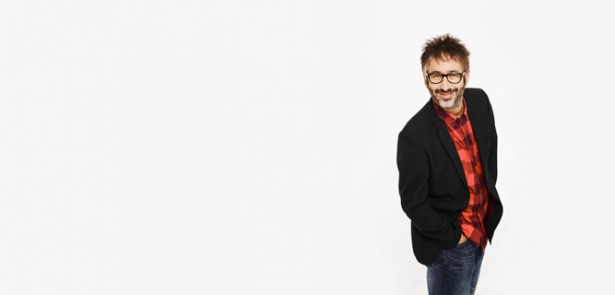 When people think of fame, images may spring into the mind of either glamour and showbiz or pain and misery. With his new touring show, Fame: Not The Musical, David Baddiel tells us about a third way...
'In the show,' explains David, 'I try to demystify what fame is actually like by talking about the day-to-day mundane bits of the experience. If there is a social purpose to the show, it's to say that fame appears to be this bauble that people either covet every day or it's this tragic thing. Well, I'm trying to show how ordinary and stupid and mundane fame can be. It's certainly an interesting thing that can happen to someone: it can be thrilling but it can also be annoying.'
And so in Fame: Not The Musical – part of the Key Theatre Comedy Festival in March – we hear of the celebrity status that Baddiel experiences these days. He is still recognisable to many for his past endeavours with sketch team The Mary Whitehouse Experience and in his double act work alongside Rob Newman (when the pair played Wembley Arena in 1992, it was hailed as the moment comedy officially became the new rock'n'roll) and Frank Skinner (Baddiel is forever being asked when Fantasy Football will return). But his fame-levels are such that he is also mistaken for other dark-haired and bespectacled public figures (Alan Yentob and Ben Elton for two), sometimes to bemusing or irritating effect but, in Baddiel's hands, it's always with hilarious results.
'My life was out of control back then and I'm not a person who is comfortable with that…'
'I'm happier as a person now than when I was on telly all the time. I have children that I really love and I'm happier in my relationships. My life was out of control back then and I'm not a person who is comfortable with that; I'm quite grounded. And I feel more "me" now in terms of writing and performing than maybe I did before. Which is not to say that there aren't a lot of challenges within that but when you're more famous it's easier to get the work you want made. The ideal scenario is that you don't feel so famous that things seem out of control but there's enough fame so that people are interested in getting your stuff made.'
Having halted his stand-up career in 1997, Baddiel went on to become a successful novelist (his most recent fiction is 2011's The Death Of Eli Gold), radio broadcaster (he created the successful BBC Radio 4 programme Heresy) and film screenwriter (The Infidel, which starred Omid Djalili is now being transformed into a musical). But when the chance to step back onto a stage with a mic presented itself, Baddiel gave it a shot.
'I was doing what I'd done ten years ago but not so interestingly and then I stopped again'
'When you come back to stand-up after a long time away, it can work to your benefit as you try harder to find a different way into it. About two years ago I did four or five dates and it was fine, I could make an audience laugh, but I wasn't moving the form on. I was doing what I'd done ten years ago but not so interestingly and then I stopped again.'
But fate can work in peculiar ways, and when Baddiel was invited to deliver a talk in London at a 5×15 event, it helped him find the new approach he had been searching for. 'For some reason, I decided to talk about fame but not like stand-up per se where you're trying to get a laugh every 30 seconds. I wanted to do a comic narrative about fame and the… [cont]
Leave a Reply