Darren Walsh: "I just deleted all the German names off my phone. It's Hans free!"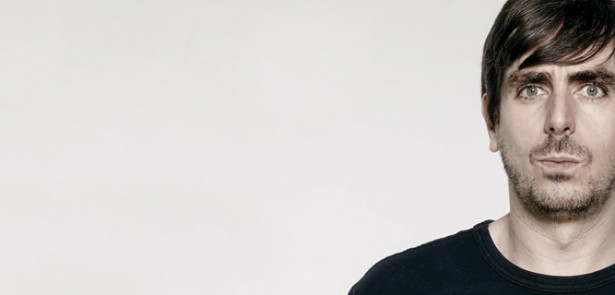 As the big-name comedians line up for the Comedy Fest at the Key Theatre (9-13 March) – including Mark Steel, Mark Thomas and James Acaster – we talk to local boy Darren Walsh about puns, winning best joke at Edinburgh and performing on home turf...  
Unlike many comedians you deal in jokes – puns and one-liners – one of which won the Dave's Funniest Joke of the Fringe at Edinburgh last year. Was that a big deal for you?
Yeah! The award itself is very silly, really, because you've got all this attention on one gag. I didn't think it was the funniest joke at the Fringe by a long way – not even the funniest joke in my show… The day I won it was a bit manic. I think I had two hours sleep. I didn't have an agent then – it was just me, with all these people saying 'Can you say the joke into the camera please?' But it was all good fun. And one-liners are good for press and radio and stuff like that – they lend themselves to soundbites and quotes.
How many times did you have to tell that joke?
About 90 times! I haven't told the joke since. I feel physically sick when I think about telling it.
Back when you started in 2010 there wasn't really anyone doing jokes, never mind puns…
There was just Tim Vine – he was one of the first guys to do that, to just say 'Right, I'm doing puns…' Fair play to him. But I do think England appreciates the pun more than any other country. In America or Canada, for example, there aren't really any comedians who just do puns. I think my comedy career is probably limited to Britain…
Why the resurgence of the snappy one-liner?
I don't know… But maybe Twitter has something to do with it. It's quite a good medium for the one-liner. But also maybe people are getting a bit tired of the sort of observational humour you see on Live at the Apollo and so on, and are just looking for gags. I haven't got a very long concentration span, which is why everything I do is short.
What were your comedy influences when you were growing up?
I'm quite old school. I liked Spike Milligan and Monty Python – that sort of stuff. I didn't really know much about standup when I started. I hadn't seen much, and was more into TV comedy – The Fast Show and all that. Then after doing it for about three months I went to Edinburgh and saw loads, and that got me inspired.
How did you actually get started?
I've always been doing it – making short films and drawing cartoons and that sort of thing. I never really thought I would do standup, because I didn't think you could show videos, and use sound effects and props. I didn't think that was allowed. But now, with technology as it is, you can do that, so I show animations on stage, and drawings and use silly sound effects. I'm quite technical. Usually for shows like this there's a sound guy, someone who tests the props and so on, but I just do all that myself because I'm a bit of a control freak.
What was your first ever set like?
I think I started with a mini keyboard, doing Arnold Schwarzeneggar impressions, and called it Arnieoke. But I was just kind of messing about on stage, really. Then I started writing gags for a more comedy club friendly set.
Is performing in your home town scary or a glorious homecoming?
I've never performed in Peterborough, believe it or not, so it should be interesting! It wasn't until I won the award at the Edinburgh Fringe that I got a bit of press Peterborough – ITV news and stuff like – and then someone said: 'Why don't bring the show to Peterborough?' I thought: 'Yeah, why not!' So we'll see what happens. I actually moved away about 15 years ago and am based in London, so haven't been back very often, although my family are still here. I think my mum might be coming, I'll have to take the swearing out. But I'm looking forward to it. The Key Theatre's a lovely venue.
Do you dream about puns?
They literally pop in my head all the time. I don't sit down and write them. So, if half asleep and it pops into my head I to wake up and write it, or if I'm cycling pull over and jot it down.
Do you ever worry that it's a finite resource and the puns run out?
No, because culture is always changing, the material is always changing. Twenty years ago, there was no such thing as Harry Potter, for example, but now everyone knows the references to Harry Potter, so there's a whole new avenue of puns. That's just one example, of course. If I say 'I've got a couple of Harry Potter puns – they cost a quid each…' people wouldn't have known what that meant a few years ago. Culture is always evolving. But I read that in Steve Martin's autobiography – he had the same thought: 'What if I run out of material?' But then he realised that would never happen, because culture is always changing. There is a certain limit on puns on certain subjects. Like cheese, for example. There would be a finite amount of puns because there aren't new cheeses coming out all the time. So in one respect it is true. But that's kind of good in a way, because it makes you more original. The more weird and abstract you can make it, the funnier it is, and the less likely you'll get a groan because someone might have heard it before. I thought of one yesterday… I got this new board for contacting the afterlife, but all I seem to get is an Italian plumber. It's a Luigi board.
11 March, 7.15pm Key Theatre Studio
BOOK NOW on 01733 207239 or visit www.vivacitypeterborough.com
Leave a Reply